WASHINGTON (CNN) -- The political response to the Supreme Court's overturning a ruling by the woman who could be its newest member was sharply divided, with Republicans supporting the ruling while Democrats criticized it.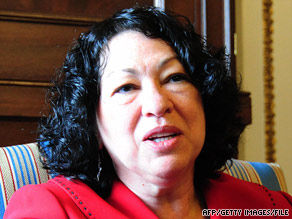 High court nominee Sonia Sotomayor was on the federal appeals court that backed New Haven, Connecticut.
In its last day in session this term, justices ruled by a 5-4 majority that the city of New Haven, Connecticut, improperly threw out the results of promotional exams that officials said left too few minorities qualified. A group of 20 mostly white firefighters sued, claiming "reverse discrimination."
Judge Sonia Sotomayor, who President Obama nominated last month to replace retiring Justice David Souter, and two other judges heard the case on their federal appeals court last year and sided with the city.
"I applaud the Supreme Court's decision to uphold equal rights for all and to strike down government decisions based on race," said Texas Rep. Lamar Smith, the ranking Republican on the House Judiciary Committee.
"No individual should be denied a promotion simply based on the color of their skin. ... The Supreme Court today reminded all courts and governments that equal justice under the law means refusing to tip the scale in favor of one race over another."
Smith called on the Senate Judiciary Committee to "carefully examine Sotomayor's role in the 2nd Circuit's opinion on this case. Discrimination and racial preferences have no place in our courts, let alone on the highest court in the land."
Sotomayor's confirmation hearing is scheduled to begin in two weeks.
Senate Judiciary Committee Patrick Leahy, D-Vermont, ripped the decision, arguing in a written statement that the high court had interpreted "the critical protections of Title VII in a way never intended by Congress when it passed this landmark law."
Leahy argued that the "narrow decision is likely to result in cutbacks on important protections for American families. It is less likely now that employers will conscientiously try to fulfill their obligations under this time-honored civil rights law. This is a cramped decision that threatens to erode these protections and to harm the efforts of state and local governments that want to build the most qualified workforces."
He also was quick to defend Sotomayor's ruling, arguing that "the lower court panel did what judges are supposed to do, (it) followed precedent. ... The decision of Judge Sotomayor's panel in Ricci was an example of that judicial restraint, and it followed both the facts and the law."
A majority of the public, however, appeared to side with the plaintiffs in the case. Sixty-five percent of those questioned in a new CNN/Opinion Research Corp. survey said the firefighters were discriminated against and should get promotions based on the test results. Thirty-one percent felt the city should offer a new test to make sure minority firefighters were not victims of discrimination.
"Not surprisingly, most Republicans think that the firefighters were victims of discrimination, but a majority of Democrats join in that view," said CNN polling director Keating Holland.

"Fifty-seven percent of Democrats say the white firefighters were discriminated against. Two-thirds of Independents and three-quarters of Republicans agree."
The poll was conducted Friday through Sunday, with 1,026 adult Americans questioned by telephone. The survey's sampling error was plus or minus 3 percentage points.
E-mail to a friend

All About U.S. Supreme Court • Sonia Sotomayor