From Ed Hornick
CNN






(CNN) -- Democrat Al Franken said Tuesday evening he is "thrilled and humbled" the Minnesota Supreme Court ruled him the winner of a contentious Senate race that played out in court over several months.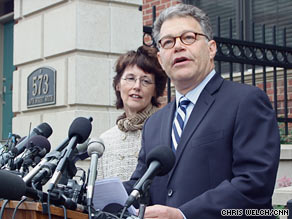 Minnesota's Supreme Court ruled Democrat Al Franken the winner in the state's U.S. Senate race.
"We are so thrilled we can finally celebrate this victory and I'm so excited to finally be able to get to work for the people of Minnesota," Franken said at a press conference. "We have a lot of work to do in Washington, but that's why I signed up for the job in the first place."
The court's unanimous, unsigned opinion declared Franken -- a long-time Democrat, former "Saturday Night Live" comedian and satirist -- "received the highest number of votes legally cast" and is entitled "to receive the certificate of election as United States senator from the state of Minnesota."
Minnesota Gov. Tim Pawlenty and Secretary of State Mark Ritchie signed the election certificate Tuesday evening. The document and a cover letter will be shipped to Washington overnight and hand-delivered to the Senate on Wednesday, the governor's office said.
"I would like to thank Sen. Coleman for his service. As state solicitor general, mayor of St. Paul and United States senator, he has been an extraordinary leader and public servant for Minnesota," Pawlenty said. "I also want to congratulate Al Franken and wish him well as he serves the people of Minnesota."

Watch Coleman respond to the state Supreme Court ruling »

"I want the people of Minnesota to know that I'm ready to work for all of you, that I'm committed to being a voice for all Minnesotans in the U.S. Senate," Franken said Tuesday.

Watch more of Franken's victory speech »
Earlier in the day, former Sen. Norm Coleman, a Republican, gave up his challenge.
"I just congratulated Al Franken on his victory," Coleman said in a press conference with reporters. "I told him it's the best job he'll ever have -- representing Minnesota in the United States Senate. The Supreme Court has spoken, I will respect its decision, and abide by its results," Coleman also said.
Franken said he talked to Coleman and "we agreed that it is time to bring the state together."
Carol Kornak of Minneapolis, Minnesota, supported Coleman and said she's "happy it's over."
"Let's just get on with business here. ... It took a long time for this to happen. Part of his term is over before he even takes office," Kornak said.
And in a statement from the White House, President Obama said he looks forward to working with Franken "to build a new foundation for growth and prosperity."
The ruling brings an end to months of challenges by Coleman. Franken will become the 60th member of the Senate Democratic caucus, a move that gives the party a filibuster-proof majority in the chamber, at least on paper.
Franken supporter, Barb Farrell, said the victory ends what she deemed "ridiculous" court proceedings.
"I'm just thrilled that its over. ... Thank God it's over. We've been the laughing stock of the country."
Franken is expected to be sworn in after the Senate returns from the July 4 break.
But the senator-elect tempered talk of an automatic filibuster-proof majority, saying not all Democrats will vote in lock-step with the majority.
"The way I see it, I'm not going to Washington to be the 60th Democratic senator," he said. "I'm going to Washington to be the second senator from the state of Minnesota."
Senate Majority Leader Harry Reid said in a statement that Franken will play a "crucial role" handling issues before Congress, including health care, climate change and Judge Sonia Sotomayor's Supreme Court confirmation hearings.
Franken declared victory in the disputed race after a recount ended in January. Coleman, who was seeking a second six-year term, went to court to challenge those results.
Coleman led Franken on election night by a margin of 206 votes out of more than 2.9 million cast. The margin was narrow enough to trigger a recount. That process ended in January with Franken leading by 312 votes.
Since winning the initial recount, Franken made a handful of visits to Washington and met with Reid to discuss Senate business, according to Franken aides.
He also began hiring staff for his Senate office.
The burden all along was on Coleman to prove he was wronged. He appeared several times on local and national programs to try to make that argument.
He was also a regular fixture during the seven weeks of open court, often sitting at the table with his team of counselors and at other times sitting in the gallery with press.
In April, Franken said he was confident he would eventually be certified, and urged Coleman not to appeal and to "let me get to work as soon as possible."

"The campaign for this Senate seat has been long and expensive," he said in April.
"The fight ahead, the fight to rebuild our economy and broken health care system and to restore our standing in the world, that's a fight we must win. It's a fight we must win by setting aside partisan gamesmanship and working together."
E-mail to a friend

CNN's Chris Welch contributed to this report
All About Al Franken • Norm Coleman