By John King
CNN Chief National Correspondent





Editor's note: John King, CNN's chief national correspondent and "State of the Union" host, examines the news made in Sunday talk and offers up this Monday morning crib sheet on what to watch this week in politics. If you'd like to receive a sneak peek of this story in your inbox every Sunday, you can sign up for the "Political Ticker newsletter" at http://www.cnn.com/profile/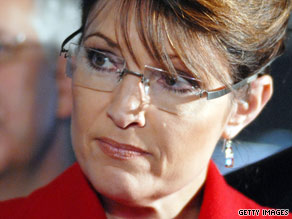 There was no shortage of speculation over Alaska Gov. Sarah Palin's political future in the Sunday talk shows.
(CNN) -- Sometimes it's not what you say but how you say it. It's a test applied quite a bit in recent days to Sarah Palin's stunning announcement that she is stepping down as Alaska's governor -- and one worth applying to several of Sunday's many news-making conversations.
Vice President Joe Biden, for example, had stark words on a number of issues -- from a concession that the administration underestimated the depth of the recession to the possibility that Israel might take unilateral action against Iran's nuclear program.
Add in America's top military officer, Chairman of the Joint Chiefs of Staff Admiral Mike Mullen. Two years ago, he made clear he preferred to keep "Don't Ask, Don't Tell" as is. But how he answered when I put that question to him again this Sunday spoke volumes.
And a former chairman of the Joint Chiefs, general-turned-diplomat Colin Powell, had a few noteworthy things to add to the Sunday conversation as well, including his first public criticism of President Obama.
Here were some of the Sounds of Sunday:
Matters of the pocketbook
"The truth is there was a misreading of just how bad an economy we inherited. Now I'm not laying this on anybody. It's our responsibility. The second question becomes did the economic package we put in place, including the Recovery Act, is it the right package given the circumstances we're in. We misread how bad the economy was, but are now only 120 days into the recovery package." -- Vice President Joseph Biden on ABC's "This Week"
"I don't think anyone can say we're satisfied with the results of the stimulus so far. Mark Zandi, one of McCain's economic advisers, says it's going to create two million jobs by the end of next year." -- House Majority Leader Steny Hoyer on "Fox News Sunday"
'State of the Union'
John King reinvents Sunday talk: more time for more politics.
Sunday, 9 a.m. ET

"We argued early in the year when this bill was being debated that the way to help the economy grow is to help small businesses and American families keep more of what they earn because at the end of the day, they're the ones who can get the economy going again. This was supposed to be about jobs, jobs and jobs. And the fact is it turned into nothing but spending, spending and more spending on all big government bureaucracy." -- House Minority Leader John Boehner on "Fox News Sunday"
"I think one of the cautions that has to be given to the president -- and I've talked to some of his people about this -- is that you can't have so many things on the table that you can't absorb it all. And we can't pay for it all. And I would never have believed that we would have budgets that are running into the multi-trillions of dollars. ... We are amassing a huge, huge national debt that, if we don't pay for in our lifetime, our kids and grandkids and great-grandchildren will have to pay for it." -- Former Secretary of State Colin Powell on CNN's "State of the Union"

Watch more of Powell's comments about spending »
More health care discussion
We didn't hear much new in the health care debate this weekend, but that doesn't mean there weren't key voices in the debate out there talking.
"I'm not saying that the public option should be the only option. There are some that say that, particularly in my party. But we shouldn't say there should be no public options. We should have this insurance exchange and let both sides compete and let's see which one does better." -- Sen. Charles Schumer, D-New York, on CBS' "Face the Nation"
"The federal government is in the process of nationalizing banks, nationalizing General Motors. I'm going to make sure we don't nationalize health insurance and the public option is the first step to doing that." -- Sen. Charles Grassley, R-Iowa, on "Face the Nation"
Don't Miss
"They're going to shift $400 billion of the cost of this new program onto the back of employers with this mandate. That means the cost of employment goes up. When the cost of employment goes up, the number of jobs created goes down. That's not what the American people want." -- House Minority Leader John Boehner on "Fox News Sunday"
Afghanistan and Iraq
As President Obama readies for summitry in Moscow, there's quite a bit to digest on the world stage. Joint Chiefs Chairman Admiral Mike Mullen had a busy morning, visiting three Sunday programs. He talked about Afghanistan, where Marines are engaged in a risky offensive in Helmand Province.
"This is the most concentrated area for opium growing, and we expect significant combat challenges with respect to the Taliban who have been there and we haven't been able to both clearly defeat them and clear the area. This extra footprint of Marines will allow us to not just secure the area for the Afghan people but hold it, so we can develop it and start to move in the right direction economically and from a governance perspective." -- Mullen on "State of the Union"
Shifting to Iraq, Mullen was optimistic. So far so good is his assessment in the early days after U.S. forces kept the June 30 deadline to pull back from major operations in Iraqi cities.
"We've reached agreement with the political and military leadership on how this is going to work. I'm confident in what I've seen so far, that us moving out of the cities has been a very positive step." -- Mullen on "State of the Union"

Watch more of what Mullen had to say »
Vice president discusses Iraq, Iran and Israel
"It's very important that Prime Minister Maliki and all of the Iraqi leaders are able to in fact communicate, which is true, to the people of Iraq, that they're now a sovereign nation. They take directions from no one. That they are able to handle their own internal affairs." -- Vice President Joseph Biden on ABC's "This Week" Read more of his comments at Politico.com
Iran was also on the Vice President's mind, and he said the Obama White House was still willing to engage the Tehran regime despite its crackdown on election protesters. His comments on what would be engagement of a very different sort involving Israel are certain to raise eyebrows in some quarters.
"If the Netanyahu government decides to take a course of action different than the one being pursued now (towards Iran), that is their sovereign right to do that. That is not our choice." -- Biden on "This Week"
Homosexuals in the military
One Obama campaign promise still unkept is a pledge to lift the ban on homosexuals serving openly in the U.S. military. Many in the gay and lesbian community are unhappy with the White House for taking a go-slow approach. But Colin Powell and to Admiral Mike Mullen -- two highly decorated officers who have in the past supported the ban -- make clear they see a change in the not-to-distant future, like it or not.
"We need to move in a measured way. We're at a time where we're fighting two conflicts. There's a great deal of pressure on our forces and their families and yet, again the strategic intent is clear. I am internally discussing with my staff on how to move forward and what the possible implementation steps could be." -- Mullen on "State of the Union"
"The policy and the law that came about in 1993 I think was correct for the time. Sixteen years have now gone by, and I think a lot has changed with respect to attitudes within our country. And therefore, I think this is a policy and a law that should be reviewed." -- Powell on "State of the Union"
Speculation about Sarah Palin
There was no shortage of speculation about whether Gov. Sarah Palin is leaving the political stage altogether or leaving the top job in Alaska because she sees temporary unemployment as a better path to prosperity on the national political scene.
"She has plenty of time in which to define how she will further her core values. I have to tell you, when she went to Kosovo and visited our guard members and wounded soldiers there and in Germany, she saw she doesn't need a title to effect change and bring hope to people who need it." -- Lt. Gov. Sean Parnell, R-Alaska, on "Fox News Sunday"
"One thing I wondered about was hastily calling a news conference that raised more questions than it answered. This is something that my mentor Ed Rollins brought up on the radio. You don't call a press conference that creates questions. You call one to resolve them." -- Former Republican presidential candidate Mike Huckabee on "Fox News Sunday" Read more about reactions
Our contributors had a spirited discussion on this point.
"I think part of the party, the conservative base of the party likes her very much. She appeals to conservative values. On the other hand, conservative means something else apart from conservative values. We're a conservative party in another sense. She is spunky, she is energetic, she is very attractive. But will she reassure enough of the party if she decides to run? That's the other side of being conservative." --"Morning in America" host Bill Bennett

"I think Governor Palin has made a very risky decision, John, in deciding to quit before her term ends at the end of 2010. Look, she's jumping out of the frying pan of the hot glare of the media spotlight into the fire. And she has the potential of flaming out before 2012." -- Democratic strategist Donna Brazile
"Friday was a disaster for her both in the sense that she was very incoherent in articulating why she was quitting and what she wanted too do with it." --Republican strategist Ed Rollins
E-mail to a friend