WASHINGTON (CNN) -- Sonia Sotomayor faced tough questioning Tuesday on political issues and controversial statements from her past, with both Democrats and Republicans saying she responded well and appeared certain to win confirmation as the nation's first Hispanic Supreme Court justice.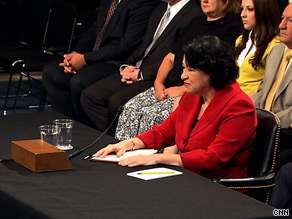 Sonia Sotomayor speaks before the Senate Judiciary Committe on Tuesday, the second day of her hearings.
The 55-year-old federal appeals judge conceded she made a bad play on words in saying in 2001 that a "wise Latina woman" could reach a better conclusion than a white man.
Otherwise, her calm answers to questions by the Senate Judiciary Committee on a wide range of issues -- abortion, gun control, presidential powers, the death penalty -- displayed a command of legal concepts that impressed her harshest interrogators.
"She's doing okay," Republican Sen. Lindsey Graham of South Carolina said during an afternoon break. Sotomayor was "very reasoned and measured and seems to have a good understanding of the law," he said.
Democrats on the committee praised her performance, with Chairman Patrick Leahy of Vermont saying he expected her to win approval with support from members of both parties. In particular, they praised her temperament -- which Graham had questioned due to criticism by some lawyers that she was bullying on the appellate bench.

Watch Sotomayor talk about the comment »
"I don't think she showed the least difficulty with her temperament or with her capacity to remember and answer complex questions," said Sen. Sheldon Whitehouse, D-Rhode Island. "I thought it was a bravura performance, both in her intellect and her temperament [which] showed somebody who I could very readily see sitting behind that high bench on the Supreme Court."
Sotomayor's Life
Monday:
New York-born but strong Puerto Rico roots
Tuesday:
Schoolgirl with rumpled uniform but passionate views
Wednesday:
Princeton unnerves freshman Sotomayor
Thursday:
TAB and cigarettes fuel young prosecutor
Friday:
Questions, questions and long hours as judge
In Depth:
Sotomayor Hearings
Sotomayor faced direct questioning for the first time on the second day of the committee's hearing, Tuesday. If approved by the panel and confirmed by the full Senate, she would be the 111th person to sit on the nation's highest court and it's third female justice.
She gave careful answers on two politically sensitive issues -- abortion and gun control -- saying the 1973 Roe v. Wade abortion ruling was settled law, and that she supports the Second Amendment right to bear arms. Sotomayor also said it is up to Congress and not the courts to determine the need for affirmative action measures to protect minority rights.
The only time she seemed ruffled was under persistent questioning by Republican Sen. Orrin Hatch of Utah, who peppered her about her reasoning in a Second Amendment case in New York. Sotomayor leaned forward during the exchange and answered more quickly, a shift from her focused but calm demeanor with other responses. iReport.com: Share your thoughts on the Sotomayor hearings
Leahy gave Sotomayor the opportunity to comment on criticism over her past statements that she hoped "a wise Latina woman with the richness of her experience would more often than not reach a better conclusion than a white male who hasn't lived that life."
"No words I have ever spoken or written have received so much attention," Sotomayor said of the statement from speeches to law students, particularly Hispanic students.
"I want to state up front, unequivocally and without doubt: I do not believe that any ethnic, racial or gender group has an advantage in sound judging," she said.

Watch Sotomayor comment on the New Haven case »
Pushed by Sen. Jeff Sessions of Alabama, the committee's ranking Republican, on what she meant, Sotomayor responded she did a bad job of trying to express a similar opinion as former Supreme Court Justice Sandra Day O'Connor -- the first woman on the nation's highest court -- that "both men and women were equally capable of being wise and fair judges."
Don't Miss
Sotomayor said she knew that O'Connor wasn't commenting on the ability of men or women to make wiser decisions. Judges disagree all the time, she said, but that doesn't mean that one is necessarily wiser than another.
"I was trying to play on her words," she said. "My play fell flat. It was bad."
Sessions responded that he remained troubled that she repeated the statement several times in other speeches, while Graham later advised against her becoming a speechwriter "if this judge-thing doesn't work out here."

See what a former Supreme Court nominee has to say about Sotomayor »
On another controversial comment -- a 2005 remark at Duke University that the Court of Appeals is where "policy is made [and] where ... the law is percolating," Sotomayor said her words have been taken out of context.
Shown in proper context, she argued Tuesday, her statement "made very clear that I wasn't talking about the policy reflected in the law that Congress makes." She was, she claimed, merely focusing on the fact that appellate judges establish precedent. They decide what the law means in certain circumstances, and those decisions "can be binding," she said.
Sotomayor repeated several times that her record in 17 years as a federal judge shows she fully believes "that judges must apply the law and not make the law."

Watch Sotomayor talk about fundamental rights »
In every case, she said, "I have done what the law requires," adding that personal biases and prejudices of a judge should not impact a case. However, "life experiences have to influence you," she said. Judges have to recognize their feelings and then "set them aside," she said.
Conservative Republicans asked Sotomayor about her stance on hot-button topics, expressing fears she would be an activist judge for liberal causes.
"A lot of us are concerned that unelected judges are very quick to change society, and that's disturbing," Graham said.

Watch a report on the role race can play in Supreme Court nominations »
Asked about gun control, Sotomayor said she recognizes an individual right to bear arms as recently identified by the Supreme Court.
"I have friends who hunt" and "understand fully" the Second Amendment right identified in the ruling in District of Columbia v. Heller, she said. The recent Supreme Court 5-4 ruling concluded that a sweeping handgun ban in the nation's capital violated Americans' constitutional right to "keep and bear arms."
On abortion, Sotomayor called the constitutional right to abortion established in Roe v. Wade a matter of settled law. While refusing to offer her personal view of the decision, she noted that the core holding in Roe was reaffirmed in the 1992 ruling Planned Parenthood v. Casey.
Sotomayor also said the question of whether affirmative action is needed is "always first a legislative determination."
Noting that the Constitution promotes and requires the equal protection of all citizens, she said she hoped that race would no longer be considered a factor 25 years from now.
Sotomayor also broke with President Obama on the importance of empathy in judging. Obama, who nominated Sotomayor to the Supreme Court, has said that in a small number of tough cases, "the legal process alone will not lead you to a rule of decision" and that "the critical ingredient is supplied by what is in the judge's heart."
Asked by Republican Sen. Jon Kyl of Arizona to reply to the president's remark, Sotomayor said she "wouldn't approach the issue of judging in the way the president does."

The "job of a judge is to apply the law," she said. "And so it's not the heart that compels conclusions in cases. It's the law. The judge applies the law to the facts before that judge."
She said that, in every instance, she looks strictly "at the law that's being cited. I look at how precedent informs it. ... We apply law to facts. We don't apply feelings to facts."
E-mail to a friend

CNN's Bill Mears contributed to this report.
All About Sonia Sotomayor • U.S. Supreme Court • Barack Obama