WASHINGTON (CNN) -- The battle to overhaul health care intensified Monday, with President Obama accusing GOP critics of putting politics ahead of policy and a top Republican saying Democrats' plans would undermine the country's economic future.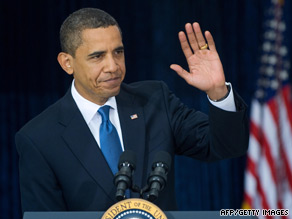 President Obama visits the Children's National Medical Center in Washington on Monday.
Meanwhile, Max Baucus, D-Montana, the chairman of the Senate Finance Committee, said Monday that closed-door talks involving Democratic and Republican members resulted in a tentative agreement on several substantive issues as part of what is considered the first possible bipartisan health care bill.
Also Monday, an aide to House Speaker Nancy Pelosi said she was willing to limit a proposed tax increase in a House health care bill after some Democrats threatened a revolt on the issue.
Monday's developments came as Democrats struggled to regain much-needed political momentum on the high-priority issue before the August congressional recess.
Obama and other Democratic leaders are seeking an overhaul to ensure that health insurance is available to 46 million uninsured Americans while preventing costs to the government and individuals from climbing.
In a visit to the Children's National Medical Center in Washington, the president seized on recent remarks by Sen. Jim DeMint, R-South Carolina. In reference to the health care debate, DeMint said, "If we're able to stop Obama on this, it will be his Waterloo. It will break him."
Obama said, "Think about that. This isn't about me. This isn't about politics."

Watch as Obama pushes health care this week »
Presidential press conference
President Obama addresses the nation in a prime time press conference. Watch it live on CNN.
Wednesday, 8 p.m. ET

He said, "This is about a health care system that is breaking America's families, breaking America's businesses and breaking America's economy. And we can't afford the politics of delay and defeat when it comes to health care. Not this time, not now."

Obama's critique came a few hours after Republican National Committee Chairman Michael Steele blasted the president for pushing "a risky multitrillion-dollar experiment with our health care."
The plan "not only risks our economy, it risks every American's health, too," Steele said during an appearance at the National Press Club.
"Under [the Democratic] plan, costs are going up, and you, the American people, are going to pay."
Steele also criticized congressional Democrats for attempting to pass a health care bill without reaching out to the GOP minority or "permitting any meaningful scrutiny."
Top administration officials, while defending their efforts with congressional Republicans, have conceded that more work is needed to ensure that whatever bill eventually gets passed is budget neutral.
To pay for reform, the House Democrats' current health care bill would impose a 5.4 percent surtax on individuals making $280,000 or more and families making $350,000 or more.
Pelosi, however, is now suggesting the surtax start with individuals making $500,000 and families making $1 million, according to a Pelosi aide. Pelosi first raised the idea in an interview with Politico.
"The speaker has said several times she would like to squeeze more savings out of the system, and if we can do that, we can reduce the number of people affected by the surcharge," said Brendan Daly, a spokesman for Pelosi.
Last week, 22 freshmen House Democrats sent a letter to Pelosi saying they were "extremely concerned" about what the taxes in the bill might do to small businesses.
House Republican Conference Chairman Mike Pence, R-Indiana, slammed the surtax in any form.
"It almost boggles the mind that the majority in Congress would continue headlong down a pathway toward increasing the tax burden on anyone at a time when our economy is shedding hundreds of thousands of jobs per month," Pence said.
Appearing Sunday on NBC's "Meet the Press," Health and Human Services Secretary Kathleen Sebelius said an additional tax on wealthy Americans is "a legitimate way to go forward" in the debate over how to overhaul the ailing health system.
A final bill "will be paid for -- it will not add to the deficit," Sebelius said.
The House and Senate are working on Democratic proposals that would create a government-funded public health insurance option intended to drive down costs of private coverage.
However, the nonpartisan Congressional Budget Office reported last week that the measures under consideration in both chambers would fail to pay for themselves, increasing the budget deficit.
Republican opponents were quick to seize on the CBO report as ammunition against Obama's push to have a bill from each chamber approved by the time Congress begins recess on August 7.
Democrats argued the CBO analysis failed to take into account the financial impact of cost-cutting measures under discussion as well as how stronger preventive care programs will reduce demand and costs.
The White House has so far resisted another idea for raising revenue -- creating a tax on the medical benefits provided by employers. Baucus said he likes the idea, but Obama said it could be too disruptive to a system in which 180 million Americans have health coverage provided by their employers.
"Essentially employers would stop providing health care," the president said Monday in an interview with the PBS program "Newshour."
Baucus said he would meet again with Finance Committee leaders on Tuesday to try to work out a compromise palatable to both parties. He refused to provide details of issues agreed to already, only describing them as "major significant issues that have been in the health care reform public domain."
The skirmishing over health care comes as a new national poll indicates Obama's ratings are slipping on the issue.
Forty-nine percent of people questioned in an ABC News/Washington Post survey released Monday approve of the way Obama is handling health care. That approval is down 4 percentage points from June and 9 points from April. Forty-four percent disapprove, up 5 percentage points from June and 15 points from April.
The ABC News/Washington Post poll is the third national survey to suggest the president's approval rating on overhauling health care is under 50 percent, joining a CBS News poll and a Quinnipiac University survey.

At the same time, the new poll also indicates Obama still has a large advantage over Republicans on the issue. Fifty-four percent of those questioned say they trust Obama to do a better job handling health care than Republicans in Congress, with 34 percent putting more faith in the latter than the president.
The ABC News/Washington Post poll was conducted Wednesday through Saturday, with 1,001 adult Americans questioned by telephone. The survey's sampling error is plus or minus 3 percentage points.
E-mail to a friend

CNN's Dana Bash, Deirdre Walsh and Paul Steinhauser contributed to this report.
All About Michael S. Steele • Health Care Policy • Barack Obama