From Candy Crowley
CNN





(CNN) -- As Sarah Palin handed over the Alaska governorship this weekend, the wear, tear and resentments of a year on the big stage were evident for the former GOP vice presidential candidate.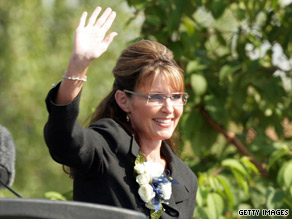 Sarah Palin on Sunday says she'll continue to fight "for what is right, and for truth."
Her parting words Sunday included a parting shot at the media:
"So how about in honor of the American soldier, you quit making up things. And don't underestimate the wisdom of the people. And one other thing for the media -- our new governor has a very nice family, too, so leave his kids alone," she said as she handed off power to Sean Parnell, the lieutenant governor.
Palin's farewell to the governor's office was a three-day rolling picnic, from Wasilla to Anchorage to Fairbanks. Palin, a mother of five, was surrounded by friends and supporters.
"I will tell you one thing -- if we get a woman president, let it be her. She is a real woman. She knows what a woman is supposed to be. She is pro-life. She is pro-family. She is pro-woman," said Jon Eric Thompson, who attended the Sunday picnic in Fairbanks.

Watch Palin's farewell in Fairbanks »
But it was not all friendly going. Palin has lost some of her light in Alaska and a lot on the national stage.
"She abandoned her state in the middle of a term. They didn't ask for her to run. She volunteered to run and assumed that job. I think she has hurt herself. You've seen those numbers turn," Republican strategist Alex Castellanos said Sunday on CNN's "State of the Union With John King."
Fifty-three percent of Americans view Palin negatively, and 40 percent see her positively, according to the latest ABC News/Washington Post poll.
Worse for Palin, four in 10 Republicans don't think she understands complex issues, the poll found.

Watch Bill Maher's take on Palin »
Still Palin wouldn't be the first politician to rehabilitate herself. And it's clear that while she handed over the governor's chair, she doesn't plan on relinquishing the microphone.
"Now with this decision, now I will be able to fight even harder for you, for what is right and for truth," Palin said.
Palin is working on a book, she says she'll help other candidates, and she'll give speeches. One of her first post-governor events will be August 8 at the Ronald Reagan Presidential Library in California.
She could make good money doing all of that. She also could be on a path that leads to 2012; it's called keeping your options open.

"I just asked her that about five minutes ago, and you want to know what she said? She said, 'I don't know' with her little smirk," said Adele Morgan, who went to high school with Palin and lives in Wasilla.
"That's her one-liner right now, because we don't know," she said.
E-mail to a friend

All About Sarah Palin • Alaska • Republican Party