WASHINGTON (CNN) -- A key Senate committee won't vote on its compromise health care overhaul plan before the upcoming month-long August recess, giving Republicans and some conservative Democrats their desired slowdown in congressional action on President Obama's top domestic priority.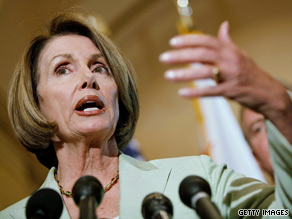 House Speaker Nancy Pelosi insists a "strong" public option will be part of any final health care plan.
The announcement by Senate Finance Committee Chairman Max Baucus, D-Montana, followed weeks of painstaking negotiations by six panel members -- three Democrats and three Republicans. It's been the only bipartisan health care legislation being crafted so far.
Under pressure from Democratic leaders to complete their work before the August break, the senators instead insisted they needed more time to come up with a proposal acceptable to both parties.
"It'll be a lost opportunity if Democratic leaders in Congress and the administration force action on health care legislation that's not ready because of the complexity of the issue and the high stakes in getting it right," said a terse statement by Sen. Charles Grassley of Iowa, one of the Republican negotiators, before the decision to hold off on a full committee vote.
Political acrimony over the issue also was evident on the House side as well Thursday.
House Speaker Nancy Pelosi of California signed off on a key component of a health care deal reached with conservative Democrats, triggering a backlash by liberal Democrats over what they called a weakened government-funded public health insurance option.
Pelosi and Senate Majority Leader Harry Reid of Nevada, the two most powerful congressional Democrats, also launched new attacks on private insurance companies that they blamed for increasing health care costs in order to make larger profits.
"They are the villains in this," Pelosi told reporters, labeling industry practices as "immoral," while Reid noted that the health care industry was exempt from antitrust regulation and made 450 percent profit in the past decade.
Republican opponents, however, called Democratic proposals in the House and Senate flawed because they sought to decrease health care costs by creating programs that would cost hundreds of billions of dollars.
"That's like saying you'll balance the checkbook by writing more checks," Minnesota Gov. Tim Pawlenty told CNN.
The sniping occurred a day before House was scheduled to start its month-long August recess, with the Energy and Commerce Committee finalizing the revised bill agreed to by Pelosi and four fiscally conservative House Democrats who are part of the Blue Dog coalition.
The committee intends to approve the bill Friday, allowing for it to be merged in coming weeks with two separate versions passed by other House panels for consideration by the full chamber in September.
Opposition by Blue Dogs forced Democratic leaders to negotiate changes in the measure to win support from at least four members of the coalition who sit on the Energy and Commerce Committee. Those changes prompted strong criticism Thursday from a liberal bloc of House Democrats who threatened to oppose the bill.
In a letter to Pelosi and the three committee chairmen working on health care, 57 members of the House Progressive Caucus argued the negotiated agreement weakened the House bill's language on creating a government-funded health insurance option.
The revised bill calls for the government-run public insurance option to be reimbursed on rates determined by negotiations with the insurance industry. The original version called for the same reimbursement rates as in the government's Medicare program for senior citizens.

Watch Dr. Sanjay Gupta's take on a timeline for the health care overhaul »
"Any bill that does not provide, at a minimum, for a public option with reimbursement rates based on Medicare rates -- not negotiated rates -- is unacceptable," the letter said.
The progressive Democrats also said that cuts to the bill's overall price tag would shortchange subsidies for low- and moderate-income Americans to help them buy health insurance coverage.
Pelosi admitted she also liked the original bill, but noted that the new language matched a proposal supported by Sen. Edward Kennedy, D-Massachusetts, a long-time champion of health care reform who is revered by liberal Democrats.
Pelosi also pointed out that the bill could change when House and Senate negotiate a final measure in coming months.
"We can compromise no more," warned Rep. Lynn Woolsey, co-chair of the 81-member House Progressive Caucus. "When leaders of the House meet in August to consider the three bills and produce a final one, we expect that it will retain a robust public option. If it doesn't, we will vote against it."
Opposition by the progressive Democrats and some conservative House Democrats who want additional cost cuts would defeat the bill on the House floor.
Pelosi brushed off questions about party divisions Thursday, saying: "We are all part of the same party, and we will have a bill that will come to the floor, and when it does, it will pass."
The agreement with the Blue Dogs, which is projected to lower the cost of the House plan by $100 billion over a decade, would also exempt businesses with payrolls below $500,000 from having to provide health coverage to their workers.

Watch Blue Dogs discuss the issue »
House Republicans appeared unswayed by the deal. House Minority Leader John Boehner, R-Ohio, criticized the overall bill Thursday for increasing the tax and regulatory burden on small businesses.
"It's the same government-run plan that Democrats have been trying to ram down the American people's throats all year," Boehner said. "Clearly, they haven't learned."
On the Senate side, key Republicans in the Finance Committee negotiations had signaled before Thursday's announcement that they were unlikely to complete work on a compromise plan before the August break.
Grassley and Sen. Michael Enzi of Wyoming told CNN Wednesday night that too many issues remained unresolved to sign on to a deal by the time the Senate breaks for its recess on August 7.
On Thursday, Grassley said that pressure from the White House and Democratic leaders to speed the process didn't help.

"It would be better for me to say that instead of saying there's no way we can cut a deal, there's no way we can get all the compromising that needs to be done by an artificial deadline of Friday of this week," Grassley said. "So we're going to continue to work together this week and next week. But we're getting close."
Democrats had hoped the Finance Committee could finish its work before the August break to show progress toward health legislation.
E-mail to a friend

CNN's Dana Bash, Deirdre Walsh and Ted Barrett contributed to this story
All About Health Care Policy • Barack Obama • Nancy Pelosi