From Ed Hornick
CNN






WASHINGTON (CNN) -- The White House shot down concerns Monday that middle-class families may face a tax increase in order to combat rising deficits and a struggling economy.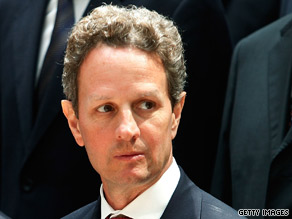 Treasury Secretary Timothy Geithner says the stimulus plan is working, but tough choices may be ahead.
"The president was clear during the campaign about his commitment on not raising taxes on middle-class families," White House press secretary Robert Gibbs said Monday afternoon. "I don't think any economist would believe that, in the environment that we're in, that raising taxes on middle-class families would make any sense."
The concern came after the Obama administration's two top money men floated the idea that tax increases to fund the nation's economic recovery could extend beyond the wealthiest Americans.
Treasury Secretary Timothy Geithner and Larry Summers, director of the National Economic Council, said Sunday they could no longer guarantee the middle class will be spared a tax increase.
"We have to do what's necessary," Geithner said on ABC's "This Week." "The critical thing is people understand that when we have recovery established -- led by the private sector -- and we have to bring these deficits down very dramatically ... we have to bring them down to a level where the amount we're borrowing from the world is stable and at a reasonable level."
Geithner added that "very hard choices" need to be made in order to bring down the deficit.
"And we're going to have to try and do that in a way that doesn't add unfairly to the burdens that the average American homeowner already faces."

Watch more of Geithner's comments »
Don't Miss
Summers said on CBS' "Face the Nation" on Sunday that "there's a lot that can happen over time ... so it's never a good idea to absolutely ... rule things out no matter what."
When pressed by reporters Monday on Geithner and Summers' comments, Gibbs said "They allowed themselves to get into a little hypothetical back-and-forth."
"We do have big structural deficits that are going to have to be dealt with in order to meet the president's commitment of cutting this deficit," Gibbs said. "I think what they both talked about was ... we're not going to be able to sustain any kind of economic recovery until we do have a path towards fiscal responsibility. They also said that shouldn't be done as a way of burdening middle-class families."

Watch a report on the tax issue »
During the 2008 presidential campaign, Obama made it clear that the middle class -- whom he defined as anyone making under $250,000 -- would not face any tax increase.
"If you make under $250,000, you will not see your taxes increased by a single dime. Not your income tax. Not your payroll tax. Not your capital gains tax. No tax," he said.

Watch Gibbs vow no tax hike »
The president recently reiterated that he stands behind that promise. But the key question going forward is what and how much the taxes could be raised if necessary.
Former Federal Reserve Chairman Alan Greenspan said he believed the government would eventually impose some kind of value-added tax to raise revenue.
A value-added tax is assessed on the transfer of goods and services from production to delivery, with consumers ultimately paying higher prices. It differs from a sales tax, which is directly assessed on consumers when they buy something.
Greenspan called a value-added tax "the least-worst solution," saying it is "the only thing that raises revenue in significant quantities without significantly impacting the economy."
Both Geithner and Greenspan, appearing on the same show, insisted that the economy would not collapse. But emergency steps -- including the bailout plan last year and the economic stimulus bill -- are expanding the federal budget deficit to unsustainable levels, both said.
"We will not get this economy back on track, recovery will not be strong and sustained, unless we ... can convince the American people that we're going to have the will to bring these deficits down once recovery is firmly established," Geithner said.
Summers, speaking to reporters Sunday, said Obama's focus is moving the economic stimulus plan forward.
"The crucial issues for the deficit go to the larger areas of the federal budget. They go to health care, they go to entitlements, they go to tax loopholes, and the president's very committed to taking the steps that are necessary ... to rescuing the economy. That's why the recovery and reinvestment act is so important: to ensure that it has a strong foundation."
But a key issue for the administration is a record-high unemployment rate in the country.
Geithner said the government will consider extending unemployment benefits that will run out soon for more than a million Americans.
Christina Romer, chairwoman of the Council of Economic Advisers, said on CNN's State of the Union on Sunday that the administration expects a turnaround in the gross domestic product, and "then we'd expect jobs to normally start growing shortly after that."

Watch more of her view on the economy »
But Republicans blasted the current efforts, saying the administration is mortgaging its future economic stability.
Rep. Mike Pence, R-Indiana, refused to credit government policies for the encouraging economic signals, saying progress has happened "in spite of the prescriptions of Washington."
"I think what we're seeing in the economy now is the inherent resilience of the American economy and the American people," Pence said on "Fox News Sunday." "What I'm saying is that this piecemeal approach -- government handouts through a government bureaucracy -- is no substitute for broad-based tax relief and fiscal discipline in Washington."
Republican Sen. John McCain of Arizona, who lost to Obama in last year's presidential election, conceded that the $787 billion stimulus package had helped, but he said the help was at too high a cost.

"I think it's very clear that the stimulus has had some effect," McCain said on CNN's "State of the Union." "But, what I worry more than anything about is the long-term effects."

Watch more of McCain's comments »
"We have put trillions of additional debt on future generations of Americans," he said, adding: "The long-term consequences, I think, are going to be, unfortunately, devastating unless we do something about it."
E-mail to a friend

CNN's Ed Henry contributed to this report.
All About U.S. National Economy • Timothy Geithner • Federal Budget