WAKARUSA, Indiana (CNN) -- President Obama announced Wednesday that the federal government will provide $2.4 billion in grants for the development of more fuel-efficient, battery-powered automobiles.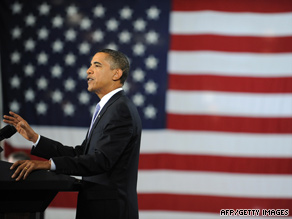 President Obama talks about the economy Wednesday at the Monaco RV plant in Elkhart County, Indiana.
"For too long, we've failed to invest in this kind of innovative work, even as countries like China and Japan were racing ahead," he said.
"With these investments, we're planting the seeds of progress for our country and good-paying, private-sector jobs for the American people."
Obama made the announcement during a visit to a recreational vehicle manufacturing plant in Elkhart County, Indiana, which has been hard hit by the economic downturn.

Watch a report from the area »
The president said the plant, which makes recreational and hybrid vehicles, will receive a $39 million grant to build 400 advanced-battery electric trucks.
Obama's announcement was the latest in a series of administration initiatives designed to accelerate a nationwide transition to a "green economy."
In May, the president announced new fuel economy rules, including a requirement for passenger cars and light trucks to get an overall average of 35.5 miles per gallon by 2016. Obama has also been pushing Congress to move ahead with legislation placing a market-based cap on carbon pollution.
Don't Miss
The Senate is currently considering a $2 billion extension of the administration's popular "cash for clunkers" program, which pays people up to $4,500 for trading an older-model vehicle with low fuel efficiency for new vehicles that get more miles per gallon.
Obama's visit to the Elkhart area -- known as the RV capital of the world -- was his fourth in the past 15 months. He last appeared in the city on February 9 to generate support for the administration's economic stimulus package.

Elkhart, with an unemployment rate nearing 20 percent, has been hit by "a perfect storm of economic troubles," Obama said.
The Republican National Committee slammed Obama hours before the visit. "As Obama visits Elkhart, Indiana, for 4th time in 15 months, citizens there realize promises made are promises broken," they said in a memo sent to reporters.
E-mail to a friend

All About Electric Vehicles • Barack Obama • Elkhart (Indiana)