NAIROBI, Kenya (CNN) -- Secretary of State Hillary Clinton delivered a "tough but lovingly presented" message to Kenya on Thursday: shun corruption and reform government.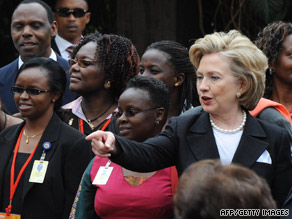 Hillary Clinton stands with survivors of the 1998 bombings of the U.S. Embassy in Nairobi in a ceremony Thursday.
African governments should uphold the rule of law to attract investment and ensure economic growth, Clinton said during a town hall meeting at the University of Nairobi.
"The fact is Kenya has not fulfilled its economic promise," Clinton said. "I believe it has not realized ... a functioning democracy."
Clinton, who arrived at the capital, Nairobi, on Tuesday, met with government leaders Wednesday and attended the African Growth and Opportunity Act conference, an annual meeting that aims to bolster trade and investment between the United States and African countries.
Her visit comes a few days after Kenya said it will use its judiciary to try perpetrators of post-election violence, reneging on an earlier pledge to use an independent tribunal.
Hundreds of thousands of people were displaced and more than 1,300 were killed in fighting that flared after the 2007 elections.
It started after the main opposition candidate disputed the results, sparking the worst violence in the nation's history.
Kenyans, foreign donors and the United States have criticized plans to try suspected perpetrators in the judiciary, saying the nation's system is not credible enough to do so.
Clinton's Trip
Nations that Secretary of State Hillary Clinton will visit in Africa:

Kenya
South Africa
Angola
Democratic Republic of the Congo
Nigeria
Liberia
Cape Verde


At the beginning of the town hall meeting, Clinton, acknowledged the shortcomings in Kenya's judiciary system by using a phrase commonly used by its citizens. It is common parlance that if you have a problem, "Why hire a lawyer when you can buy a judge," Clinton said, referring to corruption associated with the nation's judiciary system.

The secretary of state said that by addressing corruption, she was sharing a sentiment from President Obama, whose father was from the East African nation.

"The government has to reform itself if Kenya will be all that it can be," Clinton said, adding that was a message from Obama. "It is tough but it's also lovingly presented."

However, she said, the United States has no plans to impose sanctions while Kenya tries to wipe out corruption.

"We will consider consequences aimed at individuals, not aimed at the people of Kenya," she said.

Clinton's trip comes about a month after Obama highlighted corruption in Africa during a trip to Accra, Ghana.

She is scheduled to meet Thursday with Somalia's new president, whose government is waging a bloody battle against an Islamic insurgency -- with some help from the United States.

Clinton will meet with Somalia's transitional president, Sheikh Sharif Sheikh Ahmed, in the Kenyan capital as part of her multi-nation visit to the African continent.

The United States announced in June that it is providing weapons and ammunition to Sharif's government as it fights al Qaeda-linked Islamist militants.

The weapons shipments are in accordance with U.N. Security Council resolutions, which ban some arms shipments to Somalia, State Department spokesman Ian Kelly said.

The United States is concerned that Somalia's weak government could fall to the Islamist insurgency, as it did in 2006 before Ethiopian forces ousted the militants from power later that year.

E-mail to a friend

All About Kenya • Hillary Clinton • Somalia • Ghana