GUADALAJARA, Mexico (CNN) -- President Obama said Monday the United States remains Mexico's partner in the fight against drug cartels, despite some calls in the United States to delay counter-narcotics aid because of alleged human rights violations by Mexican soldiers.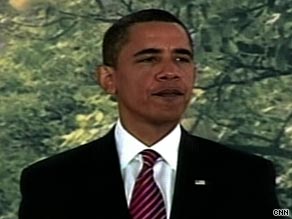 President Obama speaks at a news conference in Guadalajara, Mexico, on Monday.
Mexican President Felipe Calderon reaffirmed his commitment to transparency and human rights in his offensive against the cartels, Obama said.
Some $100 million in anti-drug aid, known as the Merida Initiative, could be delayed because of concerns about human rights violations, it was reported last week.
"We have been very supportive of the Merida Initiative, and we remain supportive," Obama said.
Obama also said the United States would work to reduce demand for drugs and stop the illegal flow of weapons south to Mexico.
The remarks came at a summit of North American leaders in Guadalajara, Mexico.
Canadian Prime Minister Stephen Harper also expressed support for Mexico's strategy, saying that the drug cartels were a problem shared by all three countries.
Turning to immigration, Obama said he is committed to "fix the broken immigration system."
The three North American countries depend on their borders being safe and secure, Obama said, adding that he supports "orderly and legal" migration, while respecting the American tradition of welcoming immigrants.
He also responded to critics who say that the United States has not been forceful enough in demanding the return of ousted Honduran President Jose Manuel Zelaya to power, calling them hypocritical.
"The same critics who say that the United States has not intervened enough in Honduras, are the same people who say that we're always intervening and that Yankees need to get out of Latin America. You can't have it both ways," Obama said.
"We have been very clear in our belief that President Zelaya was removed from office illegally, that it was a coup, and that he should return," Obama said.
The United Nations and Organization of American States, including the United States, have called for Zelaya's return, but more than one month later, the interim government of Roberto Micheletti remains firm and talks between the two sides have so far been unsuccessful.
Harper agreed with Obama's stance.
The United States has very clearly stated its position while letting a multilateral process take the lead, he said.
"That's precisely what we want to see from the United States," Harper said.
Turning to trade, Obama said a "Buy American" provision in his economic stimulus plan had little effect so far on the multibillion-dollar trade partnership with Canada.
Obama told journalists that Harper has raised the issue every time they have met.
Harper has complained the "Buy American" provision is protectionist and could harm trade relations between the closely linked North American economies.
"This in no way this has endangered the billions of dollars of trade taking place between our two countries," Obama said, standing beside Harper and Calderon at a final news conference.
Harper responded to the same question by saying the leaders had a good discussion on the issue, and their respective trade ministers also were talking about it.
Canada is the top trade partner of the United States, with cross-border commerce worth more than $1 billion a day.
The $787-billion stimulus package enacted in February included a provision that only American goods be used in stimulus projects. It also stipulated that the measure would not override existing U.S. trade treaties such as the North American Free Trade Agreement.
Obama also talked about comparisons between the U.S. and Canadian health care systems, saying Canada's government-run health care model won't work in the United States. "We've got to develop a uniquely American approach to this problem," he said.
Opponents of health care legislation in the U.S. House and Senate say it will lead to a single-payer system like the government-run program in Canada, with some warning the Canadian system means restrictions on treatments and long delays.
Obama noted the U.S. system is based on employers providing health insurance for most Americans. Throwing that out would be too radical an overhaul, he said.
However, he said he expects opponents of health care legislation to continue to make what he called the misleading comparison between proposed U.S. legislation and Canada's system.
"I suspect that you Canadians are going to continue to get dragged into the debate," he said.
E-mail to a friend

All About Barack Obama • Canada • Mexico