PORTSMOUTH, New Hampshire (CNN) -- President Obama complained Tuesday about opposition scare tactics against a proposed health care overhaul, but said failing to fix problems in the current system would be the scariest outcome of all.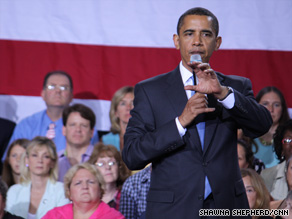 "What is really scary ... is to do nothing," President Obama says Tuesday.
Obama addressed a supportive town hall meeting in New Hampshire that contrasted with combative events held by Democratic Congress members that have generated heated and sometimes disruptive responses. Also Tuesday, hostile crowds shouted questions and made angry statements against proposed health care legislation at meetings in Pennsylvania and Missouri led by Democratic senators Arlen Specter and Claire McCaskill.
Obama and Democratic leaders have accused opponents of health care changes of organizing protests intended to drown out the debate, while Republicans respond the public anger is a genuine response to what they call excessive and misguided legislation.
In New Hampshire, Obama welcomed a "vigorous" debate as part of the democratic process, but said people should talk "with each other and not over each other." He criticized "wild misrepresentations" by special interests trying to undermine health care legislation before Congress.
In particular, Obama rejected rumors that a health care bill passed by a House committee included setting up so-called "death panels" to decide if senior citizens get treatment. He called spreading such rumors a long-standing practice by opponents of health care reform, such as "those who profit under the status quo."
"What is truly scary, what is truly risky, is to do nothing," Obama said, noting that premiums paid for health care coverage were rising three times faster than wages and that the government-run Medicare program for senior citizens would run out of money within a decade.

Learn more about the health care debate »
In a new twist at such forums, Obama specifically asked for questions from opponents of health care legislation to address issues of concern.
He repeated past guarantees that a health care overhaul won't force anyone to give up health insurance they like and won't cut Medicare benefits, and he stood by his election pledge that he won't raise taxes on people making less than $250,000 a year.
At the same time, Obama defended his call for a government-funded public health insurance option to compete against private insurers. He said such an option would hold down rates, rejecting accusations it amounted to a government takeover of health care because private companies can't compete with a government-funded plan.
"UPS and FedEx are doing just fine," Obama said, referring to private courier services that compete with the U.S. Postal Service. "It's the Post Office that's always having problems."
The atmosphere was different at Specter's morning event in Lebanon, Pennsylvania, where angry questioners made emotional statements against health care proposals that they likened to a socialist takeover of the country. One man who shouted an unsolicited comment was shoved by another, prompting Specter to intervene while warning that those disrupting the meeting would be thrown out.
Specter also faced a noisy crowd at a second event later in the day in Lewisburg, while McCaskill heard similar conservative arguments at her meeting in Hillsboro, Missouri, outside St. Louis. McCaskill kept the meeting running despite frequent shouts and booing, though a short scuffle in the crowd interrupted her.

Watch a voter tell Specter, "Leave us alone" »
"Take a deep breath and sit down," she told the crowd as security officers removed one woman. "I want everyone to remember we had prayers at the beginning."
Like Obama, she rejected claims by audience members that health care legislation would force people into a government-run public health insurance option, saying: "We're not going to force anybody. It's called an option for a reason."
McCaskill also noted that many of those opposing the public option like their coverage by Medicare, "a government-run program."
At his town-hall events, Specter was accompanied by United States Capitol Hill Police officers. After his event at the campus of Bucknell University in Lewisburg, Specter defended his decision to have Congress' special police force travel with him.
"I would say, that given the temper of the times, the fact that in some areas there have been fights breaking out and people hospitalized -- and one member's statue was hanged in effigy -- [safety] is a big challenge," said Specter.
Despite his expressed need for special security, Specter said heated confrontation is part of the job.
"It's challenging. I've been part of some challenging situations and that's part of the pay grade," he said.
Adding that he thought the rhetoric was "within acceptable limits," Specter told reporters that economic and political anxieties have created a "level of anger in the country" that has not been seen since the Great Depression.
Videos of other protests circulating on the Internet show raucous crowds heckling their representatives in Congress and carrying posters with devil horns drawn on lawmakers' heads, swastikas, or Obama with Adolf Hitler's mustache drawn on his face. iReport.com: Attending a town hall?
The White House has launched what it calls a Health Insurance Reform Reality Check Web site designed to combat what the administration considers misinformation about the issue. The Web page features Obama aides discussing various aspects of health care reform.

Watch more on the battle facing Obama »
However, the Web site prompted Republican complaints that Obama's government would use it to compile a list of enemies. Obama rejected that accusation, too.
He called a health care overhaul essential for ensuring long-term economic stability while ensuring that virtually all Americans have access to health insurance.
"The status quo is not working for you," Obama said to applause.

Congressional action on a health care overhaul has slowed because of strong Republican opposition. Neither chamber met Obama's goal of passing a bill before their August recess.
In particular, Republicans and some Democrats reject the proposed public option, which they believe will lead to a government takeover of the health care system and prove too costly.
E-mail to a friend

CNN's Evan Glass contributed to this report.
All About Barack Obama • Health Care Issues