(CNN) -- Town hall meetings continued Thursday with more members of Congress facing an onslaught of tough questions about health care reform plans.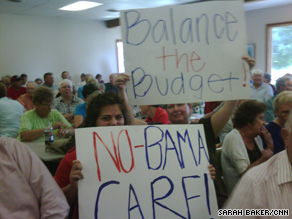 People protest President Obama's health care plan Wednesday at a town hall meeting in Panora, Iowa.
Rep. Steve Rothman, D-New Jersey, said at a meeting in Secaucus that the aim of health care reform is not to make America's system mimic Great Britain's or Canada's.
"I, for one, don't want a system like Great Britain's. I don't want a system like Canada's. I don't want national health care, and I don't want socialized medicine," he said.
Rothman said that any health care bill coming out of Congress has to "fix what needs to be fixed" but not "destroy what's good about the existing private health insurance system."
Meanwhile, Sen. Tom Coburn, R-Oklahoma, at a town hall meeting Thursday in Muskogee, said he predicts much of the responsibility in controlling health care costs will fall upon patients.
Coburn, one of two doctors in the Senate, is against the current draft legislation in the House.
"If you want reform for reform's sake and it doesn't control the costs, what you are going to do is cut everybody's wages in this country because any dollar that goes into health care is a dollar that doesn't go into your pocket," he said.
He also called for "a true competitive market with transparency and access for everybody," adding: "There is a disconnect between the purchase of health care and the payment of health care, whether it's Medicare, Medicaid or private insurance."
Sen. Chuck Grassley, R-Iowa, will also hold a series of meetings throughout his state. Grassley is one of six members of the Senate Finance Committee, which is made up of three Democrats and three Republicans.
Just to the south, Rep. Mike Ross, D-Arkansas, held a town hall meeting. The member of the fiscally conservative Blue Dog Democrats has been a vocal critic of leadership in the Democratic-controlled Congress.

Watch a report on the meeting from the Texas-Arkansas border »
Also holding town hall meetings on Thursday: Rep. Jerry Moran, R-Kansas, in McPherson and Cottonwood; Rep. Thomas Petri, R-Wisconsin, in Oakfield; and Rep. David Wu, D-Oregon, in Seaside.
On Wednesday, Sen. Grassley got an earful from his constituents after holding four town meetings, welcoming what he called much larger crowds than such gatherings usually attract.
"We're here at a time when I sense that people are scared for our country, and that's why we're having big turnouts," he said of the audiences that were mostly conservative but also included left-leaning Iowans. Some booing and arguments occurred, but the overall tone was more orderly than similar health care meetings by Democratic politicians.
Grassley heard emotional questions from both sides of the political spectrum. Conservatives called a Democratic bill passed by one House committee a threat to the country.
"This is no less than liberty versus tyranny, good versus evil, and there is no middle ground," said one woman at a meeting in Adel, Iowa.

Are town halls getting out of hand? »
Grassley responded that his Senate negotiations have yet to produce a bill, but he would oppose the House bill cited by the questioner.
At the same meeting, several questioners called for a government-run health care system to ensure coverage for all people. One man noted that Iowans have a government-funded public option for education in state-run universities, and asked why that won't work for health care.
In response to other questions, Grassley explained specific provisions of proposed legislation to clear up misconceptions expressed by questioners. He gave a detailed description of health insurance exchanges proposed by Democrats to offer consumers a choice of options.
"You would be able to go to an exchange on the Internet or an 800 number and compare prices or whatever," he said. "You'd be able to go to one site and get the best policy."
Meanwhile, emotions ran high at a town hall meeting Wednesday in Maryland.
At Hagerstown Community College, dozens of audience members asked questions, and many accused Democratic Sen. Ben Cardin and President Obama's administration of seeking to bankrupt the nation's future by overhauling the health care system.
"This government is out of control. We are in debt up to our eyeballs," one questioner declared, her voice rising in anger. "What are you going to do to restore trust and faith in the American people that you know what you're doing?"
Cardin, often speaking above booing and shouts of protest, said he believes the government has a responsibility to ensure that all citizens have access to affordable health coverage.
Much of the crowd's anger focused on one of three House proposals approved by different committees. As a senator, Cardin is considering versions that differ from the House measures, and he noted several times that Congress would continue negotiating to derive a single bill from the various proposals.
He also repeated four times that he won't vote for a bill that raises the federal deficit, and explained how the goal of overhauling health care is to end discriminatory practices by the insurance industry while bringing down costs.

Watch more on boisterous town halls »
The more he spoke, though, the louder the shouts of protest became.
"How will more bureaucrats and probably fewer health care providers make health care better?" demanded another woman, adding that the plan seemed to be a "takeover, not reform."
Cardin acknowledged he wasn't going to change the minds of his loudest detractors.

"I was told that the people of Hagerstown are generally respectful," he said, adding that "90 percent of you are listening to what I'm saying."
As he left the stage, a woman in the crowd screamed at him and broke down crying.
E-mail to a friend

CNN's Ed Hornick contributed to this report.
All About Health Care Costs • Health Care Policy • Chuck Grassley • Barack Obama • Iowa