By Jonathan Mann
CNN





(CNN) -- Washington D.C. is hot in the summer but President Barack Obama is learning that outside the capital right now it's even hotter.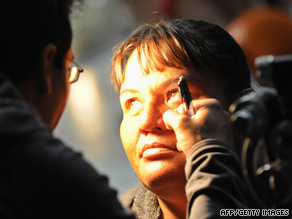 A woman gets her eyes tested as volunteers offer free medical services to those without health insurance in Los Angeles.
In public meetings across the country, Americans are demonstrating the first fervent opposition Obama has encountered since taking office.
"Let's face it," he said this week. "Now is the hard part."
Protestors aren't confronting the president directly. Instead, they're directing their anger, outbursts and threats against lawmakers who support the president's plan to reform the American healthcare industry.
Congress has been working on the plan and many of its members are holding public meetings this month to discuss it with their constituents.
Some are finding hard-to-control anger in their audiences and say it's more than just the voice of ordinary voters.
Don't Miss
"It clearly is organized by the top, encouraged nationally by conservatives and the Republican Party," said Democratic Congressman Brad Miller. In fact, both sides are organizing their supporters, working with outside groups and advertising to push their points of view.
Republicans say that the larger political campaigns are less important than the real anxiety people feel about an enormous undertaking: the healthcare industry is roughly one-sixth of the entire U.S. economy and it has an impact on every American.
"An awful lot of citizens that are showing up at town meetings are not shouting at anybody," said Republican Senator Mitch McConnell. "They're there to try to learn what Congress may have in mind on an issue that's important to everybody in the country.. which is our own health."

The president has been remarkably popular considering that he's guiding the country through two wars and a deep recession. A majority of Americans tell pollsters he's doing a good job and more Americans support the health reform than oppose it.
But there is more than that to the math. Nearly 70 million Americans voted to elect Barack Obama president. But nearly 60 million Americans voted for his opponent, which is to say, they voted against him. Sooner or later, he was bound to start hearing from them.
E-mail to a friend

All About Barack Obama • Healthcare Issues