(CNN) -- U.S. Sen. Jim Webb obtained the release Saturday of American John Yettaw, who had been sentenced to seven years of hard labor in Myanmar for visiting detained pro-democracy leader Aung San Suu Kyi, his office said.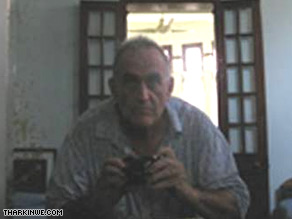 American John Yettaw reportedly said God told him to go to Aung San Suu Kyi's house to protect her.
Webb, who chairs the East Asia and Pacific Affairs subcommittee of the Senate Foreign Relations Committee, will accompany Yettaw to Bangkok, Thailand, on Sunday aboard a military aircraft, his office said.
Yettaw's wife, Betty, told CNN from Missouri that she had received no official word of her husband's release. She added that if there were anything positive about the situation, it is that people now know where Myanmar is. She declined further comment.
It is the second success in a day for Webb, a Democrat from Virginia, who earlier held separate meetings with Suu Kyi and Myanmar's top official, junta leader Senior Gen. Than Shwe.
"It is my hope that we can take advantage of these gestures as a way to begin laying a foundation of good will and confidence-building in the future," Webb said in a statement.
Webb met with Suu Kyi for nearly an hour Saturday, his office said. He described the meeting as "an opportunity for me to convey my deep respect to Aung San Suu Kyi for the sacrifices she has made on behalf of democracy around the world."
Webb is also the first American official ever to meet with Than Shwe. Webb said he requested that the country's leadership release Suu Kyi from her 18-month house arrest.
Webb is the first member of Congress to visit Myanmar, also known as Burma, in more than a decade. Though he is not in the country on behalf of the State Department, he is there in his official capacity as a senator, and his trip may indicate a shift in America's hard-line stance against the reclusive country.
"He has been very consistent in his view about the need for aggressive diplomacy with these kind of authoritarian regimes around the world," Webb's spokeswoman, Jessica Smith, told CNN from Washington.
She said Webb believes that "if we engage with Burma, it will benefit all countries involved if we speak to Burma's leadership."
Webb's discussions with the country's leaders were "very frank," Smith said.
Suu Kyi, winner of the 1991 Nobel Prize for Peace, was sentenced Tuesday for a May incident in which Yettaw swam, uninvited, two miles to her home. Yettaw's presence at Suu Kyi's compound violated the terms of the house arrest she was under at the time.
A Myanmar court initially sentenced Suu Kyi to three years in prison for that incident, but Than Shwe commuted it to the year and a half of house arrest.
Yettaw, a 53-year-old former military serviceman from Falcon, Missouri, stayed in Suu Kyi's home for two days. He testified in court that God had sent him to Myanmar to protect the dissident because he dreamed that a terrorist group would assassinate her. Learn more about Myanmar »
Yettaw was convicted of violating immigration laws, municipal laws and Suu Kyi's house arrest terms.
The United Nations Security Council on Thursday expressed "serious concern" over Suu Kyi's conviction and its political impact, and urged the government to "create the necessary conditions for a genuine dialogue" with the pro-democracy leader.
Also Thursday, the European Union adopted "a new set of targeted measures" against Myanmar in reaction to the verdict against Suu Kyi. Under the measures, members of the Myanmar judiciary responsible for Suu Kyi's conviction will be added to a list of people and entities subject to a travel ban and the freezing of assets.

Suu Kyi has spent 14 of the past 20 years in one form of confinement or another -- most recently under house arrest in a crumbling lakeside home. The regime rarely allows her visitors, and foreigners are not allowed overnight stays in local households without government permission.
Suu Kyi has said she doesn't know Yettaw, did not know of his plans and denied any wrongdoing. She told the court she did not report the intrusion because she did not want Yettaw or anyone else to get in trouble.
E-mail to a friend

All About Aung San Suu Kyi • Myanmar • Jim Webb • European Union