(CNN) -- Sen. Edward "Ted" Kennedy left a mark not only on history but also on the lives of the those he encountered during his nearly 50 years in public service.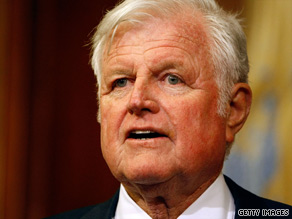 Sen. Edward "Ted" Kennedy "brought a joy to politics," says CNN contributor David Gergen.
Those who knew him are grieving the loss of the "Lion of the Senate," celebrating the accomplishments of his life and recounting memories of the late senator.
Here are some of those stories, in the words of those who met him:

David Gergen, CNN contributor and former aide to past presidents
"I think he's going to rank in the top ranks of the 20th-century lawmakers. [He was] one of the most effective legislators of the last 50 years. ... He left an enormous imprint upon our politics. ...
"He was a happy warrior. He brought a joy to politics. He just loved it."
Sen. John Kerry, D-Massachusetts
"The greatest thing was the way he just loved serving and the passion with which he devoted himself to public service even as he was able to devote himself so entirely to his family. ...
"I listened to a number of the grandchildren talk about how every one of them got a call on their birthdays. Every one of them. I mean that's a lot of phone calls, folks. And Ted was always there. He was funny beyond words in terms of campaigning and being out there. There are stories we'll tell in the next days that just were what made being around him so special."

Watch leaders and others on Kennedy and his legacy »
Douglas Brinkley, presidential historian
"Bill Clinton was saying, 'I'm a new Democrat,' and others were kind of abandoning the New Deal and the Great Society and the New Frontier. But not Ted Kennedy. And at that point, he became a folk hero on the left, and he widened what was the Robert Kennedy coalition of '68, and to the point today, he is literally beloved by the disenfranchised of America."
Don't Miss
Nancy Reagan, former first lady
"Most people didn't realize the friendship, or didn't accept or didn't know about the friendship. ... Ronnie so identified with the Republican Party and Teddy obviously with the Democrat Party. But that doesn't make any difference ... shouldn't make any difference."
Doug Ulman, president and CEO of the Lance Armstrong Foundation, a nonprofit cancer organization
On Kennedy's influence on the foundation:
"He's had a great influence on us. I mean, he spent his career fighting on behalf of people who were sick and overcoming challenges. And I'll never forget the first time we visited with him in Washington, D.C., and were in his office.
"And before we started the meeting, he took us over to this wall in his office where there were just so many family photos and so much history, and he pointed to a photo of Teddy Jr. skiing down a mountain.
"Teddy, of course, is a survivor of osteosarcoma, and he started crying telling the story of his son's battle with cancer and the impact that had on his family. And it was really moving. I'll never forget that moment."
Jim Wallis, president of Sojourners, a progressive faith organization
"In the aftermath of the 2004 presidential elections, the Democrats were roundly accused of losing the 'moral values voters' in America and of being the party of 'secularists' who were hostile to faith and religion. The very first Democrat to call me and ask to talk about that accusation and how to change the moral debate in America was Ted Kennedy.
"He invited me to his home, where he and his wife, Vicki, engaged me in a long and very thoughtful conversation, into the night, about the relationship between faith, morality and politics. Their own deep Catholic faith was evident and their articulation of it very impressive. Our discussion was not partisan at all -- it was not about how to win religion back for the Democrats. Rather, we focused on the great moral issues facing the nation and how we as people of faith needed to respond to them."
Robert Hunter, former policy adviser to Kennedy, who also worked with former Presidents Clinton and Carter
On Kennedy's wit:
"[Kennedy] had a meeting with the undersecretary of state for economic affairs, and we had just been out to the Middle East and Iran, where Kennedy was trying to get the shah to do some things about oil prices and keep the prices down. So he had [State Department representative Thomas Enders] come in, and there was an article that day on Enders' wife, and she made a comment about Ted Kennedy being a playboy. So, in comes Enders, and all of us around the office were kind of giggling, wondering what was going to happen.
"Immediately, Enders says to Kennedy, 'I'm sorry about that article; my wife got misquoted.' Kennedy was gracious about it, in a laconic sort of way. So Kennedy starts going on about the shah and the oil prices and saying we have to get a point across to this guy, we really need someone really rough to go after him. And then, Kennedy turns to Enders and says, 'We could send you." And then there's a pause, and Kennedy says, 'Or maybe we should send your wife.' "
On Kennedy's political instincts:
"At one point, Mark Schneider and I went down to Cuba and spent four hours talking with [Fidel] Castro. This was about the time that it looked like there might be a thaw there. So we came home, and we were trying to convince Kennedy to go to Cuba, and he said, 'I just don't feel right about it.' He had political instincts that something was going to happen, that something wasn't right. And he was right, and we were wrong, because two weeks later, Castro invaded Angola."
On Kennedy's desire to make decisions using the right instincts:
"I remember once we were working on trying to get conventional arms control in the Persian Gulf. And a political guy came in and says we have a firm in Massachusetts that isn't going to like this -- not selling this many arms. And Kennedy scowled and thought for a second and gave me this concentrated look. It was a look we knew, and it wasn't a pleased look. And he said to me, 'Is this the right policy?' And I told him yes, so he said, 'Then we'll do it.' "
Sen. Evan Bayh, D-Indiana

"I'll never forget one of my earliest experiences in the Senate -- the first impeachment trial of a president in over 100 years. There were no rules. It was intensely partisan and political. Who was respected enough to broker a way forward?
"It was Ted Kennedy who hammered out the agreement of how the Senate should proceed. He had strong convictions, but he also was intensely pragmatic. Those qualities made him the type of person that leaders of both parties respected and wanted to work with."
E-mail to a friend

CNN's Mallory Simon contributed to this report.
All About Edward M. Kennedy • Massachusetts • Ronald Reagan