By Ed Rollins
CNN Contributor





Editor's note: Ed Rollins, a senior political contributor for CNN, is senior presidential fellow at the Kalikow Center for the Study of the American Presidency at Hofstra University. He was White House political director for President Reagan and chairman of the National Republican Congressional Committee.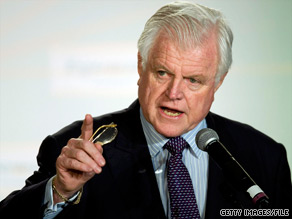 Sen. Ted Kennedy was "a brave and courageous warrior" for liberal causes, says Ed Rollins.
NEW YORK (CNN) -- The political arena is an emptier place today. A brave and courageous warrior has left the battlefield. He will not be quickly forgotten or replaced.
With the death of Sen. Ted Kennedy, a political dynasty comes to an end. His idealism and his legislative accomplishments will live on and another generation will be inspired by his life's works, but for the foreseeable future there will be no one like Ted Kennedy in the Senate or on the national stage. And no one on the horizon is there to take his place. Not even President Obama.
The great liberal Lion of the Senate has roared his last howl and American politics will be much less for his passing.
I say this as a Republican and a Reagan conservative who opposed most of what Ted Kennedy spent his entire life trying to accomplish. But he was first and foremost a worthy opponent who with the help of his extraordinary Senate staff always came prepared.
No one has been a more prolific sponsor of legislation for the poor and disadvantaged. Over the past five decades, Kennedy has been a leader in nearly every major battle for women's rights, immigration reform or health care. He sponsored more than 2,500 pieces of legislation. And by cobbling together bipartisan support he passed much far-reaching liberal legislation. And he was an adversary ready on any day for the battle.
I am sure many of my conservative friends will highlight the imperfections of his ever-so-human life. Conservatives and Republicans have vilified him over the years. Millions of pieces of direct mail attacking him and his liberal programs have raised hundreds of millions of dollars for all sorts of conservative causes. He was the perfect target for conservative talk radio and cable television. But he battled back as good as anyone in the game.
And he had an ability to cross the aisle and put together very strange coalitions of conservative Republicans and the most liberal Democrats for causes he believed in. During my years in the Reagan White House, I was always amazed when Ted Kennedy and Sen. Orrin Hatch of Utah, one of President Reagan's greatest allies, joined up to promote some piece of legislation that the White House found unacceptable.
Don't Miss
To the outside political world, he was polarizing, and you either loved him or hated him depending on your beliefs, especially if you did not know him personally. But among his Senate colleagues, both Republicans and Democrats, he was a beloved figure and never underestimated.
Many eulogies will be written over the next days and weeks honoring Kennedy. Most will highlight all the good things he did, some will highlight the family tragedies and some may even highlight his weaknesses and imperfections.
One of the lessons I learned early in my political career is that good deeds are often done by less than perfect people. Like most of us, Sen. Kennedy had his share of misdeeds that he might have wished he had never done. And for them he paid a heavy price. But he never quit. In time of family crisis he inspired us with his bravery and his inspirational words. Over the last months as his days dwindled, his spirit never quit. He led his family, he led his party and on many occasions he led his nation.
But most of all he never wavered in his convictions. And for that his country was well served.
In the end his legacy could easily be that of a brave and courageous man who inspired others and tried always to help those who needed help the most. And as one Republican, I can say he was an opponent worthy of any battle.
The opinions expressed in this commentary are solely those of Ed Rollins.
E-mail to a friend

All About Edward M. Kennedy • Ronald Reagan