(CNN) -- A sampling of reactions to the death of Sen. Edward Kennedy, who died Tuesday night at age 77: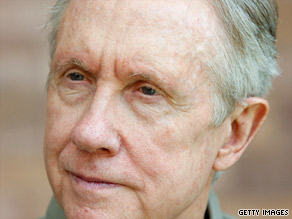 Sen. Harry Reid says Kennedy's "mighty roar may now fall silent, but his dream shall never die."
U.S. President Barack Obama: For five decades, virtually every major piece of legislation to advance the civil rights, health and economic well being of the American people bore his name and resulted from his efforts.
I valued his wise counsel in the Senate, where, regardless of the swirl of events, he always had time for a new colleague. I cherished his confidence and momentous support in my race for the Presidency. And even as he waged a valiant struggle with a mortal illness, I've profited as President from his encouragement and wisdom.
An important chapter in our history has come to an end. Our country has lost a great leader, who picked up the torch of his fallen brothers and became the greatest United States Senator of our time.
Vice President Joe Biden: "It was infectious when you were with him. You could see it, those of you who knew him and those of you who didn't know him. You could just see it in the nature of his debate, in the nature of his embrace, in the nature of how he every single day attacked these problems. And, you know, he was never defeatist. He never was petty -- never was petty. He was never small. And in the process of his doing, he made everybody he worked with bigger -- both his adversaries as well as his allies."
Bill Clinton, former president: "Senator Ted Kennedy was one of the most influential leaders of our time, and one of the greatest senators in American history. His big heart, sharp mind and boundless energy were gifts he gave to make our democracy a more perfect union."
Jimmy Carter, former president: "Senator Kennedy was a passionate voice for the citizens of Massachusetts and an unwavering advocate for the millions of less fortunate in our country. The courage and dignity he exhibited in his fight with cancer was surpassed only by his lifelong commitment and service to his country."
Al Gore, former vice president: "He was a true giant. He was a warm, funny, thoughtful, and generous friend and he was the most effective member of the United States Senate with whom I served. In the grief that Tipper and I share with so many, we know that the legacy of his brilliant work will carry on for decades to come.
Ted was a champion for those Americans who had no voice -- the sick, the disabled, the poor, the under-privileged -- and they could have had no greater friend in the Senate. Now, Ted would want nothing more than for his colleagues to continue his life's work and to make real his dream of quality health care for all Americans."
Gen. Colin Powell, retired, former secretary of state: "I knew Senator Kennedy very, very well. He was a great legislator, marvelous representative of the Commonwealth of Massachusetts and I considered him a very close friend. I have known him for something like 46 years, if I count properly -- longer, more like 47 years, and I knew him at the very beginning of his career when he first got out of the Army and he started to run for office. ... He was for the underprivileged. He was for the poor. He was for those who did not have health care. He was for the reduction and elimination of racial barriers. And so Ted Kennedy was somebody who reached out for all of those, who were not yet benefiting from the American dream. And he strongly believed that America had the potential to give all of its citizens an opportunity to lead a good quality, healthy life.
Massachusetts Gov. Deval Patrick: "One of the Commonwealth's brightest lights went out last night. Ted Kennedy was a compassionate, effective, visionary statesman, family man and friend. Diane and I were blessed by his company, support and many kindnesses, and miss him profoundly. We pray for comfort for his beloved wife and partner Vicki and his entire family."
U.S. Sen. John McCain (R-Arizona): "My friend, Ted Kennedy, was famous before he was accomplished. But by the end of his life he had become irreplaceable in the institution he loved and in the affections of its members. He grew up in the long shadow of his brothers, but found a way to be useful to his country in ways that will outlast their accomplishments."
U.S. Sen. Robert Byrd (D-West Virginia): "I had hoped and prayed that this day would never come. My heart and soul weeps at the loss of my best friend in the Senate, my beloved friend, Ted Kennedy."
Harry Reid, Senate majority leader: "Because of Ted Kennedy, more young children could afford to become healthy. More young adults could afford to become students. More of our oldest citizens and our poorest citizens could get the care they need to live longer, fuller lives. More minorities, women and immigrants could realize the rights our founding documents promised them. And more Americans could be proud of their country. Ted Kennedy's dream was the one for which the founding fathers fought and for which his brothers sought to realize. The liberal lion's mighty roar may now fall silent, but his dream shall never die."
Nancy Reagan, former first lady: "Given our political differences, people are sometimes surprised by how close Ronnie and I have been to the Kennedy family. In recent years, Ted and I found our common ground in stem cell research, and I considered him an ally and a dear friend. I will miss him."
Sen. Orrin G. Hatch (R-Utah): "Today America lost a great elder statesman, a committed public servant, and leader of the Senate. And today I lost a treasured friend. "Ted Kennedy was an iconic, larger than life United States senator whose influence cannot be overstated. Many have come before, and many will come after, but Ted Kennedy's name will always be remembered as someone who lived and breathed the United States Senate and the work completed within its chamber."
Nancy Pelosi, House Speaker: "Today, with the passing of Senator Edward M. Kennedy, the American people have lost a great patriot, and the Kennedy family has lost a beloved patriarch. Over a lifetime of leadership, Senator Kennedy's statesmanship and political prowess produced a wealth of accomplishment that has improved opportunity for every American."
"Senator Kennedy had a grand vision for America, and an unparalleled ability to effect change. Rooted in his deep patriotism, his abiding faith, and his deep concern for the least among us, no one has done more than Senator Kennedy to educate our children, care for our seniors, and ensure equality for all Americans."
U.S. Rep. John Lewis (D-Georgia): "At some of the most tragic and difficult moments in this nation's history, Ted Kennedy gathered his strength and led us toward a more hopeful future. As a nation and as a people, he encouraged us to build upon the inspirational leadership of his two brothers and use it to leave a legacy of social transformation that has left its mark on history."
California Gov. Arnold Schwarzenegger (married to Kennedy's niece Maria Shriver): "Maria and I are immensely saddened by the passing of Uncle Teddy. He was known to the world as the "Lion of the Senate," a champion of social justice, and a political icon. Most importantly, he was the rock of our family: a loving husband, father, brother and uncle. He was a man of great faith and character."
Former President George H.W. Bush: Barbara and I were deeply saddened to learn Ted Kennedy lost his valiant battle with cancer. While we didn't see eye-to-eye on many political issues through the years, I always respected his steadfast public service -- so much so, in fact, that I invited him to my library in 2003 to receive the Bush Award for Excellence in Public Service. Ted Kennedy was a seminal figure in the United States Senate -- a leader who answered the call to duty for some 47 years, and whose death closes a remarkable chapter in that body's history.
Cardinal Sean O'Malley, archdiocese of Boston: "For nearly half a century, Senator Kennedy was often a champion for the poor, the less fortunate and those seeking a better life. Across Massachusetts and the nation, his legacy will be carried on through the lives of those he served. We pray for the repose of his soul and that his family finds comfort and consolation in this difficult time."
U.S. Sen. John Kerry, (D-Massachusetts): "He taught us how to fight, how to laugh, how to treat each other, and how to turn idealism into action, and in these last 14 months he taught us much more about how to live life, sailing into the wind one last time. For almost 25 years, I was privileged to serve as his colleague and share his friendship for which I will always be grateful."
Mitt Romney, former governor of Massachusetts: "The last son of Rose Fitzgerald and Joseph Kennedy was granted a much longer life than his brothers, and he filled those years with endeavor and achievement that would have made them proud. In 1994, I joined the long list of those who ran against Ted and came up short. But he was the kind of man you could like even if he was your adversary. I came to admire Ted enormously for his charm and sense of humor -- qualities all the more impressive in a man who had known so much loss and sorrow. I will always remember his great personal kindness, and the fighting spirit he brought to every cause he served and every challenge he faced."
Michael Bloomberg, mayor of New York City: "There will never be another first family of American politics like the Kennedys, and there will never be another United States Senator like Ted Kennedy. Inspired by the noblest of ideals -- a life of service in pursuit of justice, equality, and peace -- Senator Kennedy's compassion and charisma were matched only by his extraordinary legislative accomplishments over five decades."
Former British Prime Minister Tony Blair: Senator Kennedy was a figure who inspired admiration, respect and devotion, not just in America but around the world.
He was a true public servant committed to the values of fairness, justice and opportunity. "I saw his focus and determination first hand in Northern Ireland where his passionate commitment was matched with a practical understanding of what needed to be done to bring about peace and to sustain it. I was delighted he could join us in Belfast the day devolved government was restored.
My thoughts and prayers today are with all his family and friends as they reflect on the loss of a great and good man.
Gordon Brown, British prime minister: "Senator Edward Kennedy will be mourned not just in America, but in every continent. He is admired around the world as the senator of senators. He led the world in championing children's education and health care, and believed that every single child should have the chance to realise their potential to the full. Even facing illness and death, he never stopped fighting for the causes which were his life's work."
Brian Cowen, Irish prime minister: "In this country, Ted Kennedy will be remembered with great affection and enduring respect. Throughout his long and distinguished career in politics, Ted Kennedy has been a great friend of Ireland. He has used his considerable influence in the world's most powerful parliament for the betterment of this island."
Angela Merkel, chancellor of Germany: "For decades Edward Kennedy was a towering figure in U.S. politics. His battle for justice and equality was defined by persistence and resoluteness. In Senator Kennedy both Germany and Europe have lost a great and dear friend."

Ban Ki-moon, United Nations secretary-general: "He was not just a friend to those of power and high position, but even more to those who had neither. He was a voice for those who would otherwise go unheard, a defender of the rights and interests of the defenseless. Those who feel that government can too often be faceless and inhumane did not know Senator Kennedy. He stood for the best in all of us, and he will be missed."
Michelle Bachelet, president of Chile: "He was a great politician who supported Chilean democracy during very difficult times for our country. He raised his voice strongly to denounce the trampling of human rights, asking that democracy be re-established."
E-mail to a friend

All About Edward M. Kennedy