(CNN) -- Sen. Edward Kennedy, the patriarch of the first family of Democratic politics, died Tuesday night at his home in Hyannis Port, Massachusetts, after a 15-month battle with brain cancer. He was 77.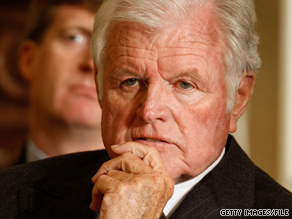 Sen. Ted Kennedy attends a health care forum in March. Kennedy died Tuesday night.

Kennedy, nicknamed "Ted," was the younger brother of slain President John F. Kennedy and New York Sen. Robert Kennedy, who was assassinated while seeking the White House in 1968. But his own presidential aspirations were hobbled by the controversy around a 1969 auto accident that left a young woman dead, and a 1980 primary challenge to President Jimmy Carter that ended in defeat.
But while the White House eluded his grasp, the longtime Massachusetts senator was considered one of the most effective legislators of the past few decades. Kennedy, who became known as the "Lion of the Senate," played major roles in passage of the Civil Rights Act of 1964, the Voting Rights Act of 1965, the 1990 Americans With Disabilities Act and the 1993 Family and Medical Leave Act, and was an outspoken liberal standard-bearer during a conservative-dominated era from the 1980s to the early 2000s.
E-mail to a friend

All About Edward M. Kennedy • U.S. Senate • Civil Rights