By Ed Hornick
CNN






WASHINGTON (CNN) -- Filling Edward "Ted" Kennedy's shoes in the Senate will be nearly impossible as Congress tackles health care reform legislation -- an issue close to Kennedy's heart.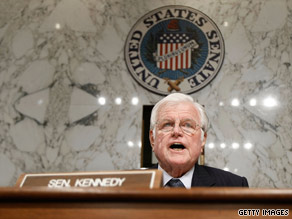 Sen. Edward "Ted" Kennedy speaks at a Senate hearing on Capitol Hill on March 31.
Kennedy, who passed away Tuesday, was a fixture in the Senate for nearly 50 years. Deemed the "Lion of the Senate," his larger-than-life presence not only resonated in the halls of Congress and in Massachusetts, but around the world.
That clout and popularity extended across party lines during negotiations on major issues. A self-described liberal, he was known for having a knack for bridging the divide between left and right.

Learn about Kennedy's funeral arrangements »

"He was a rare politician who knew when to cut a deal. He knew when to compromise. He knew how to work with George Bush," said Gloria Borger, CNN senior political analyst.
"He understood the power of personal relationships," she said.
But deals are few in the 111th Congress, which has seen strict party-line votes this year on major domestic legislation, including the economic stimulus plan and the 2010 budget.
With Kennedy's death, a power vacuum has developed in the Senate.
"I think one of the things that the Senate now lacks is just that power ... somebody that people would coalesce around," said Candy Crowley, CNN senior political correspondent. "I just don't see anyone there right now that can step up to that plate."
Don't Miss
There is much speculation, not only about who could fill Kennedy's leadership role, but also his day-to-day work in the Senate.
While Sen. John Kerry, who now becomes the senior senator from Massachusetts, has been a prominent and politically powerful figure -- a presidential candidate in 2004 -- he has largely stayed out of the limelight and focused his attention on international issues.
As chairman of the U.S. Senate Committee on Foreign Relations, it's unlikely he will leave his post to fill Kennedy's place on the Senate Committee on Health, Education, Labor and Pensions.
Sen. Robert Byrd of West Virginia, a Democratic fixture in the Senate who has served longer than Kennedy, also has stayed out of the spotlight -- mostly due to deteriorating health.
While Senate Majority Leader Harry Reid, D-Nevada, rules over the Senate, he's viewed as a divisive figure by Republicans -- and has often gone against President Obama and conservative Democrats.
Meanwhile, the Republicans' top Senate leader -- Minority Leader Mitch McConnell of Kentucky -- has rankled Democrats, analysts note, with a strict adherence to party principles and failure to work with Democrats in crafting legislation that both sides may not like, but agree to in the end.
As the health care debate heats up in Congress, Kennedy could have been the one person to bridge the divide and get something done, political observers said.
"I think we've seen even in the last few months the lack of Teddy's voice [on health care]. ... He somehow was able to bring people from different points of view to understand the importance of legislation," presidential historian Doris Kearns Goodwin said. "And not having had him there, I think is one of the things that has allowed this process to become so polarized in the Senate."
With Kennedy's big personality, influence and bipartisan nature in health care negotiations, "we'd be a lot better off today in terms of getting something passed," said Democratic strategist Joe Trippi.
Trippi, who ran former Vermont Gov. Howard Dean's 2004 presidential campaign, said Kennedy's work ethic is something rarely seen in politics.
"He also treated everybody with respect and treated the other side with respect and listened, which is something that not a lot of us do in politics today," he said. "There's a lot of yelling at the other side and not enough listening and [finding] someplace where there is common ground. And that's what he always strove for: common ground for common good."
Part of the reason for that, Goodwin said, is the way the Senate has changed since Kennedy was elected.
"And because he was there for so long and in those earlier days in the '60s and even the '70s, senators weren't racing home at that time to raise funds the same way they are today," Goodwin said.
Kennedy often would stay around after votes, Goodwin said, and play poker and have drinks, forging relationships that he would use in difficult legislative battles ahead.
Kennedy's tact for bridging the legislative divide and finding common ground sometimes caused friction with other Democrats. iReport.com: Share tributes to Kennedy
But who was going to challenge Kennedy's credentials?
"No Democrat could touch him about not being a real Democrat. He was a Democrat's Democrat," Crowley said. "And he used that to form relationships with Republicans."
Kennedy's death might help heal wounds from the health care debate among senators to honor the Lion of the Senate -- "at least to tamper down some of that hatred that has been going on inside the Senate. Because that's what he stood against," Goodwin said.

"So in a peculiar way, maybe some of the senators will feel that in honor of Teddy Kennedy they can at least begin to figure out ... ways for them to talk together and come to some compromise on the very bill that was Teddy Kennedy's legacy itself."
One of Kennedy's closest friends in the Senate, Sen. Christopher Dodd, D-Connecticut, said he agrees.

"I'm still optimistic that if temperatures can cool ... maybe Teddy's passing will remind people once and again that we are there to get a job done as he would do."
E-mail to a friend

All About Edward M. Kennedy • U.S. Senate