(CNN) -- Success is achievable in Afghanistan if the United States revises its strategy there, the top U.S. commander in that country said in a statement issued Monday.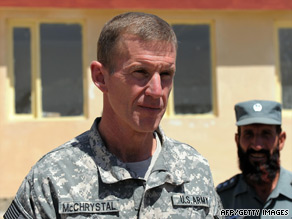 Gen. Stanley McChrystal visits an Afghan National Police compound. He called for a change of strategy Monday.
The statement came as Gen. Stanley McChrystal submitted a long-awaited report on the state of the U.S.-led war in Afghanistan.
"The situation in Afghanistan is serious, but success is achievable and demands a revised implementation strategy, commitment and resolve, and increased unity of effort," McChrystal said in the statement.
The general's review -- which Pentagon officials consider "confidential," but not "classified" or "secret" -- was passed on to Gen. David Petraeus, head of the U.S. Central Command; Adm. Mike Mullen, chairman of the U.S. Joint Chiefs of Staff; and Gen. Egon Ramms, senior NATO commander. Senior U.S. military officials said Mullen will share the report with the other service chiefs.

Watch why McChrystal thinks success is achievable »
A scrubbed-down version suitable for public release will not be available for this report, Pentagon officials said, but could not say why.
The report will also be forwarded to Defense Secretary Robert Gates and NATO Secretary General Anders Fogh Rasmussen.
Gates told reporters Monday he has not yet seen the report. He is in Dallas, Texas, touring a plant where the new joint strike fighter is being produced.
The officials said Petraeus will add his remarks to the report, as will Mullen, who will then forward the report and corresponding remarks to Gates. Gates will review all of the remarks, add his, then brief President Obama.
Obama has called Afghanistan a "war of necessity" and has placed a great emphasis on defeating the Taliban and al Qaeda militants operating there and in Pakistan.
Questioned Monday about why things seem to be getting worse in Afghanistan six months after the president announced his new strategy for that country, White House press secretary Robert Gibbs said the country has been neglected for years.
"You can't under-resource the most important part of our war on terror ... and hope to snap your fingers and have that turn around in just a few months," he said.
"We'll see the general's assessment when it gets here. The president is focused on ensuring that we meet measurable benchmarks and that we disrupt, dismantle and ultimately destroy al Qaeda and its extremist allies."
U.S., British and other international forces under the NATO umbrella in Afghanistan bolstered their presence this year to improve security for the recent presidential and provincial elections.
Violence has been particularly fierce in the south, where U.S. Marines have targeted the militants, and in the east near the Pakistani border, where American soldiers have been operating.
Senior U.S. military officials have said the assessment shows that the Taliban exert "considerable influence" over a third of the country. Mullen, said recently that the situation in Afghanistan is "serious and deteriorating."
Two U.S. service members were killed Monday in incidents involving roadside bombs in southern Afghanistan, according to the NATO-led International Security Assistance Force.
August has been the deadliest month for U.S. troops in Afghanistan since the U.S.-led invasion began in 2001. The deaths Monday bring to 48 the number of U.S. service members killed in Afghanistan in August. The highest monthly death toll previously was in July, when 45 U.S. service members were killed.
The United States now has about 62,000 U.S. troops in the country, and NATO allies have another 35,000. The Pentagon is planning to add 6,000 troops by the end of the year.
There have been indications that Obama soon could be asked to commit more American troops. Gates, however, has signaled he would like to gauge the impact of the additional 6,000 troops before considering whether to send more.
Asked if the president is concerned there might not be enough troops in Afghanistan, White House spokesman Bill Burton has said that Obama laid out a "winning strategy" earlier this year and the administration would wait for McChrystal's assessment and "make a decision accordingly."
As for the Afghan presidential elections, Afghan President Hamid Karzai still leads his rivals, according to the latest partial election results released Monday.
Karzai has almost 46 percent of the vote, compared with slightly over 33 percent for his nearest challenger, former Foreign Minister Abdullah Abdullah, the country's Independent Election Commission reported. Ramazan Bashardost is a distant third, with 12.5 percent.
The percentages reflect tallies from slightly less than half of the polling stations as the count of votes from the August 20 elections continues.

A candidate must win more than 50 percent of the vote to avoid a run-off. If no candidate wins an absolute majority, there will be a run-off between the top two contenders, most likely in mid-October.
Final results of the first round of voting are not expected until September.
E-mail to a friend

All About Al Qaeda • Afghanistan • The Taliban