WASHINGTON (CNN) -- The Arlington National Cemetery gravesite of Sen. Edward M. Kennedy opened to the public at 8 a.m. Sunday, a little less than 12 hours after he was buried.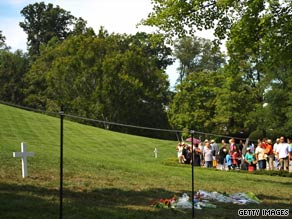 Several flowers and cards were left by visitors Sunday, hours after Sen. Edward M. Kennedy was buried.
His brothers, President John F. Kennedy and Sen. Robert F. Kennedy, are buried a few hundred feet away in the sprawling cemetery in Virginia.
The gravesite is identical to that of his brother Robert. It features a two-and-a-half-foot white cross and a marble marker, which reads "Edward Moore Kennedy 1932-2009."
A temporary ropeline was set up for people to approach the gravesite and pay their respects, but there are plans to build a walkway in the future.

Several flowers and cards were left by visitors in the hours following the opening of the site.
A cemetery official said the site would be closing Sunday afternoon for an expected visit from Victoria Ann Reggie Kennedy, the senator's widow.
E-mail to a friend

CNN's David de Sola contributed to this report.