By Ed Hornick
CNN






WASHINGTON (CNN) -- While support for the war in Afghanistan has been falling, most experts think Americans will give President Obama the benefit of the doubt -- at least for another year.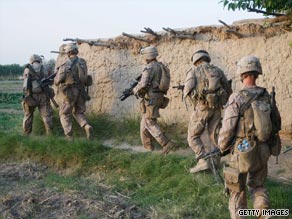 U.S. soldiers patrol an area of Afghanistan in July. The U.S. now has about 62,000 troops in the country.
A CNN/Opinion Research Corp. poll released Tuesday showed that opposition to the war increased 11 percentage points since April to 57 percent.
Last month was the deadliest for U.S. troops since the war started as retaliation for the September 11, 2001, terror attacks. And the military strategy is still a work in progress, with top commanders using words like "dire" to sum up the current status of the war.
But national security experts think it will still be a while before a clamor arises for a pullout.
Michael O'Hanlon, national security expert at the Brookings Institution, a nonpartisan think tank, said he believes Americans will make a serious assessment at the end of 2010 as to whether a pullout is necessary.
"If we can't show progress by that point, then I think people's patience will start to run out," he said. "It's already running out, but I think people will swallow their doubts and give this strategy time if they are convincingly told why more time is needed and why it would make a difference."
Polls, another expert said, are not an accurate gauge for how long Americans -- including politicians -- will still support involvement in Afghanistan.

Is the Afghan war winnable? »
"If politicians fight wars with poll numbers, then they're just going to lose," said James Carafano, a senior fellow at the Heritage Foundation -- a conservative think tank. "The thing is, they really don't have to because even if Americans don't like the war, it doesn't mean they're not going to let the country fight the war."
Carafano -- a retired Army officer -- said that while wars become less popular over time, Americans will continue to tolerate the one in Afghanistan "as long as they see a prospect for success and progress."
And part of that prospect, O'Hanlon noted, must come from the Obama administration's efforts to explain its strategy going forward.
"And that's going to require a clear battlefield explanation [by Obama and top commanders]," said O'Hanlon. "I think there's a decent chance that Americans will support this war at least through next year."
Retired Gen. Wesley Clark, former NATO Supreme Allied Commander, said in order for Obama to maintain public support for what he has called a "war of necessity," he must focus on why the U.S. military needs to be there.
"Washington has to maintain American public support for this war," he said Tuesday. "I think the way to do that is to go back to the specific reason we're there: al Qaeda attacked the United States. We haven't taken out al Qaeda as a threat yet. We need to do that."
The more Obama articulates that message, Clark added, the more support he will receive from the public despite conditions in Afghanistan. He added a caveat, though, about increasing the size of the force there.
"When you put more troops in, you take more casualties," Clark said. "And when you take more American casualties, the clock ticks faster."
In mid-February, Obama approved a significant troop increase for Afghanistan -- 8,000 Marines and 4,000 additional Army troops. The United States now has about 62,000 troops in the country, and NATO allies have another 35,000. The Pentagon is planning to add 6,000 troops before the end of the year.
There have been indications that Obama soon could be asked to commit even more American troops. Defense Secretary Robert Gates, however, has signaled he would like to gauge the impact of the additional 6,000 troops before considering whether to send more.
The fighting in Afghanistan has been particularly strong in the southern part of the country, where U.S. Marines have targeted militants, and in the east near the Pakistani border.
Gen. Stanley McChrystal -- the top U.S. commander in Afghanistan -- said in a statement Monday that the U.S. could succeed if it revises its strategy.
McChrystal submitted a long-awaited report on the state of the U.S.-led war in Afghanistan, writing that while the situation in the country is serious, "success is achievable and demands a revised implementation strategy, commitment and resolve, and increased unity of effort."
White House Press Secretary Robert Gibbs said Tuesday that Obama will soon review the report.
Military sources told CNN that questions over further troop increases are still up in the air until a complete plan is set up by McChrystal.
The planning of deployments into Afghanistan, military officials said, also will depend on how many troops are requested and on the pace at which Gen. Ray Odierno, the top U.S. commander in Iraq, moves forces out of Iraq.
But one high-profile conservative is calling for the U.S. to simply pull out of Afghanistan.
"Forces should be substantially reduced to serve a comprehensively revised policy: America should do only what can be done from offshore, using intelligence, drones, cruise missiles, airstrikes and small, potent Special Forces units, concentrating on the porous 1,500-mile border with Pakistan, a nation that actually matters," columnist George Will wrote in the Washington Post Tuesday.
Will's much-talked-about column has rankled some foreign-policy experts.

Christian Brose -- a senior editor of Foreign Policy Magazine and adviser to former Secretary of State Condoleezza Rice -- vehemently disputed Will's approach.
"[He] should also be willing to explain why their alternative policy is better, given what would likely transpire as a result," he said. "To me, that would be some kind of a return to ethnic fighting or civil war, a la the 1990s."
E-mail to a friend

All About The Taliban • Afghanistan War