By Tom Cohen
CNN






(CNN) -- John Londoff Jr. is waiting for the government to reimburse his Chevrolet dealership in St. Louis, Missouri for 142 of the 153 cars it paid rebates for under the Cash for Clunkers program that ended more than a week ago.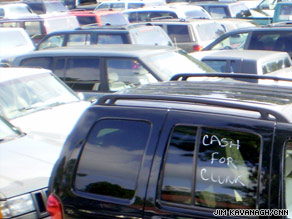 Trade-ins destined for crushing crowd a lot owned by the Jim Ellis auto group in Chamblee, Georgia.
But Londoff isn't complaining.
The bigger picture, he said Tuesday, is that Johnny Londoff Chevrolet and other dealerships across the country sold almost 700,000 cars and trucks in a bad economy, thanks to the economic stimulus initiative.
"People sold through 90 or 120 days of inventory in 40 days," Londoff said. "It gave us a June and July that none of us expected."
He acknowledged that the government reimbursements are slow but added, "If you do this story in 30 days, the dealers will say, 'Hey, I got my money.' "
That's what the government is promising, though the National Automobile Dealers Association remains skeptical.
The association said Tuesday that the pace of government reimbursements remained unchanged despite Transportation Secretary Ray LaHood's promise last week to bolster staff for processing claims.
In a newsletter to its members, the association described the process of reviewing reimbursement claims as flawed.

Watch what will happen after Cash for Clunkers »
"The association is pushing the Department of Transportation to improve the claims review process, since currently a rejected clunker claim with a corrected error must still go through another complete review with a new examiner," the newsletter said. "Simply adding more personnel will not change the fundamental problems with the review process."
The National Highway Traffic Safety Administration, which administers Cash for Clunkers, referred media inquiries to its August 26 news release announcing the end of the program. The release included LaHood's announcement that he would add staff to the 2,000 people working on the paperwork.
For Londoff and other dealers, the cash they laid out for rebates of up to $4,500 for each clunker traded in for newer, more fuel-efficient models is vital for running their business.
Don't Miss
Still, Londoff said, bringing in money for selling a new vehicle while paying a rebate for the traded-in clunker eased some of the burden.
In North Little Rock, Arkansas, Shan Russell of Russell Honda said Tuesday that if he gets most of his reimbursement money by the end of September, he'll be fine.
"Once they're approved, we're being paid in a reasonable manner," said Russell, who sold 100 vehicles under the program and has received approval for 28 rebates, with checks in hand for 27 of those.
However, the latest sale to be processed was August 11, he noted.
"As long as they can get us paid in a reasonable amount of time, it's not too big a deal," Russell said. "It hasn't forced us to change anything, but it does make us watch what we're doing."
Both he and Londoff said the program was more successful than anyone, including the government, could have predicted.
Londoff noted the program was originally projected to involve 500,000 vehicles, and it ended up being more than 690,000 in less time than planned. That's why it proved impossible to keep promises of quick reimbursements for the rebates, he said.
"You just can't get that money out overnight," he said. "It takes longer to deal with the process and paperwork."
It took his dealership 13 hours to initially access the system for filling out the required forms online, Londoff said.
"I don't think they realized how big the program would be," Russell said, adding that he more than tripled the 30 vehicles he expected to sell through the initiative. "We were pretty shocked."
As a Honda dealer, he received a bonus. Few old Hondas could qualify as clunkers because of their higher fuel efficiency, and Russell therefore was selling his product to new customers, expanding his customer base.
Most dealers will be happy to get the majority of their reimbursements by the end of September, he said.
"I think the ones who were hurting pulled out of the program earlier," Russell said. "Some quit a few weeks ago because they were concerned about cash flow."

Londoff said reimbursements may be picking up, noting that his dealership "got paid on one, then a few days later got paid on two, and then another two, and then one day we got paid on six."
"There's no doubt that we wish we had our money," he said but added, "Dealers will say it saved my year."
E-mail to a friend

All About Automobile Sales • U.S. Department of Transportation