WASHINGTON (CNN) -- President Obama will address the contentious issue of health-care reform in a speech to a joint session of Congress on September 9, multiple Democratic sources said Wednesday.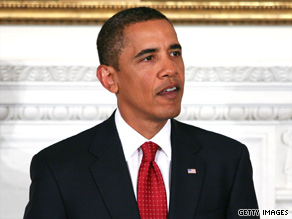 President Obama is facing pressure to provide specifics about what he would like in health care legislation.
It will be Obama's second speech to the full legislature since he took office in January, and the setting and rarity of such an event highlighted the importance the president places on his top domestic priority: overhauling the nation's ailing health care system.
House Speaker Nancy Pelosi and Senate Majority Leader Harry Reid formally invited Obama to make the address, as required, in a letter issued Wednesday after news broke of the planned speech.
Obama will meet with both Pelosi and Reid at the White House next week to discuss the speech, two officials said.
Obama has outlined broad principles for what he would like in health-care reform, but he has left most details to leaders in Congress.
Democratic proposals in both chambers have come under withering Republican opposition and fierce attacks by conservative commentators, and opinion polls -- including one released Wednesday -- show a deep public divide on the issue.
Some Democrats and political commentators have encouraged Obama to lay out his own specific plan now, with Congress returning to Washington after an August recess that was full of rancorous town meetings on health care reform.
"The president is clearly not running away from this battle but rather confronting the challenges we've encountered these last few weeks head-on," Democratic Sen. Charles Rangel of New York said in a statement Wednesday night. "He's pulling out all the stops, and this level of involvement from the president could well be a game-changer. There is no better way to turn public opinion around than to have someone as popular as President Obama addressing the American people directly, without intermediaries interpreting -- or misinterpreting -- his ideas."
Earlier Wednesday, White House aides said the dynamic of the debate has changed, creating the opportunity for Obama to step in.
"We're entering a new season," senior adviser David Axelrod said. "It's time to synthesize and harmonize these strands and get this done."
Another administration official said on condition of anonymity that Obama "is considering ... laying out a more specific vision" of health care reform.
Don't Miss
The administration official said that "now is the time to begin to pull together the various strands and solutions from the four bills that have been marked up and other proposals. ... Basically, all the cards are on the table."
In addition, the administration official said the new phase of Obama's involvement is driven in part by actions by some Republicans, including two key senators involved in the only bipartisan negotiations on a health care bill so far.
The official added that the White House thinks those actions indicate that the two Republican senators -- Chuck Grassley of Iowa and Mike Enzi of Wyoming -- "are essentially walking away from the table."
Enzi delivered the Republican national radio address Saturday to harshly criticize Democratic health care proposals. Grassley also has opposed the Democratic plans before Congress.
A statement Wednesday by Grassley spokeswoman Jill Kozeny criticized complaints about the senator's role in the health care negotiations as unhelpful.
"Attacks by political operatives in the White House undermine bipartisan efforts and drive senators away from the table," the statement said. "Anyone who's been working on an alternative plan -- one that would actually drive down costs and not drive up the deficit -- knows how difficult the issues are and that Democratic senators involved in trying to work through the details have as many questions about how proposals would actually achieve reform goals as Republicans."
The statement called Democratic proposals before the House and Senate "policy failures" that it contended were "rejected at the grass roots." It reiterated that the goal of Grassley's negotiations with five other members of the Senate Finance Committee -- three Democrats and two Republicans, including Enzi -- was "to see if it's possible to develop an alternative that would improve the system and, as a result, get widespread support."
A statement by Enzi's communications director, Craig Orfield, insisted that the senator's opposition to Democratic health care proposals was consistent.
"Repeating that you don't agree with plans put together solely by one side doesn't mean you aren't willing to work together on a different plan," Orfield's statement said. "He is. He has been doing that."
However, Grassley, Enzi and other Republicans in both the House and Senate appear unanimous in opposing a government-funded public health insurance option proposed by Democrats, as well as the broad scope and cost of Democratic proposals. In addition, some moderate Senate Democrats also worry about the cost of a health care overhaul and say the public option lacks enough votes to pass the Senate.
The compromise agreement being negotiated by Grassley and the other Finance Committee members has dropped the public option, proposing instead the creation of not-for-profit health insurance collectives that could negotiate collective coverage for members.
Obama and Democratic leaders argue that a public option would ensure that coverage is available to all Americans while forcing private insurers to lower costs through competition.
Republicans reject the concept, saying the public option would drive private insurers out of the market. Republican leaders repeatedly call the public option a first step toward a government takeover of health care, a claim derided by Democrats as deliberately misleading.
Uncertainty over the political viability of the public option has some House Democrats refusing to rule out the possibility of a final bill without the provision.
On Tuesday night, House Majority Leader Steny Hoyer of Maryland reiterated his support for a public option, but when asked whether House Democrats would turn their backs on a final bill without it, he said, "I hope that's not the case."
His statement differed from comments by some other Democratic leaders, who call the public option essential for any health care legislation. For example, Pelosi said last month that there was "no way" she could pass a bill in the chamber without a public option.
Hoyer represents a conservative district that voted strongly in favor of Republican presidential candidate Sen. John McCain in last year's election.
He also is considered the strongest ally among House Democratic leaders of the chamber's fiscally conservative Blue Dog Democrats, some of whom have objected to House health care proposals.
Americans are evenly split over whether to support or oppose Obama's health care plan, according to an August 28-31 CNN/Opinion Research Corp. poll.

Six in 10 younger Americans support the plan; six in 10 senior citizens oppose it. The division has been evident at town meetings across the country, with opponents loudly protesting Democratic health care proposals.
Democrats contend that the most vocal opponents are an organized minority who don't reflect the general public, but Republicans say the costly health care proposals are scaring people already concerned about expanded government and increased spending including the $787 billion economic stimulus package and federal bailouts of automakers and banks.
E-mail to a friend

CNN's Ted Barrett, Dana Bash, Ed Henry, Gloria Borger, Brianna Keilar and Elaine Quijano contributed to this story.
All About Barack Obama • Health Care Policy