(CNN) -- Former U.S. Attorney General John Ashcroft is not immune from being sued by a man who says he was illegally detained under Justice Department policies implemented after the September 11 terror attacks, a federal appeals court ruled Friday.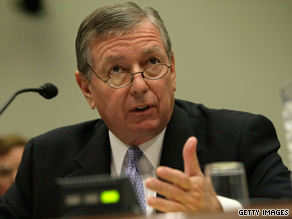 A spokesman for former Attorney General John Ashcroft says his team is reviewing the decision.
The man, a native-born U.S. citizen who was once a college football star, was held and interrogated by the FBI for 16 days in 2003 and his travel was limited for another year, court documents said.
A spokesman for Ashcroft, asked for his reaction, said, "We're reviewing the decision and have no further comment."
The court rejected Ashcroft's argument that his involvement was as a prosecutor, which would give him full immunity from lawsuits, not as an investigator, which could leave him liable.
"We disagree," the decision said. "Many tools and tactics available to prosecutors can serve either an investigatory or advocacy-related function."
Abdullah al-Kidd's lawyers said Ashcroft developed a policy under which the FBI and Justice Department would use the federal material witness law as a pretext "to arrest and detain terrorism suspects about whom they did not have sufficient evidence to arrest on criminal charges but wished to hold preventively or to investigate further."
His arrest warrant was based on an FBI affidavit that said he was needed to testify at the trial of a Saudi man who had been indicted on visa fraud. Al-Kidd was never called as a witness in that case, in which the defendant was acquitted, court documents said.
The decision said that "al-Kidd's arrest functioned as an investigatory arrest or national security-related pre-emptive detention, rather than as one to secure a witness's testimony for trial."
Al-Kidd, an African-American born in Wichita, Kansas, converted to Islam and changed his name from Lavini T. Kidd, according to court documents.
He was taken into custody at Dulles International Airport in northern Virginia as he prepared to depart to Saudi Arabia, where he planned to study Arabic and Islamic law, the documents said.
The FBI interrogated him, moving him from Virginia to Oklahoma and then Idaho, court documents said. He was kept in chains while being held in high-security cells that were lit 24 hours a day, his lawyers said.
A judge ordered his release 16 days later, but he was required to surrender his passport and stay in Nevada for another 15 months.
During that time, he lost his job with a government contractor because he could not get a required security clearance. The father of two also was divorced by his wife.
The FBI began watching al-Kidd months before detaining him, as part of their anti-terror investigation aimed at Muslim men, his lawyers said.
When agents learned of his plans to fly to Saudi Arabia, they obtained the "material witness" warrant based on their contention he would not return.
The agents failed to tell the magistrate who issued the warrant that al-Kidd was an American citizen with family in the United States, or that he had previously cooperated with the FBI, his lawyers said. They also told the judge he had a one-way ticket, when he actually held a round-trip ticket, they said.
E-mail to a friend

CNN's Carol Cratty contributed to this report.
All About John Ashcroft • U.S. Department of Justice • Federal Bureau of Investigation