(CNN) -- Activists on both sides of the U.S. political divide have taken their shows on the road -- via bus.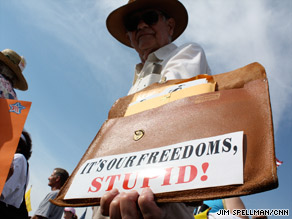 The Tea Party Express tour draws opponents of "out-of-control spending" and big government.
The conservative Tea Party Express began its cross-country August 28 in Sacramento, California.
After multiple stops along the way, the Tea Party Express will end its trek in Washington, D.C., on September 12.
According to its Web site, the Tea Party Express is "rallying Americans to oppose the out-of-control spending, higher taxes, bailouts, and growth in the size and power of government."

Watch Tea Party supporters give views »
On the other side of the political spectrum is the Health Insurance Reform Now tour, which kicked off August 26 in Phoenix, Arizona. Its supporters back President Obama's health care reform initiative.

Watch the Reform Now bus roll »
Health care reform has become a hot-button issue in the current political season. Obama will address the contentious issue in a speech to a joint session of Congress on September 9.
It will be Obama's second speech to the full legislature since he took office in January, and the setting and rarity of such an event highlighted the importance the president places on his top domestic priority: overhauling the nation's ailing health care system.
Obama has outlined broad principles for what he would like in health care reform, but he has left most details to leaders in Congress.
Democratic proposals in both chambers have come under withering Republican opposition and fierce attacks by conservative commentators, and opinion polls show a deep public divide on the issue.
Some Democrats and political commentators have encouraged Obama to lay out his own specific plan now, with Congress returning to Washington after an August recess that was full of rancorous town meetings on health care reform.
Americans are evenly split over whether to support or oppose Obama's health care plan, according to an August 28-31 CNN/Opinion Research Corp. poll.
Six in 10 younger Americans support the plan; six in 10 senior citizens oppose it.

The division has been evident at town meetings across the country, with opponents loudly protesting Democratic health care proposals.
Democrats contend that the most vocal opponents are an organized minority who don't reflect the general public, but Republicans say the costly health care proposals are scaring people already concerned about expanded government and increased spending including the $787 billion economic stimulus package and federal bailouts of automakers and banks.
E-mail to a friend

All About Health Care Policy