(CNN) -- U.S. Rep. Charles Boustany urged Congress to pass a health-care plan by "working together in a bipartisan way" in remarks delivered after President Obama's address to a joint session of Congress on Wednesday.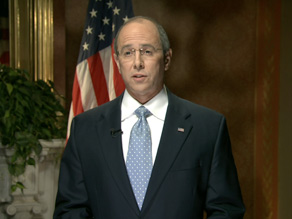 Rep. Charles Boustany says he disagrees with the AMA's support for the House Democrats' health care reform plan.
"Republicans are pleased that President Obama came to the Capitol tonight," the Louisiana lawmaker said as he delivered the Republican response. "We agree much needs to be done to lower the cost of health care for all Americans. On that goal, Republicans are ready -- and we've been ready -- to work with the president for common-sense reforms that our nation can afford."
"Most Americans wanted to hear the president tell [House Speaker Nancy] Pelosi, Majority Leader [Harry] Reid and the rest of Congress that it's time to start over on a common-sense, bipartisan plan focused on lowering the cost of health care while improving quality," he said.
Boustany, a cardiothoracic surgeon with more than 20 years of experience, slammed the president for leaving a much-diminished role for a public option on the table.
"The president had a chance tonight to take the government-run health care off the table," he said. "Unfortunately he didn't do it."
Obama's plan includes a public option in a health care exchange for people whose employers do not provide health care coverage and who cannot afford to buy it on their own.
The Louisiana congressman -- who has said he has questions about whether the president was born in the United States -- offered four ideas that he said were supported by Democrats and Republicans.
Don't Miss
Boustany said all Americans "should have access to health care coverage regardless of pre-existing conditions," that "individuals, small businesses and other groups should be able to join together" for lower costs, that the government "can provide assistance" to those who can't afford insurance and that insurance companies should offer incentives for better living.
The president included the first three of Boustany's ideas in his plan.

Watch how liberals are pressing Obama »
Boustany said Republicans were grateful that Obama included medical malpractice reform in his remarks, and he said the president should also consider allowing individuals and families to purchase insurance across state lines.
He referred listeners to a Web site for more information and said the Republican proposals could be achieved "without destroying jobs, rationing care or taking away the freedoms that Americans cherish."
"Working together in a bipartisan way, we can truly lower the cost of health care while improving its quality," he said.
Earlier, Boustany said Obama's health-care reform bill, which has not actually been written as a bill, has "unanswered questions" and is "unacceptable."
He shrugged aside a statement from the American Medical Association urging Obama and Congress "to reach agreement this year on health system reforms."
"There are a number of problems with this bill and it's unacceptable. Keep in mind that the AMA only represents around 15 percent of physicians and a number of state medical societies have actually taken positions opposite the AMA," Boustany said.
On its Web site, the AMA describes itself as the largest medical association of physicians in the nation.
"Frankly, there really have not been any discussions between the White House and House Republicans, and that's of some concern to me. I'm quite frustrated, to be frank," Boustany said.
The Obama administration has held numerous meetings with Republicans and Democrats on health care issues, although as the action moved to Congress, meetings with White House officials decreased while Congressional meetings increased.
Boustany said he agrees with many elements of the president's health care proposal, including his call for a bipartisan approach and medical insurance reform.

"We do believe that we have to provide a system that creates access to a doctor-patient relationship first and foremost for all Americans," he said.
Serving his third term in office, Boustany represents the state's 7th Congressional District, covering part of Acadiana in southwestern Louisiana. He is the only Republican doctor on the House Ways and Means Committee, which, he notes, has "jurisdiction over tax, trade, health care and entitlement policy."
E-mail to a friend

CNN's Jim Kavanagh contributed to this report.
All About Barack Obama • Health Care Costs • U.S. Congress