WASHINGTON (CNN) -- A key Republican senator in health care negotiations said Wednesday that President Barack Obama should drop his push for a government-run public insurance option.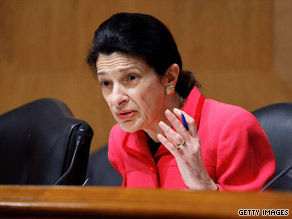 Sen. Olympia Snowe is part of the bipartisan Senate group negotiating on health care.
Sen. Olympia Snowe of Maine said deep divisions over a public option were holding back progress on a bipartisan health care bill.
Republicans unanimously oppose a public option, describing it as step toward a government takeover of health care. Democrats reject that claim, saying the public option would be one choice for consumers who could decide instead to select private coverage.
"People are rightly skeptical of a government-run health care system, of the government interfering with medical decisions, so I would hope we can take it off the table," Snowe said of the public option.
Dropping the provision "might accelerate the process and build momentum, refine the debate and move it in a different direction than reinventing the wheel in a public option where there's no support among Republicans," Snowe said.

Watch Snowe discuss the public option »
The issue has dominated the health care debate and generated some of the most heated opposition at town meetings held by House and Senate members on their recent August break.
Presidential address
President Obama will address a joint session of Congress on health care. Watch live coverage of his speech today at 8 p.m. ET.


Obama has said he supports a public option, but also has indicated an openness to alternatives that would make health insurance more accessible and affordable through greater competition.
Snowe confirmed Wednesday a story CNN reported last week -- that she has been discussing with the White House her idea for a triggering mechanism that would create a public option in the future if specific thresholds for expanding health care coverage were not met.
"I recognize that we've sort of stepped up our conversations about it, but whether or not that will be a preferred alternative remains to be seen," Snowe said. "But that may be one way to bridge the gap."
Moderate Democrats who are uneasy with a public option, such as Sen. Ben Nelson of Nebraska, have said they could support a trigger mechanism. Such support could gain a health care bill the 60 Senate votes necessary to overcome any filibuster attempt by Republicans.
Don't Miss
Snowe is one of six members of the Senate Finance Committee -- three Democrats and three Republicans -- who have spent months negotiating a possible health care compromise bill.
The talks are considered the last chance to achieve a bipartisan bill in Congress, but the White House and top Democrats question whether Republicans will support any health care bill.
Committee chairman Sen. Max Baucus, D-Montana, said Wednesday he would bring the bill before the full panel in coming weeks regardless of whether it has Republican support.

Watch Baucus say bill needs to pass with or without GOP support »
Snowe, considered by many Democrats the lone Republican senator who might vote for a health care bill, said she understands why Baucus is moving ahead and that it won't jeopardize chances for reaching agreement.

A deal by the negotiators would give her something to take to other Senate Republicans to try to generate more support, she noted.
"I think it's very hard for our colleagues to agree to a plan that we have yet to agree on," Snowe said. "You can't really get people on board when you don't have anything."
E-mail to a friend

All About Health Care Policy • Barack Obama • U.S. Congress • Olympia Snowe