By Gloria Borger
CNN Senior Political Analyst





Editor's note: Gloria Borger is a senior political analyst for CNN, appearing regularly on CNN's "The Situation Room," "Campbell Brown," "AC360°" and "State of the Union With John King" as well as during special event coverage.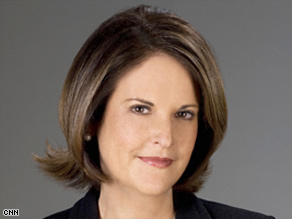 Gloria Borger says President Obama returned to campaign mode in his strong appeal on health care.
WASHINGTON (CNN) -- No-drama Obama morphed into an emotional, tough, determined leader in his joint address to Congress Wednesday night, making it clear that "the moment" is demanding health reform. Not just as a matter of care, but as a matter of national character.
Fearing the future, President Obama told us, is "not what the moment calls for."
The high moment, however, had already been disrupted by a low one: an out-of-order, childish, dumb taunt from GOP Rep. Joe Wilson of South Carolina, who shouted, "You lie," when Obama said that illegal immigrants would not be covered under his health care measure. The errant congressman later apologized, of course, but his infamous heckling would not be forgotten.
The angry outburst reminded us that this defining domestic debate has, at times, descended into a churlish display of acrimony. Hard to escape, it seems. But after Obama's speech, maybe a tad easier to ignore.
In a way, the president did come to speak to that growing number of skeptics -- in some polls, more than 50 percent -- who oppose the plan. The skeptics have come to see health reform as just another ill-conceived, unfair big-government plan bound to backfire, largely against them.
He wasn't really convincing the members of Congress sitting in the room; by and large, they've already decided what to do. Rather, he wanted to talk to their constituents.
Don't Miss
And he wasn't just talking specifics. He was also reminding them that he had been elected to change the partisan way Washington does business. Indeed, says Democrat Geoffrey Garin (formerly Hillary Clinton's pollster), "Obama managed to hold the high ground on the country's desire to move past blind partisanship to common sense compromise, which was so central to his election last year, while also making it clear to the Republicans that he would not be a patsy for their attacks on his plan."
So he reached out, but only to a point.
Obama knows that only a handful of Republicans will support him in this effort. But he pointed out -- and adopted -- good GOP ideas, such as medical malpractice reform and Sen. John McCain's idea of setting up high-risk insurance pools for the uninsured. Was that for show? Partly, sure.
But this coup de grace wasn't: "My door is always open" to new ideas, the president said. "But know this: I will not waste time with those who have made the calculation that it's better politics to kill this plan than improve it. ... And I will not accept the status quo as a solution."
Mr. Change is back in town.
He's back with the rhetoric about "why we cannot fail." But he and his advisers knew he needed much more than that, so it was also accompanied by a much-needed, step-by-step explanation of what he can do for you.
If you have insurance, he said, we're not asking you to change anything. But we will save you money. You won't be denied coverage for pre-existing conditions or charged for preventive care, such as mammograms. You will be able to buy insurance cheaply. And, most of all, "I will protect Medicare." And, by the way, keep costs under control by making sure that if savings don't materialize as planned, spending on health reform will be curtailed accordingly.
And, of course, the president remained committed -- at least for now -- to the public option for those who don't have insurance. Yet the wiggle room was there: "It is only one part of my plan," the president told us, "and should not be used as a handy excuse for the usual Washington ideological battles." In other words, there are ways to get around this. Take that, Democratic left.
If the Republicans had a good summer whacking away at health care reform, they may be facing a different opponent in the fall. Candidate Obama is back -- and that's the fellow who rose to the occasion when he was down. You may recall that one of his best speeches -- and arguments for his candidacy -- came after he was beaten by Clinton in New Hampshire. And after the Rev. Jeremiah Wright almost derailed him once again, Obama spoke to the nation on race and put his campaign back on track.
His advisers say he's going into full campaign mode for health reform now -- both around the country and with Congress. No doubt, he'll have to take on some of his liberal Democrats and sway some of his more conservative party brethren, too.
As for Republicans, he may pick off a few, but that's it. But he made it clear last night: The health care battle is a moment for history. And this president, billed as transformational on the way into office, is not about to give up the possibility now.
The opinions expressed in this commentary are solely those of Gloria Borger.
E-mail to a friend

All About Barack Obama • Health Care Policy • Republican Party