WASHINGTON (CNN) -- The U.S. ambassador to Iraq said Thursday that Iraq is making enough progress to stay on track for withdrawing all American troops by the end of next year.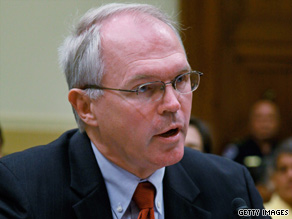 Christopher Hill, the U.S. ambassador to Iraq, testifies Thursday before the House Foreign Affairs Committee.
Ambassador Christopher Hill told the House Foreign Affairs Committee that the timetable for withdrawing all U.S. combat troops from Iraq by next August and all troops from the country by 2011 is "absolutely achievable."
Hill's congressional testimony was his first since taking the post in April.
The timetable for withdrawing American troops was negotiated by the Iraqi government and the U.S. under President Bush.
Also Thursday, one of the leading U.S. commanders in Iraq said it's too early to tell if military officials will greenlight an accelerated drawdown of troops there this year.
Speaking to reporters via video conference from Iraq, Lt. Gen. Charles Jacoby said insurgents continue to test Iraqi security forces.
"Many areas in Iraq remain dangerous, and that was made apparent again on Tuesday when four of our service members were killed while executing their mission," Jacoby said.
Don't Miss
In July, U.S Defense Secretary Robert Gates said an additional brigade, about 5,000 U.S. troops, could come out of Iraq by the end of the year on top of two brigades already scheduled.
The Obama administration's plan is to keep large numbers of U.S. troops in Iraq to help secure the elections in January. Both Gates and the top U.S. commander, Gen. Raymond Odierno, said additional troop reductions would depend on the security situation in the country.
"It's too early to say right now whether the operational environment is going to support accelerated troop withdrawals," Jacoby said. "If the environment is looking at the end of the year like we can accelerate, then I'm sure my superiors will have us take a look at that."
Jacoby said the security situation is better than it was before June 30 when American troops had to leave the major cities under an Iraqi-U.S. agreement.
Hill told the Foreign Affairs Committee that because of its oil reserves, Iraq eventually will "have the economic means to run itself."
"For the first time in decades now, Iraq has a real chance to become an engine for regional stability and regional growth rather than a source of regional tension and dispute," he said.
Despite a rash of insurgent attacks in recent months, Hill assured lawmakers that Iraq is not returning to sectarian violence.
He said Iraq has not "risen to the bait" posed by al Qaeda in Iraq and other insurgent groups seeking to rekindle warfare between Sunni and Shiite Muslims.
"The reality is that the Iraqi people have stood firm and have rejected retribution and a new cycle of violence such as the ones that brought Iraq to the brink in 2006," Hill said.
Hill said high-profile bombings last month at Iraq's Foreign and Finance ministries bear the hallmark of al Qaeda in Iraq, but it is possible there is some "tactical hookup" between the Shiite militia and Baathist elements loyal to former President Saddam Hussein. Such attacks, he said, represent an effort by insurgents to lessen Iraqis' confidence in their government as U.S. troops begin to withdraw.
"What is important that the Iraqi authorities and Iraqi people have understood that they can't allow them to get away with this," he said.
Hill acknowledged Iran continues to meddle in Iraq, including providing "very malevolent" weapons to insurgent groups, one of which he said he found in the front yard of his residence. He added that Iran was supporting various parties in the country ahead of January's elections
"There's no question that Iran and Iraq should have a longstanding relationship," Hill said. "But I think Iran needs to do a much better job of respecting Iraq's sovereignty."
He said that the political process had taken root in Iraq and Iraqis were gearing up for the January elections. But he added there is concern that Sunni Arab states would seek to thwart Iran's influence by supporting Sunni parties ahead of the vote.
Hill said the "fundamental question" ahead of the election is whether Sunni governments in the Middle East "are prepared to make room for a government that is Shia-led."
He said the United States was closely watching simmering tensions between Iraqi Arabs and Kurds over disputed areas such as Mosul and Kirkuk and is working hard to avoid violence between Iraqi troops and the Kurdish Peshmerga force, which patrols Kurdistan in northern Iraq.
E-mail to a friend

CNN's Elise Labott and Mike Mount contributed to this report.
All About Iraq • Al Qaeda in Iraq • Iran • Christopher Hill