By Rebecca Sinderbrand
CNN






WASHINGTON (CNN) -- Members of Congress may have been grateful to leave the raucous town halls of August behind last week, when their summer recess ended. The break was a short one.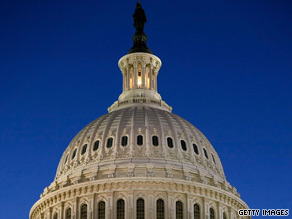 Opponents of President Obama's health care plan are heading to Washington this weekend.
Busloads of those town hall critics have been heading for the Hill all week ahead of a major Saturday showdown.
Starting Thursday, the day after President Obama delivered his address on health care reform to a joint session of Congress, opponents of his proposal made a major lobbying push, the kickoff of the annual three-day March on Washington organized by FreedomWorks.
Hundreds of them gathered Thursday at the D.C. Armory to officially prepare for face-to-face meetings with members of Congress.
Some sported tea bags, the symbol of the Tea Party movement, pinned to their hats. Others wore T-shirts advertising FreedomWorks, the controversial conservative group that has found itself at the center of some of the summer's fiercest town hall battles.
Many expressed delight at South Carolina Republican Rep. Joe Wilson's outburst during the president's Wednesday address.

Watch more on Wilson's outburst »
"I think that he spoke out for all of us," said Patty Wallace of Cincinnati, Ohio. "It could have been his emotions, which it probably was, but that's what we all feel here. I commend Joe for doing it to his face."
The first two days of the event included workshops on fundraising, grass-roots organization and Web activism.
But the agenda Thursday and Friday was centered around those congressional visits: Participants were given lobbying guidance before being directed to head to the Hill for planned, and unplanned, meetings with legislators -- particularly those who support, or are considering support for, Obama's health care plan.
An overwhelming number of the new attendees and speakers at the weekend's events came from the ranks of the Tea Party Patriots as the group's Tea Party Express tour neared its final stop Saturday in the nation's capital.
Planners had said they weren't looking to recreate a town hall atmosphere on Capitol Hill -- but admitted that the prospect was likely.
"There'll be some chaos; there'll be some yelling," coordinator Brendan Steinhauser conceded last week.
But FreedomWorks has continued to claim a hands-off approach, insisting that any aggressive activity won't be directed by its members and that they will be asking participants to take a civil approach.
"We do our best to guide" those headed to the Hill, Steinhauser said last week. "But they're individuals. There's no guarantees."
A measured atmosphere seemed to dominate many of the initial visits.
"Listen, this is a serious thing," Art Gerunda of Long Island, New York, said. "This isn't a fraternity party. I don't think anybody down here is ... I mean, look at these guys. They're just people. ... Everybody's got the same concerns as me. To tell you the truth, if I didn't have two little 4-year-old grandchildren, I don't know if I'd be here. I'm as concerned for them as I am for my own personal problems. I think everybody you see here, they're just folks, and they're concerned."
The crowd got a mixed reception at congressional offices. Some lawmakers, like conservative Republican Sen. James Inhofe, sat with the groups and applauded their efforts.
Gerunda and fellow Long Islander Ralph Mazzella were part of a group that had a five-minute meeting with their congressman, Democrat Tim Bishop, just before the lawmaker headed for the airport Thursday.
"You definitely will see us on the home front!" Gerunda said as the group left Bishop's office.
One member of the group noted approvingly that Bishop, who supports Democratic plans for health care reform, had at least listened to what they had to say.
"He listened, but he disagrees vehemently," Mazzella said.
"Well, he seems like a nice guy," Gerunda said. "I hate to work against his re-election. But we'll see what he does."
The lobbying effort comes at the tail end of a tough summer for FreedomWorks, derided by liberal critics as a sponsor of "AstroTurf": phony grass-roots.
Reports that the group was responsible for packing town halls with rowdy protesters drew fire from liberal opponents; reports that they were charging conservative organizations thousand of dollars for speaking slots and access to attendees at next week's gathering drew criticism from some allied groups.
FreedomWorks continues to deny mobilizing activists to spark chaos at the summer's district-level town halls and has defended the fees as minor and necessary to gather funds to cover expenses associated with next week's events.
"[House Speaker] Nancy Pelosi may think this is AstroTurf, but she's wrong, and we're gonna win," Rep. John Shadegg told a cheering group who marched to Capitol Hill on Thursday. "Come on down here, Nancy Pelosi, and see this AstroTurf."
The number of local activists who registered in advance for the summit's two-day grass-roots training crash course increased tenfold from last year, according to FreedomWorks, from 200 to 300 to more than 2,000.
Optimistic organizers estimated that the number of attendees for the Saturday rally -- co-sponsored by conservative groups like the Tea Party Patriots, the National Taxpayers Union, the Heartland Institute, Free Republic and the Tea Party Express -- was likely to be in the tens of thousands. But given the decentralized nature of the movement, they admitted they had no real sense of what the final count might be. (Also unknown: how many unaffiliated or counter-protesters might show.)
Many of the protesters interviewed described being motivated by varying levels of anxiety, anger and frustration.
"I recognize that there could be quite a few improvements with the health care system, make things easier for people to get treatments, but this complete overhaul and this so-called comprehensive approach to improving health care, I'm afraid of it," Gerunda said.
The New Yorker said he suffers from incurable cancer. "I'm getting on in years. I'm afraid to have some bureaucrat decide whether or not I should get another bone marrow treatment."
Mazzella said he worried about his 8-year-old granddaughter inheriting debt incurred by a health care overhaul.
"It's my tax dollars that these guys are spending wherever they want, however they want, and they're not accountable for it," he said. "Enough is enough, you know? I'm done. I don't know what else to do. I fear for my granddaughter. That's why I'm here."
Saturday features the main event: a march down Pennsylvania Avenue to the Capitol, where a list of speakers dominated by local activists will address attendees between crowd-rousing vintage musical interludes featuring Guns N' Roses' "Welcome to the Jungle," Metallica's "Whiskey in the Jar" and Bush's "Machinehead."
The lineup is light on elected officials, currently slated to include just a handful of conservative stalwarts like Reps. Marsha Blackburn and Mike Pence and Sen. Jim DeMint.
FreedomWorks says organizers wanted to focus on Washington outsiders but concedes that speaking slot requests by some conservative politicians -- including unnamed 2012 hopefuls -- were politely declined, based on their positions on issues like the Troubled Asset Relief Program and the stimulus plan.
Other typically interested officials, perhaps wary of the boos and catcalls that greeted Sen. John Cornyn at a Tea Party rally in Texas, didn't ask to address the crowd this year.
The day's turnout could also provide a preview of another fall fight ahead: the battle over cap and trade climate legislation that is expected to take center stage after health care cedes the spotlight, a looming faceoff that drew cheers from activists at the D.C. Armory on Thursday.

FreedomWorks organizers say they believe that passions are just as high on that issue.
"This week will be the beginning of a new big tent movement," spokesman Adam Brandon said.
E-mail to a friend

CNN's Rachel Streitfeld and Peter Hamby contributed to this report.
All About Barack Obama • Nancy Pelosi • Health Care Policy