By Julian E. Zelizer
Special to CNN





Editor's note: Julian E. Zelizer is a professor of history and public affairs at Princeton University's Woodrow Wilson School. His new book, "Arsenal of Democracy: The Politics of National Security -- From World War II to the War on Terrorism," will be published this fall by Basic Books. Zelizer writes widely about current events.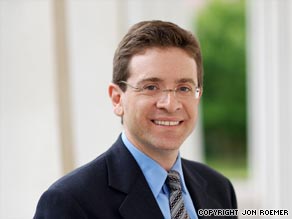 Julian Zelizer says there's a long history of strange behavior by angry members of Congress.
PRINCETON, New Jersey (CNN) -- When Rep. Joe Wilson interrupted President Obama's speech to a joint session of Congress by yelling "You lie!" a livid House Speaker Nancy Pelosi looked as if she was about to jump out of her seat and give her colleague a five-minute "time out" for misbehavior.
Majority Whip Jim Clyburn warned that he supports reprimanding Wilson unless he goes to the well of the House and apologizes. Many pundits and politicians have subsequently lamented that the incident has revealed a new level of incivility in Congress.
And certainly this was an embarrassing moment for the GOP, which looked more like the party of Joseph McCarthy than Ronald Reagan. This has been a summer when some members of the Republican Party outside of Congress have chosen a strategy of yelling and screaming, rather than debating and legislating. iReport.com: Wilson, Serena, Kanye -- is American civility dead?
The GOP would do well to remember the warning of Maine Republican Margaret Chase Smith, who worried in 1950 that her party was trying to achieve victory on "the Four Horsemen of Calumny -- Fear, Ignorance, Bigotry, and Smear."
But is this actually the worst of times in congressional politics? Not really. When the going gets tough, congressional politics has often gotten ugly. Throughout much of the 19th century, legislators disliked each other so much they often got into fistfights on the floor.
Don't Miss
The most infamous incident occurred in 1856 when Rep. Preston Brooks of South Carolina attacked Massachusetts Sen. Charles Sumner with his cane, beating him into a bloody state of unconsciousness. Brooks was unhappy with one of Sumner's speeches against slavery that focused on his uncle, Sen. Andrew Butler.
The attack was not an aberration. Since the founding of the republic, congressional altercations were common. In 1798, for instance, Connecticut Federalist Roger Griswold had spoken badly about Republican Matthew Lyon's war record. Lyon spat in his face. Griswold hit Lyon more than 20 times with a hickory cane as their colleagues watched. Lyon then grabbed a pair of fire tongs and beat on Griswold.
During debates over pivotal issues, tempers have flared often. When a peace activist approached Massachusetts Republican Henry Cabot Lodge in the Senate hallway in 1917 and branded him as a "damned coward" for calling on America to enter into World War I, the senator hit him in the face. A fistfight ensued in the corridor.
When opposing America's entrance into the war, Sen. George Norris warned, "We are going into war upon the command of gold . . . I feel that we are about to put the dollar sign on the American flag." His colleagues yelled "Treason! Treason!"
Then there were even more bitter debates over race and communism between the 1930s and the 1970s. The rhetoric was so bad in this period -- one we often mistakenly remember as a model of consensus and civility -- that even Rep. Wilson would be aghast by what his predecessors said. Sen. Joseph McCarthy accused members of the State Department and other officials in the executive branch of actively assisting international communism.
McCarthy also said President Truman was drunk when he made the decision to order the removal of Gen. Douglas McArthur for insubordination in the Korean War.
When vice presidential candidate Lyndon Johnson went to a rally in Dallas, Texas, shortly before the 1960 election, he and Lady Byrd Johnson were confronted by an angry mob of protesters. One of them spat on the future first lady. Congressman Bruce Alger, who had organized the protest and held a placard proclaiming that "LBJ Sold Out to Yankee Socialists," explained that the protesters were hoping to "show Johnson that he was not wanted in Dallas."
The rhetoric about civil rights was even more brutal. Speaking against anti-lynching legislation in 1946, Sen. Theodore Bilbo, D-Mississippi, said, "If you succeed in the passage of this bill, you will open the floodgates of hell in the South. Raping, mobbing, lynching, race riots, and crime will be increased a thousandfold...."
In more recent years, partisan polarization has led to bad behavior all around. Republican Bob Dornan grabbed New York Democrat Thomas Downey's tie in 1985, charging that his party was weak on national defense.
A few years later, the U.S. Capitol Police physically delivered Oregon Republican Robert Packwood back to the Senate chamber so that Democrats could have a quorum for a vote. In the late 1980s, Rep. Jack Brooks warned that "We've replaced comity and compassion with hatred and malice." His lament had no effect.
In the summer of 2003, Democrats on the House Ways and Means Committee argued that the Republican majority was not allowing them to review the language of legislation and they stormed out of the committee room into an adjacent library. Before they left, Democrats demanded a full reading of the bill to delay action.
A furious Chairman Bill Thomas instructed the U.S. Capitol Police to round up the Democrats so that the committee could finish their work. Democrats, led by Charles Rangel refused. Thomas dispensed with reading the bill.
The lone remaining Democrat in the committee room, California's Pete Stark, protested. When Republican Scott McInnis of Colorado told him to be quiet, Stark called his Republican colleague a "fruitcake." After the media reported on the story, one Republican complained that "Only one [police officer] walked in, and then walked out, on each of three occasions. For that, [Democrats] want to call us Nazis."
At Obama's speech to Congress on health care, Rep. Wilson embarrassed himself and the party. But he did so by tapping into a long-standing tradition. This is the uglier side of our democracy.
What distinguishes the Wilson incident is the context. Today, we have a 24-hour instantaneous, sound-bite media that is obsessed with these kinds of stories rather than the substantive issues. Legislators know that these kinds of incidents will surely garner media attention. So if a politician wants to deflect attention from his opponent, this is an effective course of action.
The idea that we will ever achieve total civility in our democratic politics is a myth. The real question is whether our party leaders and the media will continue to focus on the nastier aspects of our political system or if they will give more attention to the substantive debates that other members of both parties want to have.
This summer it unfortunately seems as if the balance tipped toward the yellers. With so many major challenges facing the nation, let's hope our leaders refocus on more honorable political traditions.
The opinions expressed in this commentary are solely those of Julian Zelizer.
E-mail to a friend

All About Health Care Policy • Barack Obama • Lyndon Johnson