WASHINGTON (CNN) -- The seemingly elusive effort to reach a consensus on health care reform got a new boost Wednesday with the long-awaited launch of a plan believed to have the best hope so far of winning support from centrist Democrats and Republicans.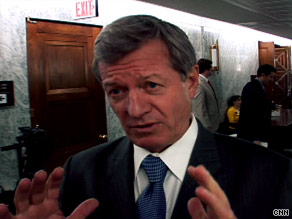 Sen. Max Baucus revealed a health care reform plan that does not include a public option but mandates coverage.
Senate Finance Committee Chairman Max Baucus unveiled a summary of the legislation after months of contentious negotiations conducted against the backdrop of often heated town hall forums across the country.
The proposal would cost $774 billion over 10 years while reducing the federal deficit by $49 billion in that period, according to the nonpartisan Congressional Budget Office. Baucus, a Montana Democrat, put the price tag at $856 billion. Finance Committee aides attributed the different totals to accounting methods rather than any variation in the final overall costs.
The plan would require all Americans to have health insurance, but lacks a government-run public health insurance option favored by most Democrats and President Obama. The CBO review estimated the proposal would leave 25 million people uninsured by 2019 -- about a third of them illegal immigrants -- compared to 46 million people currently without health coverage.

Watch Baucus unveil health care plan »
Baucus emphasized the plan includes input from both Democrats and Republicans on his committee who have been negotiating for months on the issue. He called it a pragmatic proposal with a realistic chance of passing the Senate, rather than something favored by one side or the other.
"This package may not represent all of our first choices," Baucus said. "This is a good bill. It is a balanced bill. It can pass the Senate."
However, the plan came under immediate criticism from Republicans, including three members of Baucus' Finance Committee who participated in months of negotiations with him and two other committee Democrats. Some liberal Democrats also dislike it for dropping the public insurance option.
"How can we give all these consumers to the health insurance industry with no accountability?" asked House Speaker Nancy Pelosi, D-California.
Baucus, however, noted the proposal was similar to a framework for health care legislation laid out by Obama during his speech to Congress last week. On Wednesday, the White House welcomed the plan as a step forward in the health-care debate.
The plan would create health insurance exchanges to make it easier for small groups and individuals to buy insurance. Instead of the public insurance option to provide competition for private insurers, the proposal calls for the creation of nonprofit health care cooperatives that would negotiate collective insurance coverage for members.
However, the CBO analysis said the cooperatives as proposed were "unlikely to establish a significant market presence in many areas of the country."
As with Democratic proposals already before Congress, the plan would bar insurance companies from dropping a policyholder in the event of illness if that person had paid his or her premium in full. It would add new protections for people with pre-existing conditions and establish tax credits to help low- and middle-income families purchase insurance coverage.
The tax credits are aimed mostly at those at or below 300 percent of the federal poverty limit, which would be annual income of roughly $66,000 for a family of four.
Insurance companies also would be barred from imposing annual caps or lifetime limits on coverage. At the same time, Americans would be required to have health coverage, and those failing to comply would face fines of up to $950 annually for individuals, and $3,800 for families.
Insurers providing the most expensive insurance plans -- or so-called "Cadillac" plans -- would be hit with a tax of 35 percent of the amount that a plan's cost exceeds thresholds of $8,000 for individuals and $21,000 for families.
Baucus said the idea was to get the insurance companies -- "those who profited the most" -- to be "part of the solution."

Watch Sen. Max Baucus talk about his health care reform compromise proposal »
He explained one particular compromise, saying his plan lacks a mandate for employers to provide health coverage for workers, but includes tax credits to encourage small businesses to do so.
In addition, Baucus added language to a previous summary of the proposal to address a range of hot-button issues for conservative opponents of health care reform, including abortion, illegal immigration, and medical malpractice.
Don't Miss
According to the summary unveiled Wednesday, the bill would not pre-empt state laws banning or requiring abortion coverage. Federal tax dollars, as under current law, would not be used to pay for abortions unless a pregnancy results from rape or incest, or if the life of the mother is in danger.
The measure aims to prevent illegal immigrants from using health-care tax credits or accessing insurance exchanges in part by requiring each potential beneficiary to submit a range of personal information that would need to be verified by Social Security Administration data.
Stricter enforcement was a demand voiced by Republican Rep. Joe Wilson of South Carolina, who yelled out "You lie!" when Obama said in his speech to Congress that his outline would prevent illegal immigrants from getting taxpayer-funded health coverage.
In another nod to conservatives in the Baucus plan, states would be encouraged "to develop and test alternatives to the current civil litigation system" as a way to help reduce skyrocketing malpractice costs.
The Senate Finance Committee is the last of five congressional committees needed to approve health-care proposals before the topic can be taken up by both the full Senate and the full House of Representatives.
Various forms of the legislation proposed by Democrats have already cleared three House committees, as well as the Senate Health, Education, Labor and Pensions Committee.
None of the Republicans in the Finance Committee negotiations -- Sens. Olympia Snowe of Maine, Charles Grassley of Iowa and Mike Enzi of Wyoming -- have backed the Baucus proposal, but all three said they were willing to continue working for a compromise measure. Baucus said he expected changes to his plan when the Finance Committee debates it next week.
"There will be amendments offered. I suspect some of them will be very good amendments," Baucus said, later adding: "There are no real policy deal-breakers. It's more getting more comfortable with what all this is."
Also Wednesday, Obama met privately with several senators to continue his lobbying effort for a health-care agreement, according to senior administration officials.

The president met with Sens. Ron Wyden, D-Oregon, and Bob Bennett, R-Utah, who have opposed Democratic proposals so far, after an earlier talk with with Sen. Jay Rockefeller, D-West Virginia, a critic of the Baucus proposal, the administration officials said.
Rockefeller, who wants a public insurance option, said he and Obama agreed on the goals of health-care reform. He called rhetoric over the issue political posturing, and predicted both sides will eventually reach agreement on a bill.
E-mail to a friend

CNN's Deirdre Walsh, Dana Bash, Ted Barrett and Ed Henry contributed to this report.
All About Max Baucus • Health Care Policy • Health Care Costs