By Ruben Navarrette Jr.
Special to CNN






Editor's note: Ruben Navarrette Jr. is a nationally syndicated columnist and a regular contributor to CNN.com. Read his column here.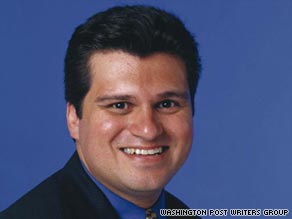 Ruben Navarrette Jr. says the epidemic of rudeness comes from a society that is increasingly self-centered.
SAN DIEGO, California (CNN) -- Thanks to Joe, Kanye, Serena, and other misfits, a lot of people are talking about how society is undergoing a rash of rudeness.
That's not completely accurate. It's more like a rise in self-centeredness.
Among the self-centered: Congressman Joe Wilson, rapper Kanye West and tennis star Serena Williams. But this phenomenon isn't limited to celebrities and previously anonymous backbenchers in Congress basking in their 15 minutes.
There are many people out there, in all walks of life, who think they're more significant than they really are. Plagued with an exaggerated sense of self-importance, they feel entitled to do whatever they want, whenever they want to do it no matter whom it hurts.
The self-centered rarely think about the consequences because they're too busy claiming what they see as their rightful place in the spotlight. And when they're criticized for letting their narcissism get the best of them and face the wrath of their colleagues or the disapproval of their fans, they might apologize. But, even then, they often don't do a very good job of it because their heart's not in it.
They don't feel genuine remorse but they've been told by their press secretaries and publicists to fake it as best they can as part of the damage control. They mouth the words because they consider it to be in their own best interests. It's always about them.
South Carolina Gov. Mark Sanford made matters worse at home by apologizing for an affair with someone he called his "soul mate."
Singer Chris Brown -- who began performing community service in Virginia this week in connection with his sentence for assaulting his then-girlfriend, singer Rihanna -- publicly apologized for the abuse and then played the victim when Oprah Winfrey criticized him.
So how did this virus of self-centeredness get in our national bloodstream?
Some in the media blame the coarseness of talk radio and the Internet where the most extreme voices are the loudest and where people tune in not to hear different points of view but to have their own views validated. That's no picnic for those of us who won't be boxed in. I've had liberals comment on this site that, as someone who sometimes voices conservative opinions, my column belongs somewhere else. But, when I recently hosted a radio show, and expressed liberal views, an angry caller protectively informed me that "AM talk radio is for conservatives."
Don't Miss
Others blame the look-at-me-I'm-so-special culture bred by egocentric social networking sites such as Facebook, My Space, and Twitter. With thousands of "followers" caring enough to take time from their own day to shadow you through yours, is it any wonder that the followed are getting big heads as they "tweet" what they had for breakfast?
But I'm old-school. I believe that what matters most is not what happens at your computer but around your dinner table. When we consider the reasons for this rash of self-centeredness, I think most of it comes down to just one thing: bad parenting.
Americans have reared at least one generation of kids, or maybe two, to think of themselves as the last bottle of soda pop in the desert. We said we were building children's self-esteem so they could be successful, but it never occurred to us that giving kids what psychologists call "cheap self-esteem" could do more harm than good by making our kids think they're 10-feet tall and bulletproof when they're neither.
Besides, what many of these parents were really doing was feeding their own egos; by telling your kids they're special, it confirms that you're special for having such special kids. Isn't that special?
Experts who study the generations say that, thanks to reliable birth control and legalized abortion, the last couple of generations have been the "most wanted" in American history. When they arrived, we drove them around in minivans with signs that broadcast: "Caution: Baby on Board." And when they went to school or summer camp, we made sure everyone got a trophy so no one got their feelings hurt.
One person who has zeroed in on this is Jean Twenge, an associate professor of psychology at San Diego State University. Twenge has spent more than a dozen years examining generational differences. Her research includes comparing studies on the self-esteem of more than 60,000 college students across the country from 1968 to 1994.
As a result of this, and the feedback of hundreds of her own students, Twenge has written two highly informed books on our self-centered culture. This year, she put out, "The Narcissism Epidemic: Living in the Age of Entitlement," with co-author and fellow psychologist W. Keith Campbell.
Twenge recalled the student who asked her to postpone a final exam because it interfered with his plans for a birthday outing to Las Vegas. She also heard from a person who runs a company in Minnesota who said it was not uncommon for employees to call into the office and say they were too tired to come to work.
In their book, Twenge and Campbell list the factors fueling the entitlement mentality. They include celebrity culture and the media, which teach Americans that they're entitled to be famous.
"Narcissism is absolutely toxic to society," Twenge told me when I interviewed her about her book a few months ago. "When faced with common resources, narcissists take more for themselves and they leave less for others."
And, as usual, diagnosing the ailment is easier than curing it. But cure it we must. Before we learn all the wrong lessons and come to think that the abnormal is normal, and the intolerable is acceptable. iReport.com: Why so many outbursts?
A friend who used to work in the Bush White House tells me that some Republican voters are already flooding the Congressional switchboard and pushing the idea of Joe Wilson running for president in 2012. No lie!
We had better work fast.
The opinions expressed in this commentary are solely those of Ruben Navarrette Jr.
E-mail to a friend

All About Joe Wilson • Mark Sanford • Chris Brown