UNITED NATIONS (CNN) -- President Obama joined other world leaders Tuesday in calling for immediate and substantive steps to combat climate change, saying failure to act now would bring "irreversible catastrophe."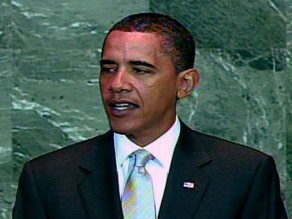 President Obama pledges the U.S. government's commitment to fighting climate change.
Speaking to a special summit on climate change at the United Nations, Obama pledged the full commitment of the United States to a global response after what he called years of responding too slowly to the magnitude of the challenge.
However, Obama's speech lacked specific details on cutting greenhouse gas emissions that cause climate change. He also warned that the global economic recession could hinder the ability of countries to take necessary steps to combat climate change.
"We seek sweeping but necessary change in the midst of a global recession, where every nation's most immediate priority is reviving their economy and putting their people back to work," Obama said. "And so all of us will face doubts and difficulties in our own capitals as we try to reach a lasting solution to the climate challenge."
Other nations looking for a strong signal from Obama of new U.S. leadership on the issue seemed reserved. His speech received polite applause, compared to stronger ovations for other leaders who promised robust targets for cutting greenhouse gas emissions.

Watch Obama urge action on addressing climate change »
U.N. Secretary-General Ban Ki-moon convened the summit to highlight the need for a concerted global effort to reduce greenhouse gas emissions and help developing nations cope with rising sea levels, diminishing fresh water sources, reduced agriculture production, increased disease and other current or expected effects of climate change.
Ban called for faster progress on a new international climate change treaty scheduled to be completed in December in Copenhagen, Denmark.
Don't Miss
Progress in the negotiations involving almost 200 countries has been slowed by disputes over the roles of industrialized powers and major greenhouse gas emitters such as the United States and emerging nations such as China that have become major emitters in their rush to economic development.
Ban urged negotiators to move beyond old issues in confronting what he called "the pre-eminent geopolitical and economic issue of the 21st century."
Chinese Premier Hu Jintao, in what was called the first U.N. speech on climate change by a Chinese leader, pledged significant steps by his country to cut greenhouse gas emissions and increase reliance on clean energy sources in coming years.
Hu reiterated past calls by China for industrialized powers to contribute more to a solution because they polluted more in developing their economies.
China will "endeavor" to cut emissions of carbon dioxide -- the most prevalent of the greenhouse gases that cause climate change -- by "a notable margin" in coming years, Hu said, adding that China also will "vigorously develop renewable energy and nuclear energy" with the goal of increasing the share of non-fossil fuels in total energy consumption to 15 percent by 2020.
In his most specific proposal, Hu said China will increase forest cover by 40 million hectares by 2020 as a way to offset greenhouse gas emissions by industrial polluters, cars, airplanes and other sources. The increase, equal to more than 150,000 square miles, or an area almost three times larger than New York state, would be based on China's forest cover in 2005.
Forests serve as carbon "sinks" by absorbing carbon dioxide from the atmosphere and storing it.
In his first speech at the United Nations, Obama signaled that the United States expects China to take significant steps as part of a global response to climate change. Without specifying China by name, Obama said "rapidly growing developing nations that will produce nearly all the growth in global carbon emissions in the decades ahead must do their part, as well."
"Some of these nations have already made great strides with the development and deployment of clean energy," Obama said. "Still, they need to commit to strong measures at home and agree to stand behind those commitments just as the developed nations must stand behind their own. We cannot meet this challenge unless all the largest emitters of greenhouse gas pollution act together. There's no other way."
Obama acknowledged that the United States has previously failed to recognize the magnitude of the climate change issue. He pledged his government's commitment to developing clean energy sources and reducing greenhouse gas emissions that cause global warming.
"We understand the gravity of the climate threat. We are determined to act. And we will meet our responsibility to future generations," Obama said.
Other speakers made impassioned pleas for global consensus on a way forward, warning that failure to reach agreement would mean disaster.
Swedish Prime Minister Fredrik Reinfeldt was applauded when he said the European Community has set a target of reducing emissions by 30 percent by 2020, "more than anyone else so far." By comparison, the U.S. goal stated previously by Obama's administration is for an 80 percent reduction by 2050, but there was no firm figure for an interim target in 2020.

Wangari Maathai, who won the Nobel Peace Prize for her environmental activism in Kenya, urged the gathered leaders to "act together, act now, act decently."
"Your excellencies have the power to turn this around in Copenhagen," Maathai said. "Addressing it will take collective political will."
E-mail to a friend

All About Global Climate Change • United Nations • Barack Obama