By Linda Hall
CNN





FULLERTON, California (CNN) -- Ronald Reagan and Arnold Schwarzenegger have both done it. So did astronaut John Glenn and basketball great Bill Bradley. Even Jesse Ventura was able to capitalize on a wrestling career as a way to leap into the political ring.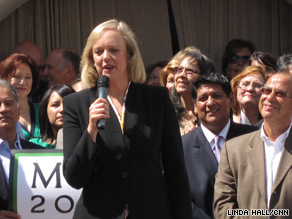 Former eBay head Meg Whitman is running for California governor. One of her opponents is also from the tech world.
But what about a tech geek?
Former eBay CEO Meg Whitman wants to move into politics with a run for the job of governor of California in 2010. In doing so, she is, in effect, trying to prove that high-tech personas have become mainstream and trusted enough to take up political office. Although movie stars and astronauts have paved routes from fame to politics, tech moguls largely have not broken into major elected offices.
To make things all the more dramatic, one of Whitman's main opponents, Steve Poizner, is also a Silicon Valley mogul.
Whitman is not the first successful person from the tech world to attempt a leap into politics, but she is perhaps the most well-known, said Mark Z. Barabak, a political writer at the Los Angeles Times. Less famous tech personalities have run for lower offices in California and have had some success, he said.
It's also becoming increasingly important for politicians of all stripes to show some level of tech savvy in order to get elected and to maintain their popularity.
President Obama, for example, came across as a BlackBerry-toting, tech-informed candidate; his main opponent for the White House, Sen. John McCain, became the butt of jokes because he didn't use e-mail. McCain now has a Twitter account.
Don't Miss
Whitman and Poizner are both running on the Republican ticket, but some Democratic challengers also have tech credentials.

Watch Whitman's campaign announcement »
San Francisco Mayor Gavin Newsom, one of the 2010 governor contenders, recently announced a city app, and he wrote about the endeavor on the hip social-media blog Mashable. He's also a staple on Twitter, where the mayor has more than 1 million followers.
Whitman, 53, is known for her help in revolutionizing how people purchase goods through the Internet. She took the helm at eBay, the online auction site, in 1998 and resigned in 2008 year after overseeing the company's purchase of communications company Skype.
Although Whitman grew eBay into a global $8 billion company, she has been widely criticized for buying Skype. Her successor reportedly has undone several of her final moves.
Whitman is hoping to appeal to the cynical and unhappy electorate. At her recent campaign announcement, said she is running for "a new California."
She now says her time there was "the culmination" of her tech-industry career, and that makes her "uniquely qualified" to be governor.
She said that helping millions of people create small businesses was the "privilege of a lifetime."
Whitman told about 200 supporters that she was serious about the need for government to enter the 21st century.
"Technology and innovation have improved every business and saved millions and millions of dollars," she said, vowing to do the same for California.
But there are questions about whether a tech celebrity really translates into the mainstream political realm. Whitman may find courting the high-tech vote to be harder than just talking about incorporating technology and easing regulations on tech companies.
Republican strategist Allan Hoffenblum said that although Whitman is by all accounts an "extraordinary talent who has made extraordinary money," she doesn't hold much "star power outside of the tech world."
Nevertheless, the high-tech vote is an important voting bloc in California. Most of the industry consists of young, diverse, educated people who tend to be politically active.
Hoffenblum says California's tech-minded demographic realizes that "bad government can have a negative impact on industry ... and that's why they get involved."
The "Silicon Valley vote" has traditionally leaned toward moderate conservatism. That could help Whitman, who is running as a Republican. But recently, the party's focus on conservative social issues has put the high-tech vote up for grabs.
Calling Whitman "not a typical white-bread Republican," Hoffenblum says it is too early to tell whether the Republican label will help or hurt her.
Poizner, who is running against Whitman and is also a former Silicon Valley billionaire, thinks Whitman's lackluster voting record will hurt her more. Poizner sold his Internet start-up SnapTrak to Qualcomm before becoming the state's insurance commissioner.
Barabak, the political writer, said it is "unusual to go right for the top" office in California and win.
A straw poll taken at the California Republican Party convention on Sunday found Whitman trailing Poizner considerably. Poizner won an overwhelming 78 percent of support in the poll; Whitman came in second with the support of 14 percent of those polled.
Whitman did not immediately respond to CNN's request for comment on this story.

In the end, there is no real proof that wrestling fans helped get Ventura into Minnesota's state house or that space enthusiasts helped elect John Glenn to Congress. But, as Allan Hoffenblum notes, women and techies are two powerful voting blocs in California.
At least in terms of demographics, Whitman has ties to both.
E-mail to a friend

All About Meg Whitman • eBay Inc.