WASHINGTON (CNN) -- Secretary of State Hillary Clinton and Defense Secretary Robert Gates, in a rare joint interview, said Monday that the United States is committed to a regional strategy to build long-standing relations with Afghanistan and Pakistan.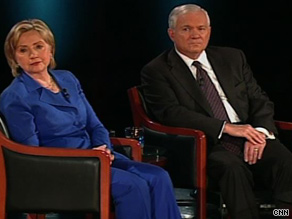 Secretary of State Hillary Clinton and Defense Secretary Robert Gates spoke with CNN's Christiane Amanpour.
Speaking at George Washington University for a program to be broadcast Tuesday on CNN, the two members of President Obama's Cabinet insisted that the president's deliberate approach to set the right objectives and policies for Afghanistan was necessary and proper.
The Taliban insurgency currently has the momentum in Afghanistan, Gates said, adding that a Taliban takeover of the country would empower the al Qaeda terrorist network.
"Because of our inability and the inability, frankly, of our allies to put enough troops in Afghanistan, the Taliban do have the momentum right now," he told CNN's Christiane Amanpour and former CNN Washington Bureau Chief Frank Sesno in the panel discussion that included Clinton.

Watch Gates and Clinton discuss U.S. strategy in Afghanistan »
An eventual Taliban victory would provide "added space" for al Qaeda to set up in the country and enhance recruiting and fundraising, bolstered by the perspective of a second victory over a superpower by Muslim forces after having driven out the Soviet Union in the 1980s, Gates said.
Both Amanpour and Sesno, now director of George Washington's School of Media and Public Affairs, asked the pair about the internal debate in Obama's administration over the call for more U.S. troops in Afghanistan by Gen. Stanley McChrystal, the U.S. commander in the country.
"Amanpour."
See Christiane Amanpour's interview with Defense Secretary Robert Gates and Secretary of State Hillary Clinton.
Tuesday, 3 p.m. ET and 19:00 GMT

Gates made clear that no matter what Obama decides on immediate troop levels, the United States will remain in Afghanistan to continue efforts to dismantle terrorist organizations and help with economic development and nation building.
Tell us what you think about U.S. troops in Afghanistan
"We're not leaving Afghanistan," he declared, adding: "There should be no uncertainty in terms of our determination to remain in Afghanistan and to continue to build a relationship of partnership and trust with the Pakistanis. That's long term. That's a strategic objective of the United States."

Watch CNN's Christiane Amanpour discuss what Gates and Clinton had to say »
Clinton said a regional approach supporting both Afghanistan and Pakistan would help achieve the U.S. goals of defeating terrorists and protecting America and its allies around the world.
She and Gates defended the comprehensive review being led by Obama that includes Cabinet officials, military leaders, congressional leaders and others amid pressure from Republicans and some military officials to quickly provide McChrystal with more troops.

Who has Obama's ear on Afghanistan? »
"We're going to come up with what we think is the best approach, but the goal remains the same," Clinton said.
Gates added: "The notion of being willing to pause, reassess basic assumptions, reassess the analysis and then make those decisions seems to me, given the importance of these decisions -- which I've said are probably among the most important he will make in his entire presidency -- seems entirely appropriate."

Watch Wesley Clark assess situation »
To Gates, one key is to convince Pakistan that the United States is committed to helping it. He noted that the United States previously disappeared from the region after working with Pakistani elements to support the Afghanistan mujahedeen against Soviet forces in the 1980s.
"The clear path forward is for us to underscore to the Pakistanis that we're not going to turn our back on them as we did before," Gates said. "Their worry is what happens in the future."
Don't Miss
The pair played down division in the administration over McChrystal's request to increase the 68,000 troops in Afghanistan by as many as 40,000 more, saying the process called for frank discussion to help Obama make the appropriate decision. Both said the advice to Obama should be private, in contrast to McChrystal's public comments and the leaking of his assessment to the news media.

Watch bloggers comment on Afghanistan strategy »
On Iran, Clinton and Gates said the object of U.S. policy is to convince the Iranians they'll be better off with a peaceful nuclear program than developing a nuclear weapon.
In addition, both Clinton, wife of former Democratic President Bill Clinton, and Gates, who served under Republican President George W. Bush and is the only defense secretary to retain his post in a newly elected administration, spoke of the changes in U.S. foreign policy since Obama came to power last January.
"My view is the American toolbox should contain something other than hammers," Gates said to applause in apparent reference to the unilateral policies of the Bush administration. He later qualified his comment, saying: "I'm all for hammers. I just want something other than hammers."

Clinton, asked about the use of new media such as blogging in diplomacy, said "people really have opened up to America again" since Obama succeeded Bush as president.
"We're back to listening, we're back to engaging," she said in a dig at the past unilateralism under Bush.

E-mail to a friend

All About Afghanistan • Robert Gates • Hillary Clinton