WASHINGTON (CNN) -- A compromise health care proposal widely seen as having the best chance to win Democratic and Republican support would cost $829 billion over the next 10 years, nonpartisan budget analysts concluded Wednesday.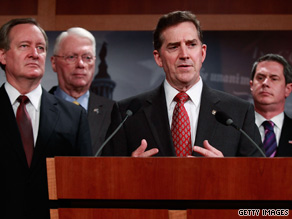 From left: Sens. Michael Crapo, Jim Bunning, Jim DeMint and David Vitter discuss their resolution Wednesday.
It also would reduce the federal deficit by more than $80 billion, according to a report from the Congressional Budget Office.
The review of the Senate Finance Committee's amended bill sets the stage for the next step in the politically charged debate over health care reform. Committee members have been waiting for the Budget Office's cost analysis before voting on their version of the bill.
The Finance Committee is the last of five congressional panels to consider health care legislation before debate begins in the full House and Senate.
The Budget Office's analysis differs slightly from Finance Committee Chairman Max Baucus' estimate. Baucus, a Montana Democrat, had said the revised bill would cost roughly $900 billion.
Over the past two weeks, the Finance Committee has considered several hundred amendments to the sweeping bill. Committee members boosted the bill's overall price tag in part by voting to exempt senior citizens from higher taxes on medical expenses.
Before the amendments, the Budget Office projected that the committee's version of the bill would cost $774 billion; Baucus estimated that it would cost $856 billion.
The measure was initially drafted by Baucus after months of negotiations with five other panel members -- three Republicans and two Democrats. None of the Republicans in what was dubbed the "Gang of Six," however, has backed the proposal so far.
The bill is the only proposal being seriously considered that would cost less than $1 trillion over the next decade, according to the Congressional Budget Office.
After the Senate Finance Committee votes on its bill, the Democratic leadership in each chamber will meld the various panels' proposals for floor debate in coming weeks.
Looking ahead to a potentially accelerated legislative process, top Senate Republicans on Wednesday introduced a resolution requiring all bills to be made public and subjected to a Budget Office cost analysis at least 72 hours before being brought to a vote.
The GOP leaders expressed concern that Democrats might eventually try to ram redrafted legislation through Congress with little or no debate.
Sen. David Vitter, R-Louisiana, said he was "afraid that part of the strategy from the Obama administration and their allies on the health care bill is to change the target so quickly and to compress the debate time as we go down the path that there is not going to be full opportunity to digest the final version of what we're voting on."
For their part, Democratic congressional leaders are still wrestling with several divisive topics. Among other things, they have to decide how hard they want to push for a government-run public health insurance option.
Last week, the Finance Committee voted down two amendments to its bill that would have incorporated such an option. Democratic proposals passed by another Senate committee and three House committees, however, all include the option.
Republicans and some conservative Democrats oppose the government-run insurance option, saying it would drive private insurers from the market and eventually bring a government takeover of the health care system. Democratic leaders -- including President Obama -- reject that claim, saying the public option would provide needed competition for private insurers while making health coverage accessible to millions of people who don't have health insurance.
It also remains to be seen whether Democrats will ultimately be able to win any GOP support for a health care bill. Olympia Snowe, a moderate from Maine and one of the Gang of Six negotiators, has indicated she could go along with the Finance Committee proposal if certain changes were made. Snowe voted with Democrats on the panel to defeat some Republican amendments last month, when the full committee began debating the proposal.
Obama and Democratic leaders, aware of a rockier political climate due to midterm congressional elections in 2010, insist a bill must pass this year to address spiraling health care costs that are threatening economic stability.
Republicans say they accept the need to reform aspects of the health care system, but oppose the overhaul proposed by Democrats as too comprehensive and costly.
Both parties agree on major aspects of health care reform, among them capping consumers' annual out-of-pocket expenses for health care and halting insurance company practices of denying coverage for pre-existing conditions. They also agree on creating incentives for preventive health care to help lower overall costs.
In efforts to bridge differences, the Finance Committee proposal not only drops the public insurance option, it also eliminates a mandate for all employers to provide health coverage. It would require individuals to have coverage or face a fine of up to $750, but includes subsidies to help low- and middle-income Americans obtain health care plans.
In the House, Democratic leaders have been meeting to try to merge the three versions passed out of House committees while bringing down the overall cost by $200 billion. House Speaker Nancy Pelosi, D-California, has said she expects a final version for consideration by the full chamber soon, but has not provided a specific timetable.
Fiscally minded "Blue Dog" Democrats in the House -- and conservative Democrats in the Senate -- are worried about estimates of how much the plans will cost.
With questionable prospects for any Republican support, the Democratic leadership wants to bring liberals, progressives and conservatives in the party together to use its majority in both chambers to pass a bill this year.
In the Senate, Majority Leader Harry Reid of Nevada needs 60 votes to overcome a possible Republican filibuster. There are 60 seats in the Democratic Senate caucus, but some independents or moderates are unlikely to support a public option or some of the most costly reforms.
Reid could implement a legislative option known as reconciliation, which would require only 51 votes to pass a health care bill. However, Republicans warn against such a move as shortsighted legislative warfare that would sow deep and long-lasting division.
Snowe has proposed a possible compromise: a "trigger" mechanism that would create a public option in the future if specific thresholds for expanded coverage and lower costs are not met. The trigger has yet to be included in any proposal.
If the House and Senate passed their versions, a conference committee would then negotiate a final version that would require approval from both chambers before going to Obama for his signature.
E-mail to a friend

All About Health Care Policy • U.S. Senate • Barack Obama