(CNN) -- Republican Sen. Olympia Snowe has served in Congress for more than 30 years, but in recent months, she's become one of the most-watched lawmakers on Capitol Hill.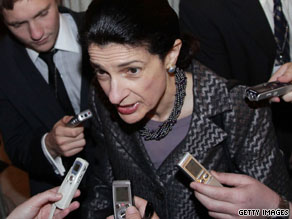 Sen. Olympia Snowe's tendency to break ranks makes her a key player in the health care debate.
Her colleagues on both sides of the aisle have courted her vote and anxiously waited to see whether she'd cross party lines on the health care legislation moving through the Senate.
On Tuesday, the Maine senator became the only Republican to vote in support of the Senate Finance Committee's 10-year, $829 billion proposal to remake the nation's health care system.
The proposal was the product of months of negotiations between the "Gang of Six" committee members: three Democrats and three Republicans. The other Republicans involved in the negotiations, Sens. Chuck Grassley of Iowa and Mike Enzi of Wyoming, voted no on the compromise measure.
"You know, I didn't consciously set out to be the only Republican, interestingly enough," Snowe told CNN's "American Morning" on Wednesday. "It all developed as part of the bipartisan group that the chairman of the Senate Finance Committee, Sen. [Max] Baucus, had convened four months ago to build bipartisan support for a bill. And it turned out I was the one remaining, along with the Democrats."

Watch Snowe explain why she voted in favor of the bill »
Snowe said that just because she voted yes on the committee plan doesn't mean she'll do the same for the final legislation.
But she is hopeful that once the legislation reaches the Senate floor, hundreds of proposed amendments will garner "broad support" among her colleagues.
"Hopefully, that would improve the legislation," she said Wednesday on CNN's The Situation Room. "I certainly will be working with my colleagues ... to do whatever we can do to improve the legislation and modify it so that we can get the broad support that it truly deserves to address this issue at this moment in time."
Snowe's vote brought criticism from Republicans who say she's siding with the opposition, but the risks she took were not lost on the president.
"I want to particularly thank Sen. Olympia Snowe for both the political courage and the seriousness of purpose that she's demonstrated throughout this process," Obama said Tuesday.
Snowe's stance on health care is hardly the first time the moderate senator has broken ranks with her party.
This year, Snowe was one of just three Republicans to support the president's $787 billion stimulus package. She's also parted with Republicans over social issues like stem cell research and abortion.
"When history calls, history calls. And I happen to think that the consequences of inaction dictate the urgency of Congress to take every opportunity to demonstrate its capacity to solve the monumental issues of our time," Snowe said after her vote Tuesday.
Although her liberal leanings can put her at odds with her party, her constituents don't seem to mind.
Voters re-elected her to the Senate with 74 percent of the vote in 2006, compared with her Democratic opponent's 21 percent. In 2000, she won with 69 percent of the vote.
Her political career began in 1973 after her husband, Maine Rep. Peter Snowe, was killed in a car accident and she was elected to fill his seat. After two years in the state Senate, she won the U.S. House seat held by William Cohen when he ran for the U.S. Senate in 1978.
Snowe was elected to Congress at age 31 and served Maine's 2nd District for 16 years. She ran for Senate in 1994 and won, "becoming the first woman in American history to serve in both houses of the state legislature and both houses of Congress," her Senate Web site notes.
Snowe was elected to the Senate with 60 percent of the vote during the Republican revolution of 1994, filling the seat of longtime Democratic Sen. George Mitchell, who retired.
She married then-Maine Gov. John McKernan in 1989.
In 2006, Time Magazine named her one of the top 10 U.S. senators, calling her "the caretaker."
She was recently named one of GQ magazine's "50 Most Powerful People in D.C." When asked about the acclaim, Snowe simply said she was "surprised."

Snowe's staff notes that the senator has a history of fierce independence that extends outside the world of Washington. Snowe was an orphan by age 9 and a widow by 26, experiences that made her self-reliant.
"Especially when you lose your parents at a young age, you definitely learn to pick yourself up and dust yourself off," Snowe told the New York Times. "You just have to keep working and moving and living. And, in my position, you learn to translate that empathy of your experience into legislation."
E-mail to a friend

CNN's Jim Acosta, Ed Hornick and Kristi Keck contributed to this report.
All About Olympia Snowe • Health Care Policy • U.S. Senate Committee on Finance