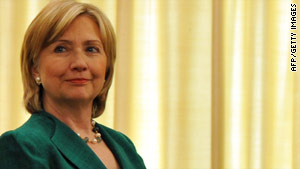 Secretary of State Hillary Clinton is trying to convince skeptics that the U.S. is committed to long-term relations with Pakistan.
STORY HIGHLIGHTS
Car bomb explodes a few hours after secretary of state's arrival in Islamabad
Clinton condemns "vicious attacks" and calls those responsible "cowards"
Clinton tries to clear up "misconceptions" about U.S.-Pakistan relations
Islamabad, Pakistan (CNN) -- Just a few hours after Secretary of State Hillary Clinton arrived in Islamabad, a massive car bomb exploded in a crowded market frequented by women in the northwest city of Peshawar, a two-hour drive away.
The city lies near Pakistan's tribal areas where al Qaeda and other extremist groups are believed to be hiding.
Condemning what she called "vicious attacks," Clinton called those who carry them out "cowards."
"They are not courageous, they are cowardly," she told reporters, speaking slowly and deliberately. "If the people behind these attacks were so sure of their beliefs, let them join the political process. Let them come forth to the people of Pakistan in this democracy and make their case that they don't want girls to go to school. That they want women to be kept back."
At her side, Pakistani Foreign Minister Shah Mahmood Qureshi, his voice rising in anger, spoke directly to Pakistan's extremists: "We will not buckle. We will fight you. We will fight you because we want stability and peace in Pakistan," he said. "You are on the run, and we know that."

Video: Deadly Peshawar market blast
Pakistan's military, he said, "defeated" extremists in military operations in the Swat Valley this spring and, he said, "brave soldiers and officers of the Pakistan army will defeat you in Waziristan. You think by attacking innocent people and lives, you will shake our determination? No, sir, you will not! We will be more determined to fight you and defeat you for our own reasons; because we have a vision of Pakistan, and that vision does not fall in line with what you stand for."
It was not what Clinton was planning for her first day in Pakistan.
En route to Islamabad, Clinton, wearing glasses and dressed informally, talked with reporters on her plane. There have been "a lot of a misconceptions about what the United States intends with our relationship with Pakistan," she said.
"And I want to make clear that the United States and Pakistan have a long history of cooperation and partnership. We have a relationship that we want to strengthen, but we don't want it to be lopsided. We don't want it to be just about security and just about our anti-terrorist agenda, although, as I said, that's our highest priority. So we want to strengthen democracy, we want to strengthen civilian institutions, which we think are in the best interest of the people of Pakistan."
It's unfortunate, she said, that there are those who question U.S. motives, "skeptical that we're going to commit to a long-term relationship, and I want to try to clear the air on that," she said.
But it's a tough sell, especially on a day in which scores died in a car bombing.
But, to underscore the U.S. commitment to Pakistanis, the secretary announced the U.S. is providing $125 million for the first phase of a Signature Energy Program in Pakistan aimed at increasing electricity output and conserving wasted energy and money.
The message is out, and there is more to come. Clinton has launched a media blitz in Pakistan, trying to put back on track this relationship which, she says, still has a lot of "scar tissue."