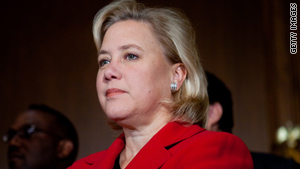 Louisiana Sen. Mary Landrieu, a key Democratic centrist, raised concerns about a government-run health care option.
STORY HIGHLIGHTS
House Democratic leaders put finishing touches on bill
Legislation could be introduced as early as Friday
Measure combines elements of three earlier versions
On Senate side, Lieberman plays pivotal role
Washington (CNN) -- House Democratic leaders have put the finishing touches on their health care bill and could bring it to the full chamber as soon as Friday.
House Majority Leader Steny Hoyer of Maryland, the chamber's second-ranking Democrat, said Wednesday that the bill would probably come to a final vote Saturday.
A 42-page manager's amendment posted Tuesday night made mostly technical changes in the nearly 2,000-page health care bill compiled from three Democratic proposals passed by three House committees.
By making the changes public Tuesday, the House Democratic leaders could open debate on the bill Friday or Saturday while fulfilling their pledge to allow 72 hours of review before bringing the measure to the full chamber.
Meanwhile, House Republicans have offered their first version of a health care bill that compiles a series of individual proposals repeatedly pushed in recent months by the chamber's GOP leaders.
House Democrats have rejected the Republican ideas as inadequate for meeting the goals of expanding health coverage to most of the nation's 46 million uninsured while bringing down costs and ending controversial industry practices such as denying coverage for pre-existing conditions.
The manager's amendment lacks compromise language intended to satisfy anti-abortion Democrats that the bill will prevent taxpayer money from funding abortions. The revised language is expected to be added in the amendment process.
On the Senate side, Majority Leader Harry Reid, D-Nevada, refused Tuesday to predict when the chamber would pass a health care bill, possibly signaling difficulty in generating support from his entire Democratic caucus.
President Obama has said he wants to sign a health care bill this year. However, Reid declined to offer a timetable.
"First of all, we're not going to be bound by any timelines," Reid said Tuesday. "We need to do the best job we can for the American people. We want quality legislation, and we're going to do that."
A slipping deadline could be a setback for Democrats on the Hill and for Obama, who initially wanted a bill completed by this fall. Democrats have long acknowledged that they would prefer to pass a bill before next year, when the 2010 campaign would complicate their ability to pass controversial legislation.
Part of the holdup is that Reid is waiting for the nonpartisan Congressional Budget Office to finish its cost analysis of the legislation. The office's report was expected this week but is now not likely until at least next week, several Democratic senators said.
"One of the things that's been slower than we thought is CBO," said Sen. Chuck Schumer of New York, a Democratic leader. "But they have to do things the right way."
Even more problematic for Democratic leaders is not knowing how their caucus members will vote when a bill hits the floor.
On Tuesday, Democratic Sen. Mary Landrieu of Louisiana, a key undecided centrist, raised new concerns about Reid's decision to include in the bill a government-run health insurance option that includes an opt-out provision for states.
Landrieu prefers an idea ditched by Reid last week that would create a "trigger" for a public option to kick in only if private sector reforms failed.
Other centrists in the Democratic caucus, such as Sens. Ben Nelson, D-Nebraska; Blanche Lincoln, D-Arkansas; and Joe Lieberman, I-Connecticut, also are uncommitted.
Lieberman said Sunday that he would vote to allow Senate debate on the measure but would join a Republican filibuster if the final version after amendments includes a public option.
Lieberman holds sway in the Senate debate because he is part of the Democratic caucus, which holds the 60 seats necessary to block a promised Republican filibuster.
Both the House and Senate versions of comprehensive health care legislation include some form of a public option.
Obama and Democratic leaders call the nonprofit public option the best way to expand access to coverage and hold down costs by bringing in competition for private insurers. Republicans say the public option would drive private insurers from the market, leading to an eventual government takeover of health care.
CNN's Dana Bash, Lisa Desjardins, Deirdre Walsh and Ted Barrett contributed to this story.