Poll: Opinion split with Obama's wait on Afghanistan decision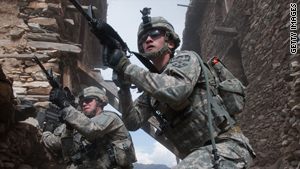 President Obama has been meeting with national security advisers to decide his next course of action in Afghanistan.
STORY HIGHLIGHTS
People divided on whether Obama is taking too long on Afghanistan troop decision

Most men want him to make decision now; women want to give him more time

Fifty-two percent say Obama should consult with generals in making decision

Washington (CNN) -- Americans are split over whether President Obama is taking too long to decide whether to send more U.S. troops to the war in Afghanistan, according to a new national poll.
The CNN/Opinion Research Corp. survey also indicates that, by a narrow margin, Americans think that the president should listen to the recommendations of the generals in charge of U.S. troops in Afghanistan.
The poll's release Wednesday morning comes hours before the president is to meet again with his national security advisers to discuss policy in Afghanistan.
According to the survey, 49 percent of people questioned say the president is taking too long to decide whether to increase U.S. troop levels in Afghanistan; 50 percent do not.
"There is a gender gap on this question, with most men saying Obama is taking too long and most women willing to give him more time," CNN Polling Director Keating Holland said. "That's due in part to the partisan differences between men and women, but gender differences on the use of military force, and maybe even differences in how the genders make important decisions, can also be contributing to the split."
The poll indicates that 52 percent think Obama should listen to the generals, with 48 percent saying the president should take other matters into account as well. But a troop buildup remains unpopular, with a separate question indicating that a majority opposes sending more troops.
Roughly one in five Americans opposes more troops, yet also thinks that Obama should pay attention to the U.S. military leaders in that country, Holland said. "That suggests that a lot of people who don't support a troop build-up are unaware of Gen. Stanley McChrystal's request for a bigger U.S. military presence there.
"And that, in turn, indicates that the military leaders in the field might provide Obama some political cover if he decides to increase troop strength there," he said.
McChrystal, the top U.S. commander in Afghanistan, has reportedly requested as many as 40,000 additional troops.
Though the public is divided down the middle over whether Obama is taking too long to make the decision on troops, the poll suggests that there is widespread agreement that Afghanistan will never have a stable democratic government.
Only one in 10 people questioned said that will occur within a year; only one-third said that will ever happen. That may be one big reason why 56 percent of Americans oppose sending more troops, while 42 percent favor increasing troop strength.
According to the poll, four in 10 support the war in Afghanistan, with 58 percent opposing the conflict.
The CNN/Opinion Research Corp. poll was conducted October 30-November 1, with 1,018 adult Americans questioned by telephone. The survey's sampling error is plus or minus 3 percentage points for the overall sample.
CNN Deputy Political Director Paul Steinhauser contributed to this report.
FOLLOW THIS TOPIC