Congressional inquiry into Fort Hood sought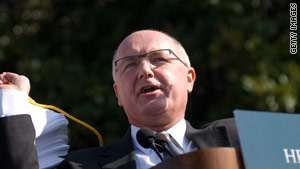 Rep. Pete Hoekstra is one of several GOP representatives seeking a Fort Hood investigation.
STORY HIGHLIGHTS
GOP representatives say they want to look at "intelligence and intelligence sharing failures"
Rep. Pete Hoekstra cites "systemic breakdown" in intelligence community
Spokeswoman for the director of National Intelligence defends agencies
Washington (CNN) -- Republican members of the House Intelligence Committee have sent a letter to Speaker Nancy Pelosi calling for an immediate Congressional investigation into circumstances surrounding the Fort Hood shooting.
"The record appears to establish significant intelligence and intelligence sharing failures that must be reviewed and addressed immediately to ensure that the American people receive the fullest protection against potential attacks," the Republicans wrote.
Maj. Nidal Malik Hasan has been charged with murder in the deaths of 13 people in the November 5 shooting at Fort Hood Army Post. Dozens of others were injured.
A U.S. intelligence official said the situation does not appear to be a case in which intelligence information was not shared among the appropriate agencies.
At a news conference on Tuesday, Rep. Pete Hoekstra of Michigan, the ranking Republican member of the Intelligence Committee, said there was a "systemic breakdown" within the intelligence community. According to Hoekstra, the activities in the intelligence community "reflect an inability for us to get the information that's necessary into the right places, to the right decision-makers that would enable us to perhaps keep America safe."
Hoekstra went on to say the United States must "confront the threat, contain it and ultimately defeat it" by continually "evolving the tools" it uses to pursue its enemies.
Committee member Rep. Mike Rogers, R-Michigan, questioned whether politics was affecting the decision-making process. He said "tools and methods" used by the intelligence community just a few months ago are no longer available to them. Rogers wanted to know if that "may have contributed to the [Fort Hood] shooting."
The Republicans at the news conference said they could not discuss what those tools were.
Wendy Morigi, spokeswoman for the director of National Intelligence, said, "The assertion that we have not and did not use available intelligence tools is patently false."
Hasan came under investigation last year when his e-mail contacts with radical cleric Anwar al-Awlaki were intercepted by terrorism investigators monitoring the cleric's communications, a federal law enforcement official told CNN.
The U.S. coordinator for counterterrorism, Daniel Benjamin, said the various investigating bureaus have said that the e-mails were "not a sufficient concern to open up an investigation." Benjamin said the bureaus have said there don't appear to be any links to any outside groups in terms of "the operation itself."