Clinton pleased with Karzai's promises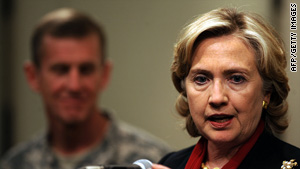 Secretary of State Hillary Clinton, with Gen. Stanley McChrystal, attended Thursday's inauguration.
STORY HIGHLIGHTS
Secretary of state tells U.S., allied troops to do "everything we can" to help Afghans
At inauguration, Karzai vowed to tackle corruption, drug trafficking
Clinton thanks troops for sacrifice, wishes happy Thanksgiving
Kabul, Afghanistan (CNN) -- U.S. Secretary of State Hillary Clinton said Thursday that she is pleased by Afghan President Hamid Karzai's pledge to have the country's security forces take the lead over the next few years.
Speaking to U.S. and allied troops in Afghanistan, Clinton said the United States and other contributing nations have to do "everything we can to create the capacity of the Afghan government and the Afghan people to protect themselves."
"I was very pleased to hear today when President Karzai said that he hopes that within three years, the Afghan security forces will have the lead in important areas and within five years -- which is an ambitious goal, but he stated it -- the Afghan security forces would have the lead throughout the country."
Earlier Thursday, Clinton attended Karzai's inauguration to a second term, where he vowed to tackle corruption and drug-trafficking.
The U.S. secretary of state told the troops that she knew serving was difficult, both for them and for their families.

Video: Clinton: 'I thank you'
"There are a lot of sacrifices, most particularly, not being able to see your family, friends for long periods of time," she said. "For everybody who serves, there's a family that serves as well."
To the Americans, Clinton noted the upcoming Thanksgiving holiday, saying there were many things she was grateful for but that the troops top her list.
"I want to especially wish you a happy Thanksgiving," she said.
Clinton's first visit to Afghanistan as secretary of state comes as President Obama is deciding whether to send up to 40,000 more troops to Afghanistan, as requested by McChrystal.
The Obama administration has expressed concerns about Karzai's viability and has ratcheted up pressure to end corruption in order to combat an intensifying Taliban insurgency.
Clinton reiterated those concerns in a dinner meeting with Karzai on the eve of his inauguration and encouraged him to seize the "clear window of opportunity" before him at a "critical moment" in Afghanistan's history.
Ahead of speaking to the troops, Clinton attended a Thursday briefing with those involved in development work in Afghanistan.
Personnel from the State Department and the United States Agency for International Development, as well as members of provisional reconstruction teams and military commanders, were present.