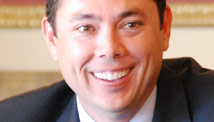 STORY HIGHLIGHTS
Republicans played virtually no part in crafting health bill, says Jason Chaffetz
He says they used their "One Minute" speeches to state their views
He says the bill provides stark choice between liberals, conservatives
Voters in 2010 will get to render their verdicts on what Congress does, he says
Editor's note: Rep. Jason Chaffetz, a Republican, represents the 3rd District of Utah in Congress and is appearing in CNN.com's "Freshman Year" series, along with Rep. Jared Polis, a Democrat from Colorado.
Washington (CNN) -- A year ago this week I packed up my cot and flew to Washington for freshman orientation. It was my first chance to meet fellow members of the freshman class. It's a fascinating experience to realize that someone in the class could potentially be a future speaker of the House, while someone else may serve two years and never come back.
After the health care vote earlier this month, I suspect voters across the country will have a lot to say about who comes back -- and who doesn't. The debate on this issue has exposed the root differences between Democrats and Republicans in this country.
For those of us who enjoy serious public policy discussion, CSPAN was must-see TV during the run-up to the health care vote. When I wasn't watching it live, I was tuning in from my office. The approach taken in Congress to health care may not have been conducive to bipartisanship, but it was certainly conducive to exposing contrasts. During the all too limited opportunities for debate, we heard the best arguments each side had to offer.
Unfortunately, most of the discussion was relegated to one minute speeches. Republicans were largely locked out of both the debate and the drafting of the bill.
So we had to rely upon a parliamentary procedure called a "One Minute" in order to voice our concerns. During these speeches each day, members can discuss an issue of their choosing. Some days each side is only given five One Minutes. Other days there are 15. Occasionally there are unlimited One Minutes. As Republicans, our only opportunity to make our case to the American people was to use our One Minutes to talk about health care.

Video: Freshman year in Congress
For those of us who understand the need to move beyond bumper sticker politics, the lack of debate was terribly frustrating. It's challenging to address an issue as complicated as health care in one minute. While the majority wants to give the illusion of debate and transparency, the reality is the minority is largely locked out of any substantive discussions.
In contrast, President Obama is taking nearly 90 days to review the report from Gen. Stanley McChrystal and has yet to decide what to do with Afghanistan. Yet a 2,000-page bill is given hours for review and given only limited debate.
Despite the minimal debate time, I'm proud of the quality of debate Republicans were able to force during the One Minute speeches. These speeches reflected, in a nutshell, the vast differences between the two approaches.
As the speeches demonstrated, we aren't just arguing about health care. This debate is about control. It is about two competing visions for America's future. One vision holds that government can and should solve our problems, meet our basic needs and compel the wealthy to sustain the poor. The health care bill that passed in the House reflected that vision.
In contrast, the conservative vision holds that wealth and prosperity come when productivity and self-interest are rewarded rather than punished, and that freedom is enhanced when government is as limited and as local as possible. This health care bill cuts against the most basic foundation of those conservative beliefs.
Had the goal simply been to solve our health care problems, House leadership could have pursued some of the numerous broadly supported approaches that aren't necessarily partisan. But unfortunately, the only thing bipartisan about this bill was the opposition to it.
Even within the Democratic Party, there is opposition to the more liberal view that government should both regulate and compete with the private sector. While it's true one Republican voted for the bill, 39 Democrats voted against it.
For House Speaker Nancy Pelosi, this was a risky and gutsy approach to achieving her agenda. After the final vote was in, I approached her and congratulated her on a bold win. I told her I had fought her every step of the way, but I wanted to congratulate her on a hard-fought victory. Whether this bold move pays off for the Speaker remains to be seen. The vote came at great cost.
The question now is how constituents will react a year from now. For me, this vote was an easy one. My constituents were overwhelmingly opposed to the key provisions of the bill.
But for Idaho's Walt Minnick or Louisiana's Joseph Cao, the vote was a defining one. Will the pro-life voters of Idaho's 1st District stand behind their new congressman's support for federally funded abortions?
Will the overwhelmingly Democratic voters of Louisiana's 2nd District overlook their congressman's party affiliation now that he has supported the health care bill they wanted? I think the outcome of the 2010 elections will tell us a lot about where voters stand on the competing visions for America's future.
The opinions expressed in this commentary are solely those of Jason Chaffetz.