 STORY HIGHLIGHTS
Observers: Timetable may be too short to achieve goals, too long to hold American support
Obama may have to choose between leaving mission unfinished or extending U.S. role
Talk of U.S. departure "not something Afghan people want to hear," journalist says
(CNN) -- President Obama's timetable for winding down the war in Afghanistan may be too short for the United States to achieve its war aims but too long to hold American public support, observers said Tuesday.
Obama announced the deployment of another 30,000 troops to Afghanistan in a Tuesday night speech at the U.S. Military Academy at West Point, New York, senior administration officials said. The announcement is coupled with a plan to begin withdrawing the American contingent in July 2011, said the officials, who spoke on condition of anonymity.
Andrew Bacevich, a Boston University professor and former Army officer, said the balancing act could leave Obama facing "really unpalatable" choices in 2011 and beyond.
"If you're in my camp, you're hard-pressed to see how everything is going to go smoothly in Afghanistan," said Bacevich, who has called the Afghan war unnecessary and impossible to win.
Obama could be forced to choose between sticking to his plans and leaving the American mission unfinished or extending the U.S. role in an unpopular war.
"It's hard to conceive that public support will have risen," he said. "On the other hand, a president facing re-election who pulls the plug on a failing war is going to find himself charged with being an ineffective commander-in-chief."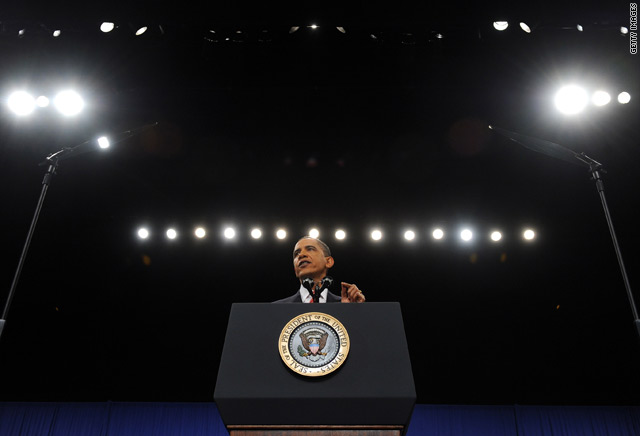 Analysts react to Obama speech

Video: Afghanistan strategy analysis

Video: Obama's Afghanistan plan
The United States led the invasion of Afghanistan in October 2001, about a month after nearly 3,000 people died in the September 11 attacks on New York and Washington by the Afghan-based al Qaeda terrorist network. But the top leaders of al Qaeda and the Taliban, which had let al Qaeda operate from its territory before the attacks, slipped the noose and remain at large.
Meanwhile, after the United States went on to invade Iraq in 2003, Taliban remnants regrouped and stepped up an insurgent campaign against U.S. and allied forces in Afghanistan. During his 2008 presidential bid, Obama accused the Bush administration of ignoring the Afghan war to focus on Iraq. President Obama poured more than 20,000 additional troops into the theater shortly after taking office.
Kori Schake, an associate professor at West Point and a former National Security Council staffer in the Bush administration, said the timetable Obama is laying out is "completely unrealistic."
Washington has been unable to commit the kind of civilian resources needed to help Afghanistan build civil institutions and has "an imperfect partner" in Afghan President Hamid Karzai's government, she said. It is unlikely to meet its goals for standing up an effective military and police force in that time.
"I think he's repeating a lot of mistakes that the Bush administration made in the early years of Iraq by suggesting that they will improve on the timeline we politically want them to improve," Schake said. "This is going to be hard, and it's going to take a long time."
And talk of a U.S. departure is "not something Afghan people want to hear," journalist and author Ahmed Rashid said.
"What they really want him to say is how he's going to improve security for ordinary people in the country, especially in the population centers," Rashid, the author of two books on the Taliban and the Afghan war, said on CNN's "Amanpour" program.
Obama's predecessor, George W. Bush, resisted any talk of a timetable in Iraq and vetoed a war spending bill that would have required all U.S. combat troops to leave by March 2008. Setting a deadline, he argued, would allow insurgents to wait out the American presence.
But Bush ultimately struck a deal with the Iraqi government to pull all American troops out of the country by the end of 2011. Meanwhile, Obama -- who inherited both conflicts from Bush -- has vowed not to leave the Afghan war to his successor.
At the same time, domestic political support for the conflict has fallen from more than 90 percent in 2001 to 45 percent now, according to a CNN/Opinion Research Corp. poll conducted in mid-November.
Matthew Hoh, a former Marine officer and State Department official who resigned in protest of the administration's Afghanistan policy in September, argued Obama's expected timeline is too long.
"I think it should be sooner, coupled with serious negotiations to produce a political resolution to a conflict that has been going on for about 30 years now," Hoh said. Earlier on CNN's "American Morning," he said adding more troops to Afghanistan "will only increase the conflict."
"Roughly half of Afghanistan wants us in Afghanistan, and the other half doesn't," he said. "The other half that doesn't will fight us harder because they're fighting because they're occupied by foreign powers."
Rashid said more troops are needed quickly to secure the country for civilian development efforts, such as efforts to wean Afghan farmers away from the opium poppies that fuel the drug trade. But those troops should be followed "very quickly and comprehensively" by development and attempts to bring the Taliban insurgents to the bargaining table, he said. That can be done, he said, only after the United States and its allies shake the belief among Afghans that the Taliban have the upper hand.
"Before you can talk to the Taliban, you have to position yourself in a position of strength," Rashid said. "And at the moment, the perception in Afghanistan among many ordinary people is the Taliban are winning and the Americans are losing."
The president is ordering military officials to get the reinforcements to Afghanistan within six months, White House officials said. But Peter Mansoor, a retired U.S. Army colonel who helped plan the "surge" campaign in Iraq in 2006, said the "critical element" in U.S. plans "is time, not necessarily troops."
Share your views on Obama's plan
"Any counterinsurgency takes years to fully tamp down the insurgents and create a viable state that we can leave as U.S. troops withdraw," Mansoor told CNN.
He said it is possible that U.S. troops could stabilize Afghanistan within the three-year horizon Obama is laying out, but "I just wouldn't want to take the risk that it will be, and I'd like to see a longer-term strategy out of the administration."
But Bacevich said Obama made an early mistake by "allowing himself to be cornered into obsessing about Afghanistan." Instead, he argued, with al Qaeda dispersed into Pakistan and beyond, U.S. policymakers need to rethink how they deal with the threat of terrorism.
"Afghanistan has kind of hijacked the larger foreign policy debate in ways that are not likely to be good for the United States and are not likely to be good for President Obama," he said.