STORY HIGHLIGHTS
Watch the full interview on "Amanpour" at 0800 ET, 1400 CET, 1300 GMT, 0400 HKT
NATO says non-U.S. members of the organization will send at least 5,000 more troops
NATO Secretary General: "There is a broad consensus in the alliance that we must stand together"
Taliban says extra troops will spark "stronger resistance and fighting"
(CNN) -- The non-U.S. members of NATO intend to commit at least 5,000 more troops to Afghanistan along with the American buildup just announced, the alliance's top civilian leader said Wednesday.
NATO Secretary-General Anders Fogh Rasmussen said the 5,000 figure is "based on what we know now," adding, "I would expect a few thousand on top of that."
"Based on my talks with a big number of political leaders, I feel confident that we will see significant increases in the troop contributions," Rasmussen said on CNN's "Amanpour" program.
The additional units would bring NATO's contribution to the Afghan war to about 47,000 troops. That figure comes on top of the nearly 100,000 Americans expected to be in the fight once the additional deployments U.S. President Barack Obama announced Tuesday night are in place.
"The important thing here is that allies and partners have responded very positively to the speech made by President Obama," Rasmussen said. He said the first pledges could be announced at a conference of NATO foreign ministers Thursday and Friday in Brussels, Belgium, the seat of the alliance.
"There is a broad consensus in the alliance that we must stand together," Rasmussen said. "We are in this together. We will support the United States. It is an alliance mission."
Obama announced Tuesday night that he will send an additional 30,000 U.S. troops to Afghanistan while setting a goal of starting to bring forces home by the summer of 2011. The new strategy is designed to eliminate al Qaeda in Afghanistan and help the Afghan government defeat the Taliban insurgency, while bolstering neighboring Pakistan's anti-terrorism efforts.
Share your view on Obama's plan

Video: Obama's speech, highs and lows

Video: Obama's Afghanistan plan

Video: Afghanistan strategy analysis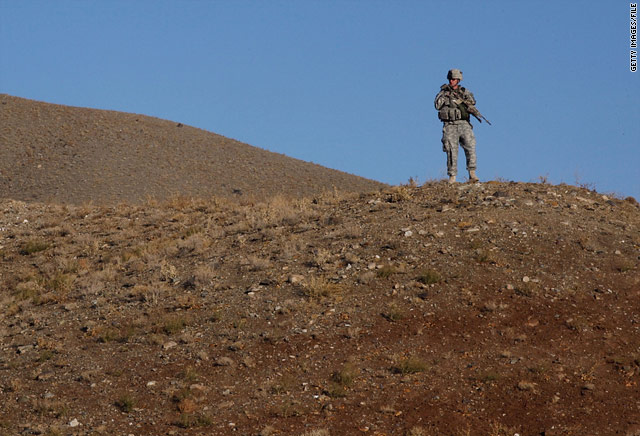 Reactions to Afghanistan strategy
In addition to the 28 NATO allies, 15 non-NATO members have contributed troops to the U.S.-led coalition. The largest contribution from those countries is from Australia, with 1,200 troops.
Rasmussen said the allies will stay in Afghanistan "as long as it takes to finish our job -- but, obviously, it's not forever."
"The way forward is to hand over responsibility to the Afghans, province by province, as their own capacity develops," he said. The additional troops being dispatched "will build the bridge to the transition," he added.
In his speech, Obama emphasized that the U.S. troop commitment in Afghanistan was not open-ended, saying, "the nation that I am most interested in building is our own."
Gordon Brown, who earlier this week announced 500 extra British troops, said his country would press for more international military contributions and would use an international conference in London in January to map out how security will be handed back to Afghans.
"I call on all our allies to unite behind President Obama's strategy. Britain will continue to play its full part in persuading other countries to offer troops to the Afghanistan campaign," Brown said in a statement.
Nicolas Sarkozy said France called on "all countries that want to help the Afghan people to adhere to it," saying its nearly 4,000 personnel there were focused on securing stability and training Afghan security forces.
Sarkozy said a meeting of NATO ministers this week and the London conference will "underscore the international community's unity."
Australia's Kevin Rudd said his country welcomed the "credible" new U.S. strategy and pledged to "increase our police training and civilian development assistance," but did not outline any additions to its 1,550-strong deployment.
There is a broad consensus in the alliance that we must stand together.
--NATO Secretary-General Anders Fogh Rasmussen
Afghanistan, in a statement released via NATO's International Security Assistance Force, said it welcomed the troop surge and timetable for withdrawal.
"Afghanistan hopes that the increase in the U.S. troops will help further protect Afghan people and enhance security in the country," it said.
"Afghanistan believes that setting a timetable for the reduction of the U.S. forces will pave the way for the growth of the Afghan security forces and the eventual self-reliance we seek."
Key U.S. regional ally Pakistan, which is facing its own struggle against Taliban militants, said it had taken "careful note" of Obama's announcement, but wanted to "ensure there would be no adverse fallout on Pakistan."
"Pakistan and the U.S. need to closely coordinate their efforts to achieve shared objectives. There is certainly the need for clarity and coordiantion on all aspects of the implementation of the strategy," a Foreign Ministry statement said.
India, which does not contribute troops to the International Security Assistance Force in Afghanistan but has provided more than $1 billion humanitarian and developmental assistance, offered muted approval.
"India is not complaining at all and we do not wish to be seen as part of the problem," junior foreign minister Shashi Tharoor told reporters, according to the Agence France-Presse news agency.
Human Rights Watch said Obama's plan needed to strengthen civilian protection with a "clear strategy for combating corruption, removing warlords and holding rights violators accountable."
The human rights organization called the U.S. emphasis on rule of law in Afghanistan "long overdue" but said sufficient training of Afghan security was needed to "ensure basic human rights protections."
In Afghanistan, Obama's plan reportedly drew threats from the Taliban militants who will be fighting the reinforcements.
"Obama will witness lots of coffins heading to America from Afghanistan," Taliban spokesman Qari Yousuf Ahamdi, speaking from an unknown location, told AFP.
"Their hope to control Afghanistan by military means will not become reality. The extra 30,000 troops that will come to Afghanistan will provoke stronger resistance and fighting," he added.
"They will withdraw shamefully. They cannot achieve their hopes and goals," the spokesman said.
The nine-year war in Afghanistan came on the heels of the September 11, 2001, attacks on the United States by al Qaeda, which had been given safe haven in Afghanistan by the Taliban government.
Nearly 3,000 people died in the attacks on New York and Washington. Since being overthrown in 2001, the Taliban have been trying to regain strength in Afghanistan as well as Pakistan.