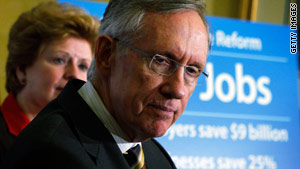 Thursday was the fourth day of debate on Sen. Harry Reid's $848 billion health care reform plan.
STORY HIGHLIGHTS
Measure would provide women with low-cost mammograms, other preventative tests
Democrats want to assure women that reform wouldn't lead to rationing such care
Amendment part of debate on $848 billion health care reform plan
Senate also defeats measure designed to remove plan's $500 billion in Medicare reductions
Washington (CNN) -- The Senate took another step forward in the health care debate Thursday, casting its first votes on what is certain to be a long series of politically charged amendments.
The chamber approved a Democratic-sponsored amendment to provide women with low-cost mammograms and other preventative tests, while rejecting a GOP proposal to prevent government boards from influencing coverage of screening tests for women.
It also rejected a Republican amendment designed to send Senate Majority Leader Harry Reid's sweeping $848 billion reform plan back to committee with instructions to remove Medicare spending reductions estimated at $500 billion.
The amendments were offered on the fourth day of Senate debate on Reid's 2,074-page bill.
The proposal to ensure access to mammograms was prompted by the recent uproar over a controversial government task force recommendation that some women should not receive routine mammograms to detect breast cancer.
Democrats wanted to assure women that health care reform wouldn't lead to a rationing of such care; Republicans wanted to make the point that it would.
The amendment would cover a range of women's health screenings, according to its author, Sen. Barbara Mikulski, D-Maryland. In addition to mammograms, she said, it would cover cervical cancer, postpartum depression, heart disease and diabetes, among other things.
The measure passed 61-39, with three Republicans backing and two Democrats opposing it.
The motion designed to remove the Medicare cuts, offered by Sen. John McCain, R-Arizona, was defeated in a 58-42 vote. McCain and other Republicans have argued it is impossible to cut that much spending from the popular program without hurting seniors.
Democrats have asserted, among other things, that significant waste, fraud and abuse can be cut from the program. The spending reductions are critical to ensuring that Reid's proposal does not increase the federal deficit, they say.
Reid, meanwhile, scrapped plans late Thursday to have the full chamber consider an amendment banning government funding for abortions by using language similar to a strict prohibition adopted by the House.
The amendment's sponsor, conservative Democrat Ben Nelson of Nebraska, told Reid he had not finished drafting the amendment. GOP Sen. Orrin Hatch of Utah, a co-sponsor of the measure, had complained Reid was rushing debate on it.
Nelson is "being pushed very hard by [the Democratic leadership] to bring it up before it's ready to be brought up," Hatch said. "To do really good legislation around here, you need to make sure people who agree with you are on board and the outside groups feel good about it. There's a lot of work I need to do and he needs to do."
Nelson, however, said he did not feel rushed by Reid. He blamed the delay on the complexities of drafting the highly technical abortion language.
Reid, who has complained of GOP delaying tactics in the Senate debate, said Thursday he is planning to hold floor votes over the weekend. Sen. Byron Dorgan, D-North Dakota, said his amendment permitting the reimportation of drugs could be considered as early as Friday.
The idea, which has gained significant traction among Democrats in recent years, is seen as one possible way to drive down the cost of prescription medicines.