Obama shifts schedule, will attend end of climate change summit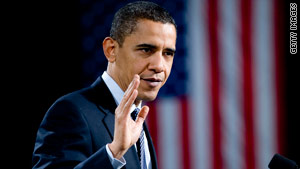 Some criticized President Obama's plan to attend only the beginning of the climate conference.
STORY HIGHLIGHTS
Spokesman: Obama feels he can be most productive at end of conference
Climate change summit will take place in Copenhagen, Denmark
Obama has said he would be in Oslo, Norway, to accept Nobel Peace Prize
Washington (CNN) -- In a change of plans, President Obama will attend the end of an upcoming climate change summit in Copenhagen, Denmark, the White House said Friday.
"Based on his conversations with other leaders and the progress that has already been made to give momentum to negotiations, the president believes that continued U.S. leadership can be most productive through his participation at the end of the Copenhagen conference on December 18 rather than on December 9," said a statement from Obama's press secretary, Robert Gibbs.
"There are still outstanding issues that must be negotiated for an agreement to be reached, but this decision reflects the president's commitment to doing all that he can to pursue a positive outcome," the statement said.
Obama's initial plan to attend only the beginning of the conference was criticized by some, including the environmental activist group Greenpeace, which said it is more important that he be there at the end of the week.
"President Obama needs to be there at the same time as all the other world leaders: December 18," Greenpeace spokesman Mike Townsley said. "This is when he is needed to get the right agreement."

Video: Obama sees approval drop
The statement from Gibbs said the United States will have representation in Copenhagen from State Department and Cabinet officials throughout the negotiating process.
Obama has said he would be in Oslo, Norway, to accept his Nobel Peace Prize on December 10.
The White House statement said the president has discussed the status of climate change negotiations with the leaders of Germany, France, Britain and Australia.
"There appears to be an emerging consensus that a core element of the Copenhagen accord should be to mobilize $10 billion a year by 2012 to support adaptation and mitigation in developing countries, particularly the most vulnerable and least developed countries that could be destabilized by the impacts of climate change," it said.
The White House has said that Obama is prepared to set a goal of reducing greenhouse gas emissions to 17 percent below 2005 levels over the next decade.
It has also reiterated Obama's goal of reducing U.S. emissions by 83 percent by 2050.